Robert Johnson
Johnson is now recognized as a master of the blues, particularly of the Mississippi Delta blues style. He is credited by many rock musicians as an important influence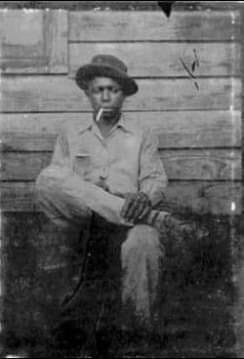 By Dianne Washington
On August 16 in 1938, bluesman Robert Johnson was murdered.
Robert Leroy Johnson (May 8, 1911 – August 16, 1938) was an American blues singer-songwriter and musician. His landmark recordings in 1936 and 1937 display a combination of singing, guitar skills, and songwriting talent that has influenced later generations of musicians. Johnson's shadowy and poorly documented life and death at age 27 have given rise to much legend, including the Faustian myth that he sold his soul to the devil at a crossroads to achieve success. As an itinerant performer who played mostly on street corners, in juke joints, and at Saturday night dances, Johnson had little commercial success or public recognition in his lifetime.
It was only after the reissue of his recordings in 1961, on the LP King of the Delta Blues Singers, that his work reached a wider audience. Johnson is now recognized as a master of the blues, particularly of the Mississippi Delta blues style. He is credited by many rock musicians as an important influence; Eric Clapton has called Johnson "the most important blues singer that ever lived." Johnson was inducted into the Rock and Roll Hall of Fame as an early influence in its first induction ceremony, in 1986. In 2010, David Fricke ranked Johnson fifth in Rolling Stone magazine's "100 Greatest Guitarists of All Time"
Johnson died on August 16, 1938, at the age of 27, near Greenwood, Mississippi of unknown causes. Several differing accounts have described the events preceding his death. Johnson had been playing for a few weeks at a country dance in a town about 15 miles (24 km) from Greenwood. According to one theory, Johnson was murdered by the jealous husband of a woman with whom he had flirted. In an account by fellow blues legend Sonny Boy Williamson, Johnson had been flirting with a married woman at a dance, where she gave him a bottle of whiskey poisoned by her husband. When Johnson took the bottle, Williamson knocked it out of his hand, admonishing him to never drink from a bottle that he had not personally seen opened. Johnson replied, "Don't ever knock a bottle out of my hand." Soon after, he was offered another (poisoned) bottle and accepted it. Johnson is reported to have begun feeling ill the evening after and had to be helped back to his room in the early morning hours. Over the next three days his condition steadily worsened and witnesses reported that he died in a convulsive state of severe pain. Musicologist Robert "Mack" McCormick claimed to have tracked down the man who murdered Johnson and to have obtained a confession from him in a personal interview, but he has declined to reveal the man's name.
While strychnine has been suggested as the poison that killed Johnson, at least one scholar has disputed the notion. Tom Graves, in his book Crossroads: The Life and Afterlife of Blues Legend Robert Johnson, relies on expert testimony from toxicologists to argue that strychnine has such a distinctive odor and taste that it cannot be disguised, even in strong liquor. Graves also claims that a significant amount of strychnine would have to be consumed in one sitting to be fatal, and that death from the poison would occur within hours, not days. Johnson's contemporary David "Honeyboy" Edwards similarly noted that the poison could not have been strychnine, since Johnson would have died much more rapidly, instead of suffering for three days.