Ruth Brown, Atlantic Records, Miss Rhythm, Ray Charles, Bobby Darin, Teardrops From My Eyes, 5-10-15 Hours, Mama, He Treats Your Daughter Mean, Oh What a Dream, Mambo Baby, Hello Larry, Checking In, Hairspray, Staggerlee, Tony award, Black and Blue, Fantasy records, Blues on Broadway, Grammy award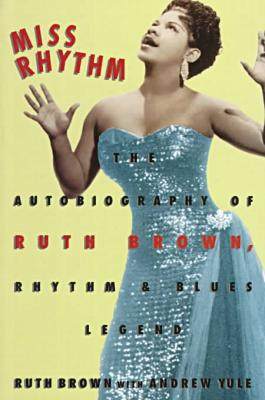 Reflections on Ruth Brown
Ruth Brown is one of the pioneers of Black music. Her career has been so influential that Atlantic Records is sometimes referred to as the "House that Ruth Built" and for good reason. Her career started in the early 1950's with Atlantic as that fabled labels very first true superstar, preceding even Ray Charles. Here are some reflections from a few Soul-Patrollers about Ruth Brown and her legacy.
–Bob Davis
Biography – Ruth Brown
The musical world lost a true R&B pioneer and great person with the passing of Ruth Brown who died from complications from a stroke and heart attack on 11/17.
Ruth Brown had a style all her own with a little throaty rasp that no one else could duplicate, whether on a ballad or an up tempo record. Atlantic records was called "The House That Ruth Built" in the 1950s, due to her many great R&B hits beginning with "So Long" in 1949 and ending with "Don't Deceive Me" in 1960. In between there were 19 other top ten hits, including five number one songs. "Teardrops From My Eyes", "5-10-15 Hours", "Mama, He Treats Your Daughter Mean", "Oh What a Dream" and "Mambo Baby" all hit the top of the charts. She even did a rocker co-written with Bobby Darin called "This Little Girl's Gone a Rockin".
She left Atlantic records in late 1961, having never received any royalties after all those hits. She recorded for Philips in 1962 and 1963, Decca in 1964 and Mainstream in 1965. And then she disappeared from the music world for a while. She raised her two sons in the 1960s and early 1970s doing domestic work and driving a bus.
She recorded one album in 1970 for Skye records and another was released by Mainstream in 1972. In 1978 she put out one album on Dobre and started her comeback in earnest. Ruth appeared in the movie "Under the Rainbow" in 1981 and the TV shows "Hello Larry" and "Checking In" in the 1980s and was great in the movie "Hairspray" in 1988. Her career hit overdrive at this point as she starred in the musical "Staggerlee" and won a Tony award for her performance in "Black and Blue". She also recorded a pair of albums for Fantasy records, and the second, called "Blues on Broadway" released in 1989, won her a Grammy award.
Ruth Brown was a pioneer in other ways as well. She was one of the founders of the Rhythm and Blues Foundation, an organization dedicated to trying to retrieve royalties due performers from their record companies. Ruth had been denied her just royalties and finally this injustice was repaid by Atlantic records to Ruth and others. Ruth was inducted into the Rock and Roll Hall of Fame in 1993.
When I first met Ruth Brown over 25 years ago after a performance, she thanked me for caring enough to see her. Here was "Miss Rhythm", thanking me! I told her how much her music had meant to me in the 1950s and how anxious I was for each of her records to come out, and once again she thanked me for buying them, but told me that unfortunately she never received any royalties for the sales. Then she said that she was still thankful to be performing at all.
Each time I met her after that first time, she was always so gracious and humble, and made me feel like it was I who was important, not the reverse. She always seemed genuinely happy to see me–she just had a way of making me feel like an old friend. I loved it when she and Charles Brown would perform together as they got along so well. Bonnie Raitt also took them on the road with her when she was at her peak, and those shows were also wonderful. A lovely lady with true courage has been lost, but her music will be with us forever.
Danny Guilfoyle
A Few Thoughts on Ruth Brown
My Introduction to Ruth Brown
Bob, I posted a long time ago that I was introduced to "Great R&B" years ago by my aunt Lucille who used to party every weekend from Friday evening 'til early Sunday morning. I was a small kid, and the grown-ups did not want me to see what was going on in the living (and other ) rooms,so she would give me a Yoo-Hoo Chocolate Drink and a couple o'packs of "nabs," put me in the room with the record player and let ME dj with a huge stack of 78's. You talk about PURE HEAVEN! She had Ruth Brown's Mama, He Treats Your Daughter Mean, and 5-10-15 Hours which I would bring home and play when my mother wasn't listening. Watching the 60 Minutes tribute to Ed Bradley, I remember one of the songs I could never play at home was Billy Ward and the Dominoes' 60 Minute Man, but I played it to death at aunt Lucille's, and knew what it meant at an early age lol. Thinking of Ruth Brown brings to mind a lot of the early (for me, anyway) Atlantic artists that we don't hear much about like Chuck Willis and C.C. Rider; Ivory Joe Hunter and Since I Met You Baby; LaVern Baker and Jim Dandy, etc. I regret I never saw Ruth Brown in person, but I have seen her in the movie Rock and Roll Revue, and other film clips, and she was fantastic
Fred.
Dateline: Columbus, Ohio – Miss Ruth Brown
Can't remember the year but, the first thing I heard from Miss Brown was "Mama, He Treat Yo' Daughter Mean." Might have been Jocko, Alan Freed or Frankie Crocker.
(Somebody help me here … I think I recall her singing "Dance Wit Me Henry" also–not sure!)
I recall looking at her album covers and the photos of her that famous Apollo wall. Hoped to high heaven I'd have the kind of curves she had. I thought she was (next to my Mama) just the perfect looking woman.
She has a sound that kinda reminded me of Clara Ward at times. She owned the stage the moment she opened her mouth and gave forth with that raw, earthy throaty southern fried chicken sexy don't mess with this female delivery. Oh, for sho' there was no mistaking her for any other artist. She came wit it. Back in da day we called it "tough." Miss Brown? Yeah she can blow. She be 'tough."
One of a kind, no nonsense, disciplined, professional–a lady who knows how to put hominy grits in every musical dish she serves up. Class–that's what I remember about Miss Ruth Brown. JeannieB
Ruth Brown's Comeback in the 1980's
I'm just a little too young to remember the original stardom of Miss Brown in the early 50s. I know they call Atlantic Records "The House that Ruth built" since she seems to have provided all the cash flow at Atlantic til Ray Charles hit in the mid-50s.
What I mostly remember about Ruth Brown is her remarkable come-back in the mid-80s. She had been gone from show business for decades, and then she was back–as Mother Maybelle in Hairspray, and six days a week on Broadway in Bubbling Brown Sugar.
Then I read about her Monday night gigs at the Lone Star Cafe in NYC. She had one night a week off from her Broadway show, and she spent it just down the street with other cast members and a weekly special guest. The Monday I went to see her at the Lone Star she had Brother Jack McDuff as her special guest. It was the one and only time I saw Ruth Brown live, and she was magnificent. I even got the chance to talk to her. I told her that 20 years earlier I'd asked my local record store to special order an Atlantic album for me–#8003, Clyde McPhatter & the Drifers Greatest Hits. Instead, Atlantic sent #8002, Ruth Brown's Greatest Hits. And I had bought the Ruth Brown record, and loved her music ever since. She smiled, and told me that Atlantic never paid her any money for her records.
Within a few years, I believe, Ruth Brown and Bonnie Raitt and some other good people had set up the Rhythm & Blues Foundation, with the purpose of getting some reparations for all the old R&B people who never got paid.
To their credit, Atlantic records (and others) did the right thing…finally. And I know that Ruth Brown was inducted into the R&R HOF back in the early 90s. She's had mamy honors these past 20 years.
Her story is a remarkable one. Her comeback 20 years ago is extremely gratifying. We've seen a similar story lately with Ms. Bettye LaVette. I was so sad to hear that Ms. Brown is on life support machines. I'm under no illusions that the news is going to get any better. I'm grateful to have
met her the one time. God bless her. Best wishes, Stu Green
Ruth Brown's records were played in my house for many years. As an adult, I enjoyed "going back" and listening to her music. I think she became a better singer as she got older. I'll never forget when she was on Broadway in "Black and Blue" co-starring with Linda Hopkins. The night of the Tony Awards, both actress/singers were nominated for Best Actress in a Musical. When Ruth Brown's name was called, you could see the disappointment on Linda's face. Brown said, "It took me 40 years to climb those five steps." Everybody was moved.
Jean DuShon, who replaced Ruth before the opening of the Broadway musical, "Blues in the Night," is still in touch with Brown. During one of Ruth's illnesses she told DuShon, "There are just a few of us left, Jean. If you need my band, just ask." That's the type of person she is.
I have a video of Ruth and Charles Brown when they were touring with Bonnie Raitt. Both were cooking! Real scene-stealers. Ruth has been a huge influence on the great ladies of 60's soul music: Aretha Franklin, Gladys Knight, Etta James, to name a few. She, and to a lesser extent, LaVerne Baker, had it all sewn up on the charts. Most of Baker's hits were kind of "novelty" tunes. Ruth's "Mama, He Treats Your Daughter Mean" was very adult, indeed. The only other version of that song that I've liked was Bonnie Bramlett's.
Oliver