Slick Rick: The Timeless Appeal of the Cool Ruler and Bronx Bard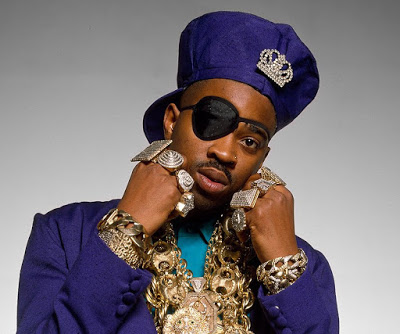 "Part of rap's adhesive is the seamless transition, the sense of continuum, eternity, living with the beat forever"
Barry Michael Cooper: Spin Magazine(1986)
"Who da cap fit/let him wear it"
Bob Marley (1976)
Slang changes like the speed of light—with the swiftness of the latest iPhone rollout. As I watch the peacock vernacular parade go by, words like "drip" and "lit" lead the procession with the stylish strut of a runway model.
Fresh faces of yesterday like "fly" "dope" and "swag" retain a flicker of fame while one rapper remains the face of the entire campaign—Slick Rick the Ruler.
One of rap music's greatest artists of all time, Slick Rick's elegant voice is like burnished wood grain. His crystal-clear delivery shines like a winged emblem of a fine motorcar. Premium. Evergreen. Timeless. Rick's bouncy tracks and nimble storytelling still survive after three decades of Golden Age Rap, boom-bap and trap. His jeweled-out flamboyance lives on in rappers like French Montana, Gucci Mane and the Migos. Listen close to Camron and Dipset, Pusha T, Meek Mill and every millennial rapper of this decade. Their clipped and filed down flows are rooted in Rick's laconic delivery.
I call Rick a legacy artist. You might prefer old school—the term that lovingly defines Black music's weathered patina. There's power in those words. Loud like James Brown's black and proud. Soulful. As Patti Labelle said in '81: the spirit's in it.
Old school conjures up happy feelings in the air like the aroma of barbecue cookouts and sweaty block parties. It's Come Go With Me's muted seduction—plush like the premium leather of Teddy P's elegant Rolls. The smell of Sadie's Sunday morning breakfast on the table. It's the mating call for perfect strangers rushing the dancefloor as soon as they hear Maze and Frankie Beverly's Before I LetGo—united as one nation under a groove singing Luther Vandross' stacatto hook to Never Too Much at the top of their lungs ("And-I -don't-want-it-too-stop!").
Every now and then we try these aural heirlooms on for size. Parade them around in the mirror of memories in the corners of our minds. Then we lock them away for safekeeping oblivious of their value—priceless as the heavy jewels hanging from the Ruler's neck.
For every Little Richard there's a Pat Boone. For every Phyllis Hyman tragedy there's a Barbara Streisand triumph. The Rolling Stones still tour the globe in pursuit of the bag like Pullman porters while veteran soul singers grind out a living in smaller markets—R&B medicine men touting a potent elixir that transports audiences back to their days of youth, in the words of Luther—if only for one night.
Steering clear of imaginary wack juice like a deadly virus, younger artists shy away from the old. They pawn away their birthright like modern-day Esaus—branded as The Chosen Ones until their careers wither away, carcasses picked over by new jacks and culture-vultures rising from the ashes of rap and R&B Icaruses who arrogantly flew too close to the sun.
More than dusty sample fodder, a trip down memory lane or an industry launch pad towards the road to riches (see: the history of Atlantic or Chess Records), Black music's so much more. It's our sunshine on a cloudy day. When were we were barred from walking through the door to humanity's threshold, there was no need to pick the lock. Songs in the key of life opened the door for us to keep on pushing. We found joy inside our tears. We fought the power and reached for the sky.
To quote Rick—our music "showers the firmament/power is earnin' it/tremendous power is permanent."
Fresh off a new single and video, Rick brings back the energy of late 80s rap unearthing Lyn Collin's Think and Funkadelic's Knee Deep—two classic soul records fueling the dopeness of Rob Base and EZ Rock's It Takes Two and De La Soul's Me Myself and I. His stock continues to rise after 34 years in the game.
What's the secret? Why hasn't the sun set on the Slick Rick empire after all these years? Here's the answer. Rick is a corporation unto himself, the antithesis of peers like Ice Cube, Jay-Z and LL Cool J—hip hop masters of the universe, rap multi-hyphenates conquering media, business and sports worlds in a single bound like Gordon Gekko from Wall Street.
Rick is more Vito Corleone in his final scene in The Godfather. I can picture him sipping from a bottle of Moet (instead of vino) tending to his garden of talents that are always in full bloom—a bottomless well of style and creativity that's never run dry.
Thirty years ago, his first album The Greatest Adventures of Slick Rick sold a million-two. A decade later, he rolled out The Art of Storytelling. That was twenty years ago. It went gold in thirty days. On his Facebook page in May 2019, he marveled at his staying power:
"I was 32 years old—in 1997. It was considered taboo to rap at that age. Go figure! Per usual. Lyor (Def Jam president Lyor Cohen) pulled me back in the game. He set up a house in Bearsville, New York where we banged the album out in 2-3 weeks! Needless to say, the album was a success—selling over 100k in just a few days! The industry was shook. Thirty-two, rapping AND selling! How could it be!"
The records still come slower these days but for over two decades, Rick's made his presence felt, piling up collaborations with everyone from Al B. Sure to Mos Def. In the past year alone, Rick has rocked with the likes Mariah Carey, The Black Eyed Peas and French Montana.
Then there's the legendary catalog that's been sampled 600 times. Children's Story has turned up in countless variations over the years at least fifty times—bookended by Montell Jordan's 1995 smash This Is How We Do It and Nas' brilliant Cop Shot The Kid from 2018. Rick is rap's James Brown—-the most sampled artist in hip hop history.
Royalties pilled up, kept him financially solvent during the lean years when legal and immigration issues snatched away hot career and freedom from his grasp when he was just 25. Pushing back against a cousin trying to extort him and threaten his family, Rick spent six years in prison. There were aborted work releases that got cut short. He spent a year and change in an immigration holding cell.
On the brink of deportation, he secured a government pardon at age 43. He was awarded his US citizenship a decade later just as the Trumpian Ethnic Cleansing/Birther movement loomed from presidential shadows.
"Grown folk records know I aint come to diss bout
shorty who was like tin man from the wiz (of oz
mentally the kid was kinda smart,
though they thought he was a coward that lacked real heart
though not the type to play adventurous and gallant
everybody loved him, kid had talent
good moral value, a decent brand
still couldn't believe that he wasn't a real man
cuz just like clockwork, always a runnin'
smart mouths tryin to play the bully upon 'em
only one eye and due to the loss of it
even if he was right, had back down because of it"

—Slick Rick freestyle

Rick took his hard-knocks in stride. He's like an old bluesman who plied his trade during music's less lucrative days who's seen and done it all. There's no animosity or regrets. Rick is satisfied with his status as rap's elder statesman.
Some of his contemporaries are bitter. Casualties of rap music's shady business practices and industry missteps. Their advances and small fortunes during rap's gold and platinum early days have been long spent. As they look down their noses at newer artists or scratch their heads in wonder at their appeal, Rick harbors no ill will toward his musical offspring who traveled a much smoother road to riches. In turn, they show him the ultimate respect the same way the Beatles and the Stones lavished Little Richard and Muddy Waters with praise six decades ago.
"Dismantle all vandal who cannot hold a candle near
I outglitter the chandelier"—I Sparkle (1998)
Slick Rick balled out in his day. He rocked $75,000 in gold jewelry, pushed a Pathfinder jeep and tricked-out Benz, rolling around the city tossing back pricey bottles of Moet Chandon Whitestar champagne the way DMC guzzled ice cold cases of Olde English stocked in his mammoth Chevy K-5 Blazer.
While other rappers frittered away their money, Rick invested in a pair of three-family apartment buildings in the Edenwald section of the Bronx when the dough started rolling in. Less you think that Rick's modest holdings in a gentrifying New York pale in comparison to high-rollers like Jay-Z, think again.
Back in 2017, on The Ballad of OJ, Hov laments missed real estate opportunities during his platinum-and-Bentley laden Roc-a-Fella days: "I could have bought a place in Dumbo before it was Dumbo for $2 million/that same building is worth $25 million/Guess how I feel now—Dumbo!"
A throwback to the days when entertainers Harry Belafonte and Louis Armstrong lived in middle-class Queens, Rick's apartments suit him just fine. It's not airy Calabasas or even Westchester, but Rick is good. "Whenever I get money I try to fix up the fence and the doors. I want to bring some beauty to the Bronx. There's nothing wrong with trying to make it as beautiful as Beverly Hills."
"This sure to hit along a barrier/even if I get deported/ I still own America"
—I Own America (1999)
The son of Jamaican parents who immigrated to the Northeast Bronx from London's Mitchum, Surrey district near South Wimbledon, Richard Lloyd Martin Walters was a different kind of kid. He wore pre-hipster plimsoll sneakers and weird clothes. More familiar with cricket and soccer than basketball.
Self-conscious of his slight features, British accent and a bad eye injured in a childhood accident. Finding solace in spending time alone, Ricky turned to drawing and writing stories. His musical tastes were eclectic. His London home was filled with the sounds of the ska/rocksteady from proto reggae trio The Heptones. Dennis Brown's lover's rock. On the pop side there were Petula Clark, Shirley Bassey and Dionne Warwick's urbane stylings oozing out of BBC radio. He was also taken with Diana Ross' moody blues and Gladys Knight's soul.
Calling himself MC Ricky D, he linked up with high school classmate/future rap star Dana Dane and friends to become the Kangol Crew—named after the UK hat maker behind the furry Furgoras, jaunty Spitfire caps, bell-shaped Grousers, Tropic safari piths and Bermuda bucket hats that found their way across the Atlantic.
There were no denim Lee suits for the Kangol Crew. They rocked blazers over shirts and ties. Instead of Puma and Adidas sneakers they wore Playboys, British Walkers, Wallabees and Weavers—crepe soled kicks associated with the UK pedestrian set and stylish Jamaican natty dreads and rude boys found on every New York shopping drag from 125th Street, Fordham Road and Astoria Boulevard.
" I used to walk around/and get upset/and upsetter
then I found ways to make myself look better"

—I Shouldn't Have Done It (1991)
"Somebody said new pharoahs have appeared (How?)
when ever thing I wore ten years ago you wear now!"

—I Own America (1999)
While attendance at Manhattan's LaGuardia High School of Art and Design and holding down a mail clerk gig at Lehman Brothers on Wall Street, Rick continued to hone his writing skills and refine his look through a crystal ball of observation beyond the Bronx.
Hiding his bad eye behind eye glasses and Ray Bans, Rick began to curate a distinctive look as if he were an interior decorator stocking a mansion with precious antiques.
Attached to self-described "pretty" things that had "sparkle," Rick adorned hats, overcoats and blazers with shiny brooches and pins. Slowly, he began to accumulate small gold chains, rings and bracelets.
Stepping out the box of hip hop's hypermasculinity, Rick tapped into unlikely sources of fashion inspiration while hanging downtown in Greenwich Village. In 2018, he shared with Women's WearDaily his greatest fashion influence:
"The Village was up on fashion faster than anybody. I found most of my fashion influence from gay minorities that lived uptown that traveled back and forth. People wanna see a star. They don't wanna see a bum. I use to love Liberace. I don't care if he was gay—-that's his business. But the man had style. To this day, I don't know one song Liberace made naah mean? It's just the way he carried himself. The clothes and the diamonds and the way he carried himself. People loved him for that."
Rick also told the story of how he stumbled upon the luxurious suede and leather rubber-soled trampers made by Bally of Switzerland for the well-heeled and affluent Euro jet-set crowd as alternative to sneakers:
"This guy was wearing them before the Jamaicans started wearing them. It was just astonishing because people were still wearing Pumas and pro-Keds. Once you see something, you keep it in your mind and then you go for it. We all ran for that s–t."
Rap's visual images have a come a long way. By day, first-generation rappers wore regular clothes. Come showtime they donned the Rick James-inspired stage attire synonymous with Black superstars of the era. Darryl and Joey rocked Columbo trench coats and plaid jackets before they graduated to their iconic look.
Russell Simmons steered LL away from the jheri-curl rapper "Fearless Four boots" he briefly rocked during Def Jam's early days. Legend has it Juice Crew leader Mr. Magic banished Kane's afro, nudging him toward the legendary flattop that ruled in '89. Before he eventually eased into a slick wardrobe the Smooth Operator wore his high school graduation suit in the Ain't No Half Steppin' video.
When stylist June Ambrose put Jay-Z in button-ups, brothers everywhere retired their throwback jerseys to the rafters and changed clothes. Rick cemented the foundation of his look without the help of a stylist or before the riches rolled in.
There were some slight cracks in the Ruler's armor on his way to crafting his signature style. His $700 Ralph Lauren Polo suit worn in a '89 photo shoot seen in Vikki Toback's current Hip-Hop pictorial Contact High was passed on to him after the death of a cousin. The suit,still had the tags on it and Rick wore it to work on Wall Street. His Fendi clutch was fake and the fur coat he rocked in the Children's Story video was a last-minute prop.
Hooking up with Doug E, Fresh and the Get Fresh Crew in '85 to record The Show and La-Di-Da-Di, fans hovered over record buttons during rap radio countdowns were able to visualize Rick's detached sex appeal and deadpan humor. and metrosexual endorsements of Oil of Olay, Bally, Polo, Gucci and Johnson and Johnson.
That cheerio accent crooning the Beatles' Michelle sealed Rick's status as a hip hop personality. Every rap act from Run-DMC to Stetsasonic to Just Ice and DMX would make their own versions of Doug's beatbox and Rick's cavalier cool. Treat Her Like A Prostitute was next up. Compared to the lighthearted and bawdy humor of his earlier records, Prostitiute had a stronger X-rated vibe. In '87 Rick gave his take on the records subject matter:

"A lot of girls don't like it because they think I am being too harsh or too vain. But really I am just trying to look out for boys alone because no one girl will look out for boys unless it someone's mother. Say there's a girl that you like but you don't know nothing about her. The best way to find out if she is a nice girl or a tramp is to treat her like a tramp first. But if you treat her good first you will never know."
Over a decade later—older and wiser, Rick reflects on a fragile mental psyche of a 21-year old rapper scarred by low self-esteem. Beneath the bravado was a divided soul trapped by lingering insecurities of his youth:
"I was bitter and bent. I had gotten played different times and I thought these girls liked me and I find out that they were with the next guy….See a nice girl, you get a little sexually involved and you probably think the girl is into you because she gave herself sexually to you and she's like Ugh..Whatever! You're so open. you're treasuring the moment and shit. And you ain't no Denzel Washington! You skinny! I tried every trick in the book to hide my eye. Different glasses. The Ray-Bans. But sometime the Ray-Bans gotta come off. So sooner or later, they lost interest or reality took its course and they weren't attracted. Back in the day, they were cold-blooded. they didn't care! Be sure of the scoop! Was what I was saying."
Internal conflicts, divide-and conquer tactics from outsiders and financial disputes between Rick and Doug caused the group to implode. After a final show at Madison Square Garden, Rick left the group. He signed to Def Jam during a stint in a mental ward after smoking too much angel dust. It would be over two years before he dropped another record.
"He fired everybody! I was first. We'd make something dope…He hated it"
—Russell Simmons (1991)
During the making of his debut album, Rick had his own vision. Everyone from Sam Sever (see Run-D.M.C.'s Is It Live), Rick Rubin to Whodini platinum producer Larry Smith were booted from the producer's chair. Only Jam Master Jay's The Ruler's Back survived the original sessions. In response to his project being shelved, Rick leaked it to radio. The project got back on track with the help from Public Enemy's Bomb Squad production team. Bomb Squad producer Hank Shocklee characterized the independent-minded emcee as a "genius" with a "Hendrix-like personality."
Def Jam wisely front-loaded the record with the familiar Prostitiute ("Here's an oldie but goodie!"). The album's cover played up Rick's UK roots. He crouched against the backdrop of a London skyline with Big Ben in the background. The album's title—The Great Adventures of Slick Rick was a nod to the 1939 film The Adventures of Robin Hood starring Errol Flynn and Basil Rathbone—swashbuckling actors who shared Rick's aristocratric accent.
The album finds Rick morphing into Rathbone's Guy of Gisborne—sneering at his adversaries and dismissing them as "crumbs." Then he switches up, assuming Flynn's gallantry as he seduces sexy Mona Lisa in a pizza shop with a charming air. On The Ruler's Back, Rick plays on the movie's storyline playing the roles of the loyal subject and his master on the song's intro—a cloaked declaration introducing his return to the rap music game:
"Hark! Who goes there? It is I sire, Richard of Nottingham! Well, speak up man—-what is it? News from the East sire, Rick the Ruler has returned! "

Rick stood out from his peers during rap's most prolific era. LL's forceful delivery beat you into a bloody pulp. Big Daddy Kane's punchline raps were deadly steel traps set for rappers provoking his wrath. Rakim's sharp vocabulary was a three-pronged trident taking multiple emcees at once. DMC was the silent but deadly giant using four-bar couplets to ward off invaders coming for his throne.
A decade before Hov's snide put-downs on rappers with bad jewels fronting in high-end motorcar starter kits( "them ain't Rolex diamonds/what the f**** you do to that?") who wouldn't know a Robb Report from the New York Times or Range Rover from a Rivera (what's the different between a 4.0 and a 4.6?—like thirty to forty thousand, cocksucker, beat it! ), Rick brushed off his rap foes like dirt on his shoulder.
Rick cultivated a cocky and pompous air that cloaked his physical insecurities. He kept the bravado going when he wasn't making records. On wax, it oozed personality. Offstage it was toxic. In a '91 Spin interview, Russell Simmons confirmed Rick "didn't have a lot of friends among rappers." Stacy Guerasebva's Def Jam Inc: Russell Simmons, Rick Rubin and the Extraordinary Story of Hip Hop's Most Influential Label exposed Rick in top form lobbing disses and criticism at rappers like Al Green tossing roses in the crowd,
The book finds him taking shots at a fading Run-DMC, pissing off early advocate and producer Jam Master Jay: "They're garbage. Russell's little family is out the game. Man, nobody's worried about your little beat records. No one cares"
The spirit of 80s rap competition reeked like cigarettes dipped in angel dust. The pungent scent if testosterone was everywhere. Rappers were jockeying for position. Like lions in the jungle ready to pounce on their prey, perceived disses and criticism didn't go unchecked. Some beefs were real. Others were imagined. When artists and crew members fanned the flames, things heated up like a cauldron. Altercations broke out on tour. In '89 Big Daddy Kane and Rick's beef reached legendary proportions. There were many over the years. Kurtis Blow versus Run DMC. Run versus everybody. BDP versus the Juice Crew. EPMD's Erick Sermon versus Rakim. LL Cool J versus Rakim, Hammer, Ice-T and Kool Moe Dee. Hammer versus Run DMC. Shan versus LL.
In rap doc The Show, Russell riffed on Rick's behavior." That was his ego talkin' That's why his records are so dope. They wanna be me! Crumbs! The Ruler. He used to play that shit. You see pictures of him? He had the king hat on. All the jewelry. He was crazy as a bag of angel dust—personally crazy!"
Among G.O.A.T.S. and Gods who rocked bells and moved crowds, Rick conducted his own coronation calling himself The Ruler. On stage, he rocked a bejeweled crown and luxe robe perched on a throne, tossing out cocky couplets celebrating his greatness.
"Learn this fact/whether white or black/I can't be conquered in my style of rap"
—Chesspiece in the Chessgame (1999)
Rick proclaimed himself "rap's ultimate voice box" and "the king piece in the chess game." He wagged his fingers at all competitors with an aristocratic air. Beneath Rick's cocky bravado beat the heart of a rap genius. He was Lon Chaney, Richard Pryor and Eddie Murphy rolled into one—a hip hop man of a thousand faces whose endless round of characters gave life to his rhymes leaping forward from booming speakers like daylight savings time.
In The Moment I Feared, he's the sad-sack unassuming nine-to-five guy robbed of his jewels at Manhattan's infamous Latin Quarter nightclub who ends up on the wrong end of a love triangle that lands him in jail.

Mona Lisa finds Rick being macked by a female admirer during a chance encounter at a pizza parlor. On Two-Way Street he's the dedicated husband struggling to stay on the right side of fidelity. Rotten' Em revisits the Book of Exodus with Rick putting his own spin on the Moses story playing as many as three or four characters at once.
Mistakes of Other Women In Love With Other Men,Why Why Why, Sittin' In My Car,I Shouldn't Have Done It, Venus and Teenage Love cast Rick as a Jeckyll and Hyde type hopeless romantic or jilted lover driven by paranoia who breaks hearts or gets his heart broken.
Ricks's mix of memorable characters, real life experiences and Bronx landmarks gave his music a gritty authenticity. In Children's Story, the stick-up kid runs into Dave, the neighborhood dope fiend before crashing his car near University Avenue—the actual street where Rick would actually wreck his car during a high speed chase as he tried to elude the police.
Trevor shows up as the cock-blocking cousin who snatches up Rick from the clutches of gold-digging Mona Lisa. On Just Another Case, Rick concocts the story of Sid, an ex-drug dealer out on parole, shacked up with a "movie star chick from Edenwald Projects" who tries to walk the straight and narrow but eventually falls prey to a federal drug string.
A Love That's True brings back the hilarious drug-fueled banter between Jungle Fever's Gator and Viv and New Jack City's Pookie and the Prom Queen Fiend. This time, Rick bumps into coke fiend dream Draya, a fictional ex-lover from his days at the Disco Fever. Of course, he played both parts: (Rick)
"First rater—five one stood, mad coke fiend but the #@# looked good saw her at the fever (what's going on stranger) and like a fool I took her in, tried to change her I don't know who I thought Is bluffin' That b**** wasn't given up that coke for nothin'!
(Draya) Oh you trynna dis Mr. Bourgeois n**** you, Back in the days you used to smoke coke cigarettes too! That type shit you ain't admittin'
(Rick) Because homegirl I grew out of it you didn't!"

Reaching back to the songs he heard during his British childhood, Rick put his spin on Frankie Avalon's Venus and Billy Stewart's Sitting in the Park. He weaved bits of the Main Ingredient ("Everybody Plays The Fool") Barbara Streisand ("The Way We Were") Marlena Shaw ("Go Away Little Boy") and Diana Ross ("The Theme From Mahaogany") into his rhymes giving them a sparkle like diamonds on a Rolex bezel.
When it came to balancing the between profane and sacred, Rick walked the line with the best of them. He delivered sex-filled romps like Tonto, Adult Story and Indian Girl then he could be as pious as a choirboy. When Islamic references and Five Percenter god-talk dominated hip hop lyrics, Rick hung on to his Christian leanings.
Guesting on Will Smith's So Fresh, Rick recounts his release from prison, grateful for God's grace and spiritual favor:
"Divine of men/gospel sat inside of him
and seein'/the good he had what in him
let him out again/no longer a vic/type
all of it/big willies like Will Smith
called again/now check the gift/everyday
consecutive/what happen when you lead black
folk away from negative…."
He warns the kids on Children's Story to stay on the "straight and narrow or your soul gets cast. "On Hey Young World—the closest he'd come to a "conscious" record, Rick proclaims that "righteous laws are overdue"
When he teams up RZA,Raekwon and Ghostface on the brillant The Sun, he celebrates warm days by the pool before sliding in devotional verses that are pure genius:
"The heat driven/a theory I clung to deep livin/ is souls have to go through the sun to reach heaven/and sense and retreat/our souls battled deceit/madam believe/since dinasours of Adam and Eve/that sun's hovered/til the extermination of us/its a peephole which leads to the firmnaent above us."
As rap music approaches its fourth decade on wax since Rapper's Delight, Slick Rick's place in hip hop history is permanently etched in stone. When rap griots recant the oral tradition of game-changing music that moved the culture forward. Slick Rick will forever be in the conversation. Classic and contemporary—Rick's music is like his favorite bubbly beverage of choice. Forever top-shelf.