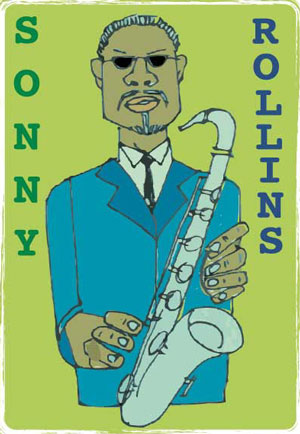 by Dianne Washington
Walter Theodore "Sonny" Rollins (born September 7, 1930) is an American jazz tenor saxophonist, widely recognized as one of the most important and influential jazz musicians. In a seven-decade career, he has recorded at least sixty albums as leader and a number of his compositions, including "St Thomas", "Oleo", "Doxy", "Pent-Up House", and "Airegin", have become jazz standards.
Rollins was born in New York City to parents from the United States Virgin Islands. The youngest of three siblings, he grew up in central Harlem and on Sugar Hill, receiving his first alto saxophone at the age of seven or eight. He attended Edward W. Stitt Junior High School and graduated from Benjamin Franklin High School in East Harlem. Rollins started as a pianist, changed to alto saxophone, and finally switched to tenor in 1946. During his high school years, he played in a band with other future jazz legends Jackie McLean, Kenny Drew, and Art Taylor.
Rollins has been one of the true jazz giants. He was one of the all-time great tenor saxophonists for over 50 years.
Rollins started his musical career on piano, took up the alto, and then permanently switched to tenor in 1946. After his start with Babs Gonzales in 1949, Rollins made a major impact with J.J. Johnson, Fats Navarro, and Bud Powell. Rollins' skills were obvious to the jazz world from the first note. Rollins began to make a major name for himself when he recorded with the Modern Jazz Quartet and with Miles Davis in 1951, and two years later, with Thelonious Monk. After an interlude out of music, Rollins joined the Max Roach-Clifford Brown Quintet, where he worked from 1955 until 1957.
As a leader, his series of recordings placed him in peak form. Rollins' decision to drop out of music from 1959-61 stunned the jazz world. When he came back with a quartet he soon became a much freer player. Rollins was a major force until in 1968 he again decided to retire. Returning again in 1971, he was more open to the sway of R&B rhythms and pop music but Rollins remains a very fundamental soloist. Rollins' career has continued with annual international concert tours and numerous albums.
His ability to turn doubtful material into jazz, his solos, and his rhythmic freedom and tonal distortions have kept Sonny Rollins one of the masters of jazz into the 21st century.
In 2010 Rollins was awarded the National Medal of Arts and the Edward MacDowell Medal. The following year he was the subject of another documentary by Dick Fontaine, entitled Beyond the Notes.
Rollins has not performed in public since 2012, due to recurring respiratory issues.
In 2013, Rollins moved to Woodstock, New York. That spring, he made a guest television appearance on The Simpsons and received an honorary Doctor of Music degree from the Juilliard School in New York City.
In 2014 he was the subject of a Dutch television documentary entitled Sonny Rollins-Morgen Speel ik Beter and in October 2015, he received the Jazz Foundation of America's lifetime achievement award.
In the spring of 2017, Rollins donated his personal archive to the Schomburg Center for Research in Black Culture, one of the research centers of New York Public Library. Later that year, he endowed the "Sonny Rollins Jazz Ensemble Fund" at Oberlin College, in "recognition of the institution's long legacy of access and social justice advocacy."
In February 2023, Rollins sold his music catalogue to Reservoir Media