Soul-Patrol Newsletter V4 Issue 4: Ray Barretto, Roberta Flack, Stylistics, SonnyBoy, Blue Magic, Jewels, Frank McComb, Enchantment, Jason Miles, Oktbrwrld, Players, Various Artists (Girl Group Sounds Lost & Found), The Rebirth, Seven Eleven, Onaje Allan Gumbs, Digg Deep, African American Music History

CELEBRATE

BLACK

HISTORY

MONTH


LISTEN TO SOUL-PATROL CEO BOB DAVIS ON NATIONALLY SYNDICATED BEV SMITH SHOW

LISTEN TO SOUL-PATROL CEO BOB DAVIS ON NATIONALLY SYNDICATED BEV SMITH SHOW
Soul-Patrol Newsletter Headlines

* Quickie CD Reviews: Oktbrwrld, Players, Various Artists (Girl Group Sounds Lost & Found), Frank McComb, Jason Miles, Roberta Flack, The Rebirth, Seven Eleven, Onaje Allan Gumbs, Digg Deep
* Concert Review: Jewels @ Harmony Hall RegionalCenter (Washington DC)
* New Book: African American Music: An Introduction
* (R.I.P.) Ray Barretto…My Journey
* Concerts: SonnyBoy In Brooklyn, Russell Thompkins Jr./The New Stylistics, Enchantment & Blue Magic in NJ
Welcome To The Soul-Patrol Newsletter

As Soul-Patrol continues it's celebration of Black History Month, we just keep rolling "from the ancient to the future".
We are starting you off with some reviews of some BRAND NEW CD's from artists like Roberta Flack, Oktbrwrld, Players, Various Artists (Girl Group Sounds Lost & Found), Frank McComb, Jason Miles, The Rebirth, Seven Eleven, Onaje Allan Gumbs and Digg Deep that will help us to keep our eye on the future of OUR music. Then we have a Soul/Rock/Blues/Doo Wop concert review from Washington DC with the Jewels, An announcement of a new book on the history of African American music. And finally a thoughtful piece on noting the death of the legendary Ray Barretto.
A few concerts that if you live in these areas, I would like to consider attending:
– Sonnyboy the Urban MisFit @ The Hook in Brooklyn!!
Wed, Feb 22, 10:00 PM
18 Commerce Street Brooklyn NYC, between Richards & Columbia St
Come Check out Sonnyboy for a little Wednesday night Soul Music!!
For guest list info e mail us and we will put you on!
– Change in Date: Due to the Blizzard
R&B Legends: Russell Thompkins Jr. and The New Stylistics, Enchanment, & Blue Magic Will Perform @ Englewood's bergenPAC, February 24, 2006
Click here for more info…(More on this concert in the next edition of the SP Times)
Soul-Patrol Times: Multiple Entities
Before moving on, I wanted to take a few moments to answer a question about the Soul-Patrol Times Announcement Service. A number of have emailed us and asked the question: What Do You Mean By Multiple Entities? Well very simply, a "multiple entity" is someone like a Record Company, An Online Store, Concert Promoter/Venue, Public Relations Firm, etc. who will be making announcements about more than one thing. (As opposed to a indy artist/author/filmaker/disc jockey/etc.) The "multiple entity" rate is $20/mo, which breaks down to about 60 cents/day if you have 2 "entities" that you are promoting. The more entities that you have to promote, the cheaper it gets!
HINT: A good example of candidates for this service would be all of the Public Relations Agencies and Record Companies out there who keep sending me links to their cliets audio/video files and asking me to send them out. In addition, once/month (the second Thursday of each month) it will be part of the Soul-Patrol Times email that goes out to all 35,000 Soul-Patrol Times subscribers as well as appearing on the "scrolling calendar on the Soul-Patrol.com website. If you aren't sure if you fit into this category, just hit me with an email, before you sign up.
Personally I don't know where you are going to find CHEAP TARGETED ADVERTISING for Soul/Jazz/Funk/Blues Music, designed to drive large volumes of fans who would probably like your music to your website, blog, MySpace page, audio files, video files or whatever you want at those kind of rates?
Go here to find out more about how you can take advantage of this automated service from Soul-Patrol. Soul-Patrol Times Version 2.0: http://www.soul-patrol.com/magazine
–Bob Davis
earthjuice@prodigy.net
Quickie CD Reviews: Oktbrwrld, Players, Various Artists (Girl Group Sounds Lost&Found), Frank McComb, Jason Miles, Roberta Flack, Rebirth, Seven Eleven, Onaje Allan Gumbs, Digg Deep

I am waaaay behind in posting up some reviews of new releases for yall, but that doesn't mean there isn't quite a bit that's out there for your consideration. Over the next couple of weeks I'll try to make up for lost time (assuming of course that I don't have to write any obituaries for a while)….Bob Davis
**Oktbrwrld – "The UpDown Sensation"
(Soul/Funk/Jazz)
It's not exactly a secret that Oktbrwrld is one of my favorite bands. Based in the Washinton DC area, back in 2004 their CD release Oktbrwrld: "Raw and Natural" was named as one of "Soul-Patrol's Best of 2004" and with their new 2006 release called "The UpDown Sensation" they are sure to be in the running for 2006. For example track # 2 from "The UpDown Sensation" called "Let's Do It" is already my favorite slow jam of 2006 (so far) and track #8 "Sweet Potato Alley" isn't far behind . There is some highly erotic music on this CD and it's perfect for a quiet Saturday night of intense romance or a Sunday afternoon of introspective thinking. However I don't want yall to think that Oktbrwrld has forgotten it's FUNKY roots. Songs like "Let It Go", "H.l.k.s." and "Blues Coming Down let us know that This album has the kind of a groove that an artist like Sade used to have, that we don't get to hear very often anymore.
**Players: From the Six Corners
(Funk/Soul/Jazz/Rock)
This is a really good album that requires a really good listen because there is so much going on musically. It's a truly diverse album sometimes it sounds like "flower power/funk" (a' la Hendrix, Rotary Connection, Shuggie Otis), sometimes it sounds like "hip 70's urban" ('a la Dr. Buzzard's Original Savannah Band), sometimes it sounds like "ultra white cool" (a' la Boz Scaggs), sometimes it sounds like "80's UK Soul" ('a la Steve Winwood), sometimes it sounds like "70's jazz funk" (a' la the Crusaders). Music like this is equally at home at a disco, a fern bar or protest rallies, with lyrics are both personal and worldly at the same time, a rare feat indeed in 2006. It's been one of my "secret pleasures" to listen to over the past 2-3 months and I would highly recommend it.
**Various Artists – "One Kiss Can Lead To Another":
Girl Group Sounds Lost & Found
(Classic Soul/Classic Rock/Doo Wop)
There isn't a whole lot to be said about this box set from Rhino. It's an awesome collection containing the best of what is known as "Girl Group Sound". For the unitiated, the "Girl Group Sound" is a genre of music that reached it's height in the 1960's. It's a cross between Soul/Rock and Doo Wop, yet doesn't squarely fit into any of those categories. It's most famous artists are the Supremes and the Ronettes and that is where most "music experts" kinda leave it. For most of the world that kind of description represents the beginning, middle and end of the "Girl Group Sound". However for us it represents just the beginning…You will find the music of the Supremes and the Ronettes on this collection, however that is really just the beginning. "One Kiss Can Lead To Another" really is a comprehensive overview of music made by female artists that in the end is quite a diverse undertaking, really intended to educate us about both popular and obscure music from a very misunderstood period. I recommend it highly if you really want to understand the music/culture of the 1960's.
**Frank McComb – "Straight From The Vault"
(Soul/Funk/Jazz)
We have a long history on Soul-Patrol with the music of Frank McComb. Starting in 1997 when we named the CD Music Evolution" by Buckshot LeFounque as the #1 FUNK Music release of the year. Frank McComb is of course the featured vocalist on that groundbreaking CD. A few years later in the year 2000 we picked up on the Frank McComb release called "Love Stories". In some ways the album "Love Stories" changed the course of the history of Soul-Patrol because it began our transformation to being more than just an "oldies site". "Love Stories" was such a good album that it forced us to open things up and begin exploring other modern artists who were below the radar and putting out great music. Fast forward to 2006, Frank McComb is now an "indy artist" with his latest release (actually from 2005, but we will count it for 2006) called "Straight from the Vault". This is a really nice album that to my ears recalls some of the best work of an artist like Pieces of a Dream, Angela Bofil or even Stevie Wonder/Donny Hathaway. Strong vocals and strong keyboard playing is in evidence here and I think that most Soul-Patrollers will enjoy the music on this CD. Perhaps most of all I would like to see music fans embrace the independent spirit of Frank McComb! For example, check out this quote from his website…"I believe this will cut out all the detours, layovers, traffic lights, stop signs and anything else causing delays for people who want my music. This lead to the release of my 3rd album "Straight from the Vault" through my own production company Boobeescoot Music. With this machine I pray that I can continue to record and release the kind of music I grew up listening to years ago when real chord changes existed, songs had a subject and the most important…there was integrity. "
(we like that kind of thing)
**Jason Miles: "What's Going On" (Songs of Marvin Gaye)
(Jazz/Soul/Neo Soul)
On the surface it would be easy for me to dismiss this CD as being "fluff". However I think that in 2006 we have to look deeper into the possibilities of what something like this impending mass popularity that this CD offers.
The legacy of Marvin Gaye has always been a puzzle to me. Obviously Marvin Gaye is one of the greatest examples of the kind of music that we hold near and dear to our hearts at Soul-Patrol. And of course there is hardly a human being on the planet who isn't willing to admit that they aren't a fan of some phase of Marvin's music. However Marvin Gaye has also become something of an icon that is paid "lip service" to and while it's politically incorrect to ever say anything bad about him, in reality he isn't really as popular or his music as institutionalized as one might think. I suppose that paying tribute to Marvin Gaye is always a good thing to do, his music deserves to be expanded into areas and exposed to people who really might not be hip to his greatness. And I would imagine that this CD will end up being a huge hit on "Smooth Jazz Radio". It's got all of the right hooks in it to make quite a bit of noise in a commercial sense, in fact this CD could even be marketed to the sometimes confused "neo soul scene". And I suppose that's where its real value lies. The potential for this CD ro reach deep within the iPod headsets of younger people is a very real thing.
"What's Going On" (Songs of Marvin Gaye) is the type of an album that makes for good driving music, background music at a gathering like a coattail party, art galley show or even a corporate reception. (Although I'm not quite sure that Marvin Gaye himself would have been exactly welcome at a "corporate reception"). It's good "buppie" music and it features the talents of well known/popular artists like Marcus Miller, Herb Alpert, Bobby Caldwell, DJ Logic ,Chiara Civello, Mike Mattiso and Dean Brown.. I could even see the music from this CD being used in TV commercials, movie soundtracks, ring tones and other highly lucrative endeavors.
I suppose that I will never quite be satisfied with ANY "Marvin Gaye Tribute", simply because I want the REAL Marvin Gaye. It's kind of like the wave of Jimi Hendrix tributes in the recent past. There is so much actual Marvin Gaye material available to the public thanks to the great reissue program at Universal/Motown, featuring the Marvin Gaye CD Deluxe packages ("What's Going On", "Lets Get it On" and "I Want You"), that actually are improvements on the original LP's from the 1970's and help us to truly understand the context of the situations that drove Marvin. Those CD's represent what I want younger people to hear from Marvin. I want them to feel the raw passion and intensity of a confused mad genius, during a confused time in American history. Marvin was a true artist who was searching for answers to the riddles of love, race, culture, war and everyday life.
Marvin Gaye was willing to explore all of those topics while at the same time exposing his own personal insanity and insecurity for all to see like an open sore. By allowing all of us to see the confusion, conflict and contradictions of his own existence, Marvin Gaye forced all of the rest of us to look inside and take stock of our own personal confusion, conflict and contradictions. By doing so, Marvin Gaye became an artist who actually had a major impact on our society and changed it for the better. I want all of that passion to be transported into the minds and hearts of younger people and I want them to get angry enough accept the responsibility to change our society, so that they will have a society of value in the future as opposed to the valueless society they are creating today. I'm not really sure that the power of Marvin Gaye's music and ideas can ever truly be represented outside of the context of his own voice. Therefore I want younger people to hear Marvin Gaye, dong Marvin Gaye music.
However I also realize that it's highly unlikely that I will get what I want. Younger people aren't inclined to seek out the best of Marvin Gaye in it's "raw form" on their own, because they just think of him as another "oldies artist". Those who do tend to focus on only his hit records, without probing deeper. Maybe in 2006 the best way to get younger people to truly embrace Marvin Gaye is to first get them to embrace an album like "What's Going On" (Songs of Marvin Gaye)? No doubt this will become a popular album and we will be hearing it in many forms and in many places over the next year. My hope is that all of those who hear it will use it as a platform to seek out the actual music of Marvin Gaye.
And if that can happen, then I appluad Jason Miles for making this album. This is what he accomplished with his last CD "Miles To Miles", where he opened up similar possibilities for the music of Miles Davis and we named it as one of "Soul-Patrol's Best of 2005."
**The Very Best of Roberta Flack
(Classic Soul/Pop)
This is a compilation CD from one of the best artists of her generation and obviously you can't go wrong with this one. Right from the opening notes of "Killing Me Softly with His Song". For some of us the music of Roberta Flack was our introduction to vocal jazz. But of course we probably wouldn't consider Roberta Flack to be a jazz artist. Roberta Flack was one of the greatest pop music stars of her time and this compilation is a great document of that period. All the hits are here: Where Is the Love, Feel Like Making Love, First Time Ever I saw Your Face, Tonight I Celebrate Our Love, Back Together Again, The Closer I Get To You and more. Hearing the duets with Donny Hathaway again are like magic. For example the song "Back Together Again" is has always been one of my favorite songs, great lyrics, smoothed out funk provided by James Mtume/Reggie Lucas (of the Miles Davis band) but the combination of Doinny Hathaway and Roberta Flack is what makes this song such a classic. If you don't have any Roberta Flack in your collection, picking up on this CD of 17 digitally remastered tracks is a "no brainier". Don't even think twice, forget about Alicia Keys hype, just buy The Very Best of Roberta Flack and go back to a time when GREAT music didn't need any hype.
**The Rebirth – "This Journey In"
(Kozmic Funk)
Anyone here remember the glory days of Roy Ayres, Lonnie Liston Smith, Norman Connors/Micheal Henderson, Bobby Humphries? Well if you remember that type of music and it brings a smile to your face. It's not quite "soul", it's not quite "funk", and it's not quite "jazz". Not surprisingly this group has it's roots in the Acid Jazz scene of the early 1990's. It's hypnotic it's erotic (thanks to the vocals of (Noelle Scaggs) in a way that sends you into another dimension of time and space. I guess this CD will have to be marketed as "neo soul" and that is indeed unfortunate, because it deserves to stand on it's own as a continuation of the historical legacy of a type of music from the late 1970's whose objective was to elevate the thought process while entertaining you. Buy the album, then thro it into your Saturday night Roy Ayres, Lonnie Liston Smith, Norman Connors/Micheal Henderson, Bobby Humphries mix and see if you don't agree?
**Seven Eleven: "Live In Paris"
(Funk, Funk, Funk, Funk Me Up)
Back in 2003 We reviewed Seven Eleven's CD called "Hot 'n' funky" and we named it the 5th best FUNK music release of the year. Well this band has got another winner on their hands and this time it's a LIVE CD. So what does Seven Eleven sound like LIVE??? Well if you can imagine a combination of P-Funk, Crown Heights Affair, JB's Prince, and Return to Forever you would be close 🙂 Bassman Dodge appears on here also doing he best "Bootsy", along with the "Seven Eleven Horns", they even get off on some "Human Beat Box" stuff on here Are you a "Funkateer"? Then trust me, you will dig this album. And if you aren't a "funkateer", you will be transformed into one after listening to this album!
**Onaje Allan Gumbs: "Remember Their Innocence"
(Straight No Chaser Jazz)
As a "funkateer" I have always found "straight no chaser jazz" to be something of an affront to my basic sensibilities (I NEED MAH FUNK). Of course there have been exceptions in the past for me. For example, the music of John Coltrane, Miles Davis and a few others have been different, because they have challenged me to think and to carry me away at the same time. The CD "Remember Their Innocence" is in that vein, I can put this on when I am in a reflective mood and so it goes for the first five tracks. Then suddenly vocalist Branice McKenzie inturupts the silence with the song "Maybe Next Year", makes me smile and think about Sarah Vaughn and now the whole intelectual tip goes right out the window. My favorite song on the album is the spoken word tune callled "All I Hear" w/Sharrif Simmons, which takes us right into Gil Scott-Heron territory, it's a really nice surprise. All in all I guess it's really left on me as to how I would define the term "funk". One way of defining it is to say that it's "music for the head" and if I apply that definition then this album makes the cut. If any of this seems confusing, it shouldn't be, just by the album, take it home, pour yourself a glass of iced tea, put on your headphones and prepare to be transported back to the world of "Black Classical Music" which is really what "straight no chaser jazz" should be called. When you arrive back from your journey, miraculously you will find yourself renewed, re-energized and better prepared to deal with the world as we know it in 2006.
**Digg Deep – InDiggNation
(Soul/Funk/Rock/Rap/Expanding Minds)
On Soul-Patrol we have artists like Victor Wooten, SonnyBoy, Nadir, "Stozo", Shelley Nicolle's blaKbüshe and others who are on a not quite so secret mission to "take back rock n' roll from massa" and of course we are highly supportive of these efforts, be they "covert" or "overt". These type of artists harken back to the late 1960's and are attempting to "be different in order to make a difference". Well now you can add Brooklyn based DIGG DEEP (led by bassist Shyndigg ) to that list. Also known as "Diggably, Musique Noire". The "formula here is "SoulfulFunkThrashRapPowerPop". There are two covers on the album that upon listening tell you that these guys "get it". One is a remake/retitle of Billy Joel's "It's Still Rock n' Roll to Me" now called "It's Still Funk and Soul to Me". The other is a remake/retitle of Sly and the Family Stone's "I Want to Take You Higher" simply called "Higher". Of course the song "Higher" is a wink back to our friend Sly Stone and in light of Sly's recent appearence it sounds like Digg Deep is suggesting that they in fact want to take the music of Sly and the Family Stone and take it to the next level. Tracks 11 and 12 (Temple/Call B4 U Lose Her) immediately jump out at me as potential hit singles (if such a thing truly even exists in 2006). Mainstream critic upon hearing this CD would probably miss the groove of this album and compare it to something by Lenny Kravitz. However we know better here, someone like Lenny Kravitz could only create a statement like this if he had someone like Oscar Brown Jr. writing and producing for him. What we have here is ground breaking music that if was made available for public consumption on a mass scale (along with artists like Victor Wooten, SonnyBoy, Nadir, "Stozo", Shelley Nicolle's blaKbüshe etc. ) would actually change the entire music scene as we know it.
–Bob Davis
earthjuice@prodigy.net
Concert Review: Jewels @ Harmony Hall RegionalCenter (Washington DC)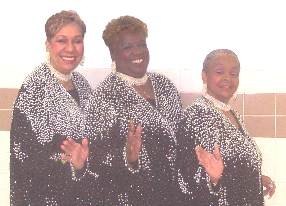 One of the songs that we saw the fabulous Jewels perform last night in a beautiful facility called the @ Harmony Hall Regional Center, dedicated to the preservation of Black History just outside of Washington DC last night was their big hit song from 1963 called….
:::OPPORTUNITY::::
And they ROCKED THA HOUSE
Damn….it's been a while since I had as much fun at a concert as I did last night. And who would have ever thought it??? One of the problems inherent in the term "Doo Wop" is that it conjures up certain images for people.
– When I was a teenager in the 1970's the image that the term brought to mind were tall skinny black men with shinny suits, thin ties and processes. ("uncle toms")
– Today the term conjures up images of old black men, performing old songs, in front of lilly white audiences. ("uncle toms")
Of course "images" are usually the product of the people who are trying to "sell something" and nowadays we know better than to simply accept "images" that are presented to us at "face value" and to look beyond them for the true substance that is held within the people who we are viewing.
Last night I had the extreme pleasure to sneak outta New Jersey and travel down I-95 to see the JEWELS (Margie Clark, Grace Ruffin and Sandra Bears) in concert. I was anxious to see them perform live ever since I had viewed their performance on a DVD of one of our Soul-Patrol Newsletter Sponsors:
DC Allstars – Live @ the Birchmere
Here's a little history: The Jewels were discovered by Bo Diddley who lived in DC in the early 1960s and had a recording studio in his Northeast DC Home. James Brown caught The Jewels show at New York's Apollo Theater in 1964. He was so impressed with their high powered show in 1964, that he sent his representative to their dressing room and asked if they would be interested in touring with the James Brown Revue. Since they were in a contract with their manager Smokey McAllister, they waited until the contract expired….called James Brown and asked if he still wanted them….James told them to meet him in New York. They packed up and left….as young girls around 19 and 20 years old. They were only to do six dates on the national Revue. They stayed with The Revue for 1 year. James Brown calls out the name "JEWELS" on "Don't Be a Drop Out". They recorded two songs on James Brown's King Label.
After a year on buses and in hotels, they wanted to stabilize their lives and they returned to DC, and continued their career. The Jewels also back up Billy Stewart on the song "Reap What You Sow".
ON THE DVD THE JEWELS TEAR IT UP
LAST NIGHT @ HARMONY HALL REGIONAL CENTER
THE JEWELS TORE IT UP
I mean these women put on a SHOW!!!
DC Soul-Patrol Coordinator "Zielove" and I arrived a little late, and the band was already warming up the crowd (which I took note of was nearly 100 percent African-American). To my surprise they weren't warming up the crowd with some old doo wop songs. These guys were delivering a STONE COLD FUNKY AZZ rendition of Herbie Hancock's "Chameleon"…….lol
And then the JEWELS "take it to the stage". Here is the set list…
– Baby Its You (originally a Pookie Hudson & The Spaniels song)
– Someone Special (Written by The Jewels)
– Erasers on Pencils (Recorded by The Jewels in 1964)
– Dedicated to The One I love
– Will You Still Love Me Tomorrow
– Mama He Treats You Daughter Mean
– Help Me Make it Through The Night
– Thankyouforlettinmebemyselfagain
– Darling (acapella)
– Dancing In The Streets
– Something's Got A Hold On Me
– Loaded with Goodies (A Jewels Original 1965)
– Johnny Jealousy (1963)
– Opportunity (1964)
– Bye Bye Baby
– Do Right Woman
– I'll Take You There
– Neither One of Us
(They performed for 90 min!!!)
So to me the term "Doo Wop" is truly misleading. This show REALLY was a: HELLIFIED STONE COLD – ROCK- SOUL- BLUES- FUNK (And yes, doo wop)EXPLOSION
It was "great black music from the ancient to the future"…
ON DISPLAY IN ALL OF IT'S POWER MAJESTY AND GLORY
And that's because the Jewels didn't just sing the songs….THEY PUT ON A SHOW
They danced, They told jokes, They told stories, They came out into the audience with their wireless mikes and got the audience involved
All I can tell you is that it was an awesome show, which you can get a tatse of if you purchase the DVD:
DC Allstars – Live @ the Birchmere
Honestly, the Jewels put on such a high energy show, that they make some of the shows that I go to featuring artists that are 30 years younger than the Jewels feel more like a trip to the morgue, than a show.
One more note about the Harmony Hall Regional Center itself. This is a beautiful facility located just off of the beltway, near Andrews Air force Base. They had a fabulous Black History Display that Zie and I toured during the intermission. If you live in the area, do yourself a favor and take a visit there.
Here are some more upcoming Doo Wop Shows at the same venue:
– Saturday, March 18, 2006: Pookie Hudson and The Spaniels, 8:00 p.m.
– Saturday, April 8, 2006: The Velons, 8:00 p.m.
– Saturday, April 29: The Chantels, 8:00 p.m.
– Saturday, May 13: The Winstons, 8:00 p.m.
Tickets: $20.00 general audience, $15.00 students/seniors.
DON'T WAIT….DOO-WOP IS IN THE AIR!
Bob Davis:
earthjuice@prodigy.net
New Book: African American Music: An Introduction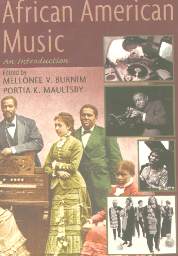 I am pleased to bring to your attention the publication of a new book co-edited by Portia K. Maultsby, Ph.D, Professor and Director, Ethnomusicology Institute/Program @ Indiana University, who has been a good friend of Soul-Patrol for many years. The book is called African American Music: An Introduction and I would recommend it highly to anyone reading this. I'm also pleased to say that 3 members of Soul-Patrol have contributed chapters to this book: Stax (Robert Bowman), Philadelphia International (John A. Jackson) and Post-Civil Rights (Mark Anthony Neal).
(Maybe next time Portia will ask me to update the chapters on "Funk" and "Rhythm and Blues"….hint, hint, hint)
Anyhow…I strongly recommend this as a book that you need to have in your home!!
Mellonee V.Burnim and Portia K.Maultsby, eds.
African American Music:
New York: Routledge Press,2006
African American Music: An Introduction is a collection of thirty essays by leading scholars that survey major African American musical genres, both sacred and secular, from slavery to the present. It is the most comprehensive study of African American music currently available, with sixteen essays on major genres of African American music, as well as lengthy sections on the music industry, gender, and music as resistance. The work brings together, in a single volume, treatments of African American music that have existed largely in-dependent of each other. The research is based in large part on ethnographic fieldwork, which privileges the voices of the music makers themselves, while interpreting their narratives through a richly textured mosaic of history and culture. The book is replete with references to seminal recordings and recording artists, musical transcriptions, photographs, and illustrations that bring the music to life as expressions of human beings. At the same time, it includes the kind of musical specificity that brings clarity to the structural, melodic, and rhythmic characteristics that both distinguish and unify the music of African Americans.
CONTENTS
I. GENRES/MUSICAL FORMS
2. Secular Folk Music – Dena Epstein, with contributions from Rosita Sands
3. Religious Music – Mellonee V. Burnim
4. Blues – Chronological Overview (David Evans), The Blues in Transcultural Contexts (Susan Oehler)
5. Ragtime – Ingeborg Harer
6. Jazz – Chronological Overview (Ingrid Monson), Interpreting Jazz (Travis Jackson)
7 Musical Theate – Thomas Riis
8. Art/Classical Music – Chronological Overview (Josephine Wright), Interpreting Classical Music (Olly Wilson)
9. Rhythm and Blues – Portia K.Maultsby
10. Soul – Portia K. Maultsby
11. Funk – Portia K.Maultsby
12. Disco and House – Kai Fikentscher
13. Techno – Beverly May
14. Hip Hop and Rap – Dawn Norfleet
II. ISSUES OF MASS MEDIATION
15. The Music Industry – The Popular Music Industry (Reebee Garafolo), The Gospel Music Industry (Mellonee V. Burnim)
16. Profiles of Record Labels – Motown (Charles Sykes), Stax (Robert Bowman), Philadelphia International (John A. Jackson)
III. ISSUES OF GENDER
17. Women in African American Music – Gospel (Mellonee Burnim), Blues (Daphne Harrison), Jazz (Sherrie Tucker), Women-Identified Music (Eileen Hayes), Rock (Maureen Mahon)
IV. PROCESSES
18. African American Music as Resistance – Antebellum Period (Lawrence Levine), Civil Rights Movement (Bernice Johnson Reagon), Post-Civil Rights (Mark Anthony Neal)
Also includes: Glossary, Bibliography, Discography/Videography and Index
Click here to pick it up online…
(R.I.P.) Ray Barretto…My Journey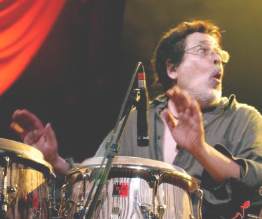 As a lurker of a Salsa internet music group, I kind of expected to hear of Ray's passing at any time for the past two weeks. I knew of the mid-January heart attack and ensuing bypass surgeries at Valley Hospital in Hackensack that had ocurred in the interim, and word had filtered out that things weren't going well.
Still, there is a great, great sadness in my heart and my spirit over his passing.
To look at Ray, even as late as two years ago, you'd describe him by invoking one of the titles from his Fania Records heyday, "Indestructible." This is a man who played music's most physically-demanding instrument, conga, and played it with a force usually not seen in 70+ year-old men.
My journey with Barretto began on December 23, 1963, as his big crossover hit "El Watusi" was one of the first four records I ever bought. I know that many people probably don't recognize the song by title; but believe me, if you were a kid aound that time and beyond, in ANY neighborhood, and someone started fooling around on a nearby piano–just playing some "riff" they "knew"–I bet you've heard the overriding riff of "El Watusi" at least a million times.
I was sitting in my family room before going to the office this morning after reading Bob's post, and I set the iPod to all I had on Barretto. Over the course of six or seven of the thirty-two tracks–and believe me, THAT'S incomplete, and WILL change–that played, a whole flood of memories started rushing over me. Images from his album covers such as Tico's "Charanga Moderna" (which "El Watusi" is from), "Guajira Y Guaguanco," and "On Fire Again." United Artists's "Latino Con Soul" (with "Bilongo," "Do You Dig It?," and "Happy Birthday, Everybody!")
And of course, many of the absolutely BRILLIANT Fania recordings, beginning with his 1967 debut for that label, "Acid" (with "El Nuevo Barretto," "Mercy, Mercy Baby," "Sola Te Dejare," and the ultra-classic "Soul Drummers"); "Hard Hands" (with the title tune, ""Abidjan," "Love Beads," "Mi Ritmo Te Llama," "Mirame De Frente," "Son Con Cuero"–my personal favorite–and "Ahora Si," where Ray closes the album with a rapid-fire conga solo); "Together," whose cover was a collection of shots of Ray and his band performing at the Schaeffer Music Festival during the Summer of 1969–I was there!; and all of the great 70s albums: "Power!," "Que Viva La Musica" (with the classic, "Cocinando"); the one-off Jazz album, "The Other Road;" 1973's "Indestructible," and 1975's "Barretto" (with "Guarare," "Vine Pa' Echar Candela," "Ban Ban Quere," "Testigo Fui," and the Ruben Blades-penned "Canto Abacua.")
And the many times I saw the great Barretto perform! The Harlem Cultural Festival in 1968–the first time I ever saw Latin music played live–it was a bill of Ray, Eddie Palmieri, and Tito Puente (I posted about that on the Patrol some years back; Ray closed his set that day with "Soul Drummers"); a couple of times at Central Park's Schaeffer Music Festival (1969 & 1975); opening for (with his own band) and playing with Them Fania All Stars at Madison Square Garden in 1974 (Ruben's public debut with the band; opened with "Canto Abacua"); and the countless nights I went to the Latin night clubs The Corso and Barney Google's. And I was right there with Ray when he decided to explore Jazz a little deeper, and he'd perform regularly at the popular 1970s New York City nightspot Mikell's, supporting 2-3 albums he'd done on Atlantic in the mid-late 70s.
The consistent thing about ANY Ray Barretto band, Latin or Jazz-oriented, was that it was T-I-G-H-T!!! And his salsa bands ALWAYS had what I would describe as a "strong, macho sound"–you know, like the saying, "Now there goes a man's man!" Sorta in that vein. And then there's the last time I saw Ray perform, at the "A Great Night In Harlem" Jazz benefit at the Apollo, September 24, 2001. Ray was a part of an aggregation that included Randy Brecker, Paquito D'Rivera,JoAnne Brackeen, Ron Carter, and Jimmy Cobb gettin' down on the classic "No Greater Love."
But the performances that will always be dear to me will be those on film/video tape with The Fania All Stars: from "Our Latin Thing" the interview with Symphony Sid, the "comedic turn" selling piraguas (shaved ice with flavored syrup) in El Barrio, and–of course–the "duel" with his longtime timbale player Orestes Vilato on "Descarga Fania," his "bring-'em-all-home" mini-solo on "Ponte Duro," and his "taking off" on the solo that ends "Quitate Tu;" and from "Salsa," the duel between Ray, Mongo Santamaria, and Billy Cobham on "Congo Bongo."
I was fortunate to be in Ray's company, rather informally, on several occasions having worked in the Fania Records mailroom one Summer and having a couple of then-friends (vocalist Ruben Blades and flautist Artie Webb) who were in Ray's band 1973-1975. What I remember is that Ray kinda just personified "hip," and just seemed to be a down-to-earth kinda guy. Very articulate, forward-thinking man.
His music has comprised a major part of my life. Today, sadness is in my spirit–but I know that heaven is rejoicing, and right now God is making Mongo move over (LOL!!!–a little "musical insider's joke")–so Ray can take his rightful place on the bandstand.
Que descanse en paz, El Gran Barretto. You'll always be one of my "Main Men!"
–Charles Duke
NP: "Que Viva La Musica"

CELEBRATE BLACK HISTORY MONTH
LISTEN TO SOUL-PATROL CEO BOB DAVIS ON NATIONALLY SYNDICATED BEV SMITH SHOW

LISTEN TO SOUL-PATROL CEO BOB DAVIS ON NATIONALLY SYNDICATED BEV SMITH SHOW
---