SPN: Bob Baldwin – NEWURBANJAZZ.COM, Jocelyn Brown, Marion Meadows, Phil Perry, Freddie Jackson, Najee, Frank McComb, Ike Stubblefield, Joey Sommerville, Toni Redd, Memoirs From the Hudson, The Sanctioned Bootleg, Vol. 1, All In A Day's Work, Bob Baldwin.com, Brazil Chill, Standing Tall

SPN: Bob Baldwin – NEWURBANJAZZ.COM, Jocelyn Brown, Marion Meadows, Phil Perry, Freddie Jackson, Najee, Frank McComb, Ike Stubblefield, Joey Sommerville, Toni Redd, Memoirs From the Hudson, The Sanctioned Bootleg, Vol. 1, All In A Day's Work, Bob Baldwin.com, Brazil Chill, Standing Tall
Soul-Patrol.Com||Soul-Patrol.Net Radio||Free Soul-Patrol Network Feeds||About Soul-Patrol



Soul-Patrol.Net Radio Exclusive:
Bob Baldwin – NEWURBANJAZZ.COMTha FUNKOVERLORD (Kevin Amos) gives us an exclusive audio preview of the new Bob Baldwin joint. Featuring: Jocelyn Brown, Marion Meadows, Phil Perry, Freddie Jackson, Najee, Frank McComb, Ike Stubblefield, Joey Sommerville & Toni Redd
---
Welcome To The Soul-Patrol Newsletter
1. With all of the controversy these days surrounding the demise of certain Smooth Jazz radio outlets around the country, it seems to me that it's about time to recognize just what a travisty that radio format has been for the evolution of Black music. In my opinion we are about to enter a phase where we are going to see a re-emergence of the instrumental R&B music that many of us grew up with, as the artists will no longer have to call their music "smooth jazz" simply for the sake of a "radio format." What I'm really talkin about is "jazz for people who say that they don't like jazz", yet when you put this music on, they can't quite get enough of it. Of course there are a whole lotta things that one could call this type of music, but I'm biased, so I'll just call it my very favorite "four letter word" (funk…).
2. Enter Mr. Bob Baldwin! As you will see and hear in this issue of the Soul-Patrol Newsletter, he is bringing forth a rather self explanatory concept called; "New Urban Jazz". Mr. Baldwin says on his website, that "New Urban Jazz" is the next form of contemporary jazz. In addition to this musical vision, Mr. Baldwin is also giving us a glimpse into the future of music marketing in both an obvious and a subtle manner. The obvious manner is by using the website as the name of the album. The subtle manner is the methodology in which the metadata is embedded into the songs themselves. As some of you may recall, we used a similar methodology for the songs on the Soul-Patrol.com Digital/Virtual Album 1.0 (now unavailable & out of print). In my opinion artists & labels who do these type of things are going to give themselves a completive advantage over artists and labels who don't. These are all certainly things that I am recommending to artists that I know. I strongly urge you to take a few moments and visit Mr. Bob Baldwin's website by clicking on the links sprinkled thru this issue of the Soul-Patrol Newsletter, where he's got some other innovative, "digital goodies" for you.
3. I'd also like you to take a listen to a special Soul-Patrol.Net Radio broadcast perepared for you by our own FUNKOVERLORD (Kevin Amos) on Bob Baldwin's new album called NewUrbanJazz.com! Also be sure to scroll down to the end of the newsletter for my review of the album, NewUrbanJazz.com.
4. We are going to have several big announcements coming up later this week with regards to the Soul-Patrol Times. We have several large performance entities in various cities that have just signed up with us and we are also running a sale for indy artists who want to sign up for text advertising. So if you are an indy artist who has been on the fence about signing up for the text ads which appear on the Soul-Patrol Times, now is your chance. The sale will end this week. Contact me if you are interested…
Thanks in advance…
–Bob Davis
609-351-0154
earthjuice@prodigy.net
BIO: Bob Baldwin
(Bob Baldwin Issues World Funk Alert)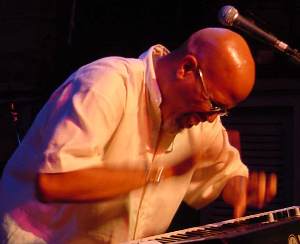 NEW YORK – Mount Vernon, NY native Bob Baldwin is unquestionably an unsung hero when it comes to the Contemporary/Smooth Jazz genre. Why, you say?
Although he has been running his production company since 1997, Baldwin has released 5 records on 5 different labels since 2000. Labels collapsing and going out of business, however, his last 4 discs charted Billboard top 10 Contemporary Jazz.
His 2008 release, "NewUrbanJazz.com" fuses jazz, funk with vocals. It's also the landscape of his radio show on WJZZ (Saturdays 6-10pm). The latest features Jocelyn Brown, Phil Perry, Freddie Jackson, Marion Meadows, Najee, Frank McComb, and Atlanta stars Joey Sommerville and Toni Redd.
his 2005 release "All In A Days Work" on 215 Records (His 10th overall) is certainly no departure from his winning formula as a composer, arranger keyboardist and producer. Fortunately, this journeyman was blessed to be taught to play the piano by his father (Robert Baldwin Sr.). Meanwhile, we should seriously consider his musical influences as a youngster with the likes of Stevie Wonder, Patrice Rushen, Chick Corea, EWF, Joe Sample and Ramsey Lewis, Miles Davis and George Duke, as their voicings can distinctively be heard in his music. Yes, it's obvious this cast of prominent players had a profound impact on Baldwin's musical journey.
With Baldwin's natural ability to weave life's experience into music while creating inventive harmonies, he doesn't really need to fill his releases with high-powered guest appearances. However, Baldwin has used the likes of Roy Ayers, Gerald Albright Dean James, jeff Kashiwa, Dave Mann, Chieli Minucci, Phil Perry, Kim Waters, Will Downing, Marion Meadows, Najee, Jocelyn Brown, the late Grover Washington, Jr. and Noel Pointer, Tito Puente alumni Ray Vega, Brazilian Percussion Cafe' on previous recordings over the years.
The 10th CD, "All In A Days Work" by the multitalented Baldwin is 13 tracks deep, this compilation of music contains three "interludes," several tracks with backing voices and a couple of lead vocals which adds up to be over an hour of vibrant, yet refreshingly gratifying collection of jazzy, urban nuances that will undoubtedly satisfy even the most discriminating smooth jazz & urban music aficionados. Baldwin's understanding of his craft makes him at the top of game as a player, in the midst of his compositions laced with the talented cast of musicians makes this project a rewarding listening experience.
"Like everyone else, the events in September 2001 moved my soul. I wanted to write music that said 'be proud of who you are, stand up for what you believe and do what you love.' Art does imitate life and vice versa, so liveyour life to the fullest… today," Bob urges. At age four, Bob Baldwin discovered his ability of perfect pitch with the help of his father, a jazz pianist who worked with Art Davis, Keter Betts, Max Roach and others. He studied classical and jazz repertoire, but his intriguing harmonies were no doubt honed due to his wide range of inspiration that included Oscar Peterson, Stevie Wonder, Herbie Hancock and Miles Davis. While studying accounting, business and broadcasting in college, he never strayed far from his first love.
Baldwin didn't let that business acumen go to waste. He independently produced his CD (distributed through the powerful Virgin/EMI Network) Bobbaldwin.com, which sold an impressive 60,000 units. He also used his business skills to develop and negotiate his recording deal with Narada Jazz.
Bob's 2000 creation, Bob Baldwin.com was an unsupervised recording. On 2/0/01, his position on the Billboard Contemporary Chart was #17, which was it's peak. BobBaldwin.com features the awesome talents of Gerald Albright, Marion Meadows, Armsted Christian, Dean James, Eric Essix and Tom Browne, to name a few. Baldwin's touch on "Funkin' For Jamaica" is world class as he dedicates that tune to the late Grover Washington, Jr., who was supposed to perform on the tune before his untimely death. It is Bob's second CD on this new independent label, which he founded in 1996. This CD is his most popular in his catalog, moving over 60,000 units.
In 1997, Cool Breeze, which was on the Shanachie Records label, garnered tremendous Radio success on the Gavin Smooth Jazz charts. It featured the hit single, "Summer Breeze", featuring Saxophonist Marion Meadows and Larry Coryell on guitar.
His 1996 Internet release, City Sketches (soon to be re-titled) is a musical portrait of the city of Atlanta, Ga., and is on his label, City Sketches, Inc. A commemorative celebration of Atlanta's unique history, some of the titles on this jazz composition includes, "Welcome to the Games", "Freedom Parkway", "Dreamin' the Dream" and "Downtown Underground". Violinist Regina Carter liked "Downtown Underground" so much that she used it on her latest LP, Something for Grace. Baldwin's highlight for the 1997 season was performing at the legendary Montreux Music festival in Atlanta (9/97) where he shared the stage with an Atlanta based ensemble (Blake Gaines on bass and Forrest Robinson on drums) as well as his friend and AWB member saxophonist Fred Vigdor. Baldwin also performed for the athletes at Atlanta's 1996 Centennial Olympic Games, and shared the stage with Roy Ayers and Chuck Loeb in front of hundreds at the Club Benson and Hedges Music Festival in 11/96 and 5/97. Baldwin also went to South Africa with Marion Meadows in the Fall of 2000.
City Sketches was Baldwin's first release in four years and it featured Marion Meadows, Sharon Bryant (formerly of Atlantic Starr), and Rohn Lawrence as well as other rising talent in Atlanta. Roberta Flack selected Baldwin as 1989 Sony Innovators Award winner for his first album, The Dream Featuring Bob Baldwin on Malaco Jazz Records (1988). Baldwin's second and third albums Rejoice (1990) and Reflections of Love (1992) were released on Atlantic-Jazz labels. They experienced measurable success as Reflections of Love peaked at #7 on the Contemporary Jazz Chart in July 1992. As a result of his success, he performed nationwide that same year, including The World Trade Center in New York City, The Comcast Cable Show in Detroit, Michigan and in Europe with vocalist Will Downing.
To his credit, Baldwin also contributed to the success of other established artists as he composed and produced material for saxmen Grover Washington, Jr. (Next Exit) and Marion Meadows (Keep It Right There). On one hot July afternoon, Bob was perusing the Billboard charts only to find his CD at #7 while Washington and Meadows were at #2 and #5, respectively. All three CD's sold in excess of 400,000 copies combined. Baldwin worked on Meadows' latest release, Body Rhythm BMG (1995) which to date has exceeded almost 100,000 units sold. He then supported the Body Rhythm album with Meadows on the road and has performed many sold-out Large City venues throughout the East and Midwest. The 1995 highlight was the performance at the Asbury Park Jazz Festival in New Jersey before an audience of 20,000 as well as sharing performance dates with vocalist Phil Perry and Chieli Minucci (Special EFX).
In addition, Baldwin has a love for humanity as he has given numerous benefit performances for African-American and Latino non-profit foundations in the New York City metropolitan area over the past ten years in the New York City Metropolitan area. Baldwin performed at the 1995 Special Olympics in New Haven, Ct
This Keyboardist exhibits his writing skills from time to time. As a contributing staff writer for Strictly Jazz Magazine published in Atlanta, Ga., he has written stories on Herbie Hancock, Patrice Rushen, Yellowjackets, Rio Kawasaki, Will Downing, Ray Vega, Lennie White, Keiko Matsui, Ray Obiedo, Marion Meadows, Joe Sample and George Duke. Baldwin also exercises his entrepreneurial prowess as he owns publishing company Are-Gee-Bee, Inc. Some of the company's writing, production and performing credits include George Benson, Grover Washington, Jr., Will Downing, Marion Meadows, Deniece Williams, Tom Browne, Norman Conners and Pieces of a Dream. He also owns a production company Chameleon Productions, which showcases his production portfolio as well as City Sketches. Inc., which he uses to house his own body of work.
Bob Baldwin was born in Mount Vernon, N.Y. His father, Robert Baldwin, Sr., also an accomplished jazz pianist and upright bassist in his own right. His brief Pianist career including working with Keter Betts (Ella Fitzgerald's main bassist) and Art Davis (who performed For years with John Coltrane). He later met Hancock at his Sony Innovators performance in Beverly Hills in 1989 whom inspired him during his formative years.
In 1986 he formed the The Bob Baldwin/Al Orlo Project. The The Baldwin/Orlo Project performed at the legendary Bottom Line in New York City leading to his first production with trumpeter Tom Browne. This opportunity led to his first album and eventually to his two-album deal with Atlantic Jazz Records. The Project also proved to be a stepping stone for other band members. Many went on to work as instrumentalist men for some of the most popular jazz and pop bands in the world including: Spyrogyra, Michel Camilo, Paul Simon, Luther Vandross, Roberta Flack, The Silos, The Average White Band, The Temptations, Ben E. King, the Broadway play "Momma Mia", and Chick Corea.
Baldwin draws his musical strengths from his spiritual source. "God has been good to me and blessed me with a wonderful talent. I look to him daily for direction and strength and give him thanks daily". His Gospel influences are Tramaine Hawkins, Helen Baylor, Yolanda Adams and Vickie Winans. "When you sing from God's soul, you ultimately save souls". Hence, the feeling you get from Baldwin's passionate playing comes from his spiritual source."
In 1986, Baldwin also exercises his entrepreneurial prowess as he owns publishing company Funky Onion Music and Are-Gee-Bee Music, Inc. Some of the company's writing, production and performing credits include George Benson, Grover Washington, Jr., Will Downing, Marion Meadows, Deniece Williams, Tom Browne, Norman Conners and Pieces of a Dream.
He also owns a production company, City Sketches, Inc. which he uses to house his own body of work. In 1996, he released "City Sketches/Welcome To The Games", where he showcased the CD on the web. This is where Baldwin learned the true nature of the music business, from artwork to production to wholesaling and consigning his product. That led to his 5th CD on Shanachie entitled, "Cool Breeze", which featured the top 10 single, "Summer Breeze" in 1997. In 2000, he went independent again with Bobbaldwin.com, which to date is his best seller. He recorded a Tribute to the World Trade Center victims with "The American Spirit" and his 7th CD, "Standing Tall". The latter charted top 10 in the Billboard Contemporary Jazz Charts and a top-3 single, "The Way She Looked At Me". His deal with A440 Music is monumental as He looks to exhale and release several releases, including his8th CD, which he recorded in Rio De Janeiro, Brazil and features Some very talented Brazilian musicians. He continues to Innovate and bring new talent to the forefront, one of his core career goals.
Since 2000, Baldwin has been developing the New Urban Jazz Radio Format, which is at it's very early stages. NUJ fuses Urban Music with Contemporary Jazz in a way that only Baldwin can mix it up. It is the future of Contemporary Jazz. He initial impressions have begun in Jacksonville, Fl. in 2004 before moving over to KJAZ in Bermuda, where he helped to shape the sound of that station. He's made the same impact and inroads at WCLK in Atlanta.
The Sony Innovator has now begun his NUJ format at WJZZ in Atlanta, which is a Radio-one Station. Check out Bob on WJJZ (Atlanta). He'll be hosting "The New Urban Jazz Lounge" (www.1075wjzz.com) – Saturdays 6-10pm. It will be there will NUJ will spread throughout the country and will induce a new sound in Contemporary Jazz. In 2007, he also released "Memoirs From The Hudson", a 70+ minute live set at the beautiful Croton Point Park in New York, which featured Marion Meadows on Sax. In 2008, look for NewUrbanJazz.com in the stores, featuring Meadows, as well as Najee, Frank McComb, Phil Perry, Freddie Jackson, Joey Sommerville, Toni Redd, and others. If he has it his way, Bob Baldwin will have his hands full with making, performing and sharing great music for years to come.
Be sure to check out our website at www.newurbanjazz.com for updates and tour information.


Soul-Patrol.Net Exclusive:
Bob Baldwin – NEWURBANJAZZ.COMTha FUNKOVERLORD (Kevin Amos) gives us an exclusive audio preview of the new Bob Baldwin joint. Featuring: Jocelyn Brown, Marion Meadows, Phil Perry, Freddie Jackson, Najee, Frank McComb, Ike Stubblefield, Joey Sommerville & Toni Redd
Album Review: Bob Baldwin – "NewUrbanJazz.com"
(Jazz/Funk/Rap/Soul)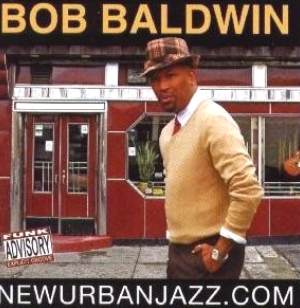 What a great album title and it really tells you everything that you need to understand about the "vibe" as well as the intent of this album. The first clue that we are really in for some "out of the box" type of thinking is the presence of singer Jocelyn Brown. Of course we know Jocelyn Brown best from her massive disco hit, the immortal "Somebody Else's Guy". Now as some of you might recall, the song "Somebody Else's Guy" wasn't just a "disco hit", it was actually something more. It was a club hit in Black disco's of the 1980's, after disco had once again become segregated. By then we had taken several steps backwards in our society and the Black discos of the 1980's became very upscale types of places. This was the beginning of the "buppie" (Black Urban Professional) lifestyle in big cities across the country, populated with folks who remembered the 1970's, but who were slowly adopting an alternate set of values.
It was a critical point in time and the album "NewUrbanJazz.com", brings us back to that period and then challenges us to use that information to chart a different musical course for the future. This is the period where these clubs always had a smokin dance floor on one floor, and a jazz lounge on a different floor, where you could just "chill out". To say that these clubs were schizophrenic is an understatement. To some extent this seeming contradiction of having two types of clubs under one roof also speaks as a metaphor for "NewUrbanjazz.com."
This is a very subversive album. For example the quintessential 1980's R&B crooner (Freddie Jackson) appears on the song "Natural Thing", followed on the very next track by the quintessential Nu Soul crooner of today (Frank Macomb) on the song "Flying High". This battle of soul crooners is followed by a funky tribute to Joe Zawinul that somehow combines just a hint of Weather Report, with some STAX/Brass Construction type horns and a hint of Donald Byrd. Sure there are vocals on this album, but this album is really an album of instrumental R&B. In some places it is very funky ("Seems Like One of those Daze") and uses hip hop grooves. And that makes perfect sense as well because what Bob Baldwin is actually bringing us back to that point in time, circa 1985ish, when R&B influenced jazz, hip hop, funk, and dance music were all staring each other in the face and could have come together if they had wanted to. Instead they all went off into different directions. On "NewUrbanJazz.com", Bob Baldwin is bringing these elements face to face with each other again and is presenting us as music fans the opportunity to make a different kind of a descion than the one we made back in the mid 1980's. This really is a subversive album, it's trying to create a "quiet revolution."
Look for these songs playing as as "buzz cuts" on Nu Soul @ RadioIO.com
–Bob Davis


Soul-Patrol.Net Radio Exclusive:
Bob Baldwin – NEWURBANJAZZ.COMTha FUNKOVERLORD (Kevin Amos) gives us an exclusive audio preview of the new Bob Baldwin joint. Featuring: Jocelyn Brown, Marion Meadows, Phil Perry, Freddie Jackson, Najee, Frank McComb, Ike Stubblefield, Joey Sommerville & Toni Redd
If you have a news item, update, review, commentary, etc that you would like to submit to the Soul-Patrol Newsletter, please send them via email for consideration to:

Hopefully you enjoyed this edition of the Soul-Patrol Newsletter.
We will be back soon with the next edition, with email alerts for local events, Soul-Patrol website updates/chat sessions or breaking news in between, as required.

If you have any comments, questions, etc feel free to drop me an email and let me know what's on your mind.
Bob Davis
earthjuice@prodigy.net