SPN: Classic Soul/R&B/Doo Wop The Velons and their Divas (Clickettes, Baby Washington & the Jewels), Reviews, Broadcasts, Pictures and more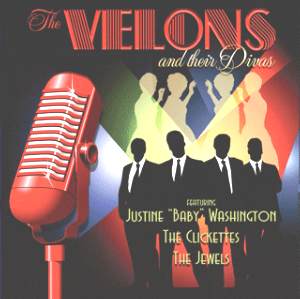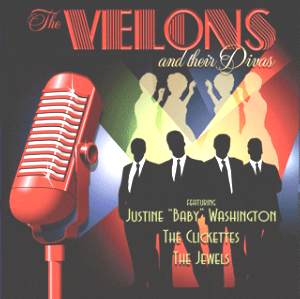 The Velons and their Divas (Clickettes, Baby Washington & the Jewels)


Listen To a Soul-Patrol.Net Radio Exclusive:
The Velons and their Divas (Clickettes, Baby Washington & the Jewels)
Earl Gregory gives us an exclusive audio preview of the new album entitled The Velons and their Divas. A great modernday example of true Classic R&B, done by some folks who are TRUE ORIGINATORS!
---
Welcome To The Soul-Patrol Newsletter
This is a very special Soul-Patrol Newsletter. I am truly proud to be able to present to you a BRAND NEW ALBUM of CLASSIC R&B/Doo Wop, entitled "The Velons & their Divas."
Now there are a lot of yall out there who think that I do a lot to "preserve R&B", but I got news for you, that isn't really true. Let me tell you all about a person who is REALLY preserving, R&B music.
Her name is Beverly Lindsey-Johnson, she is from Washington DC, and she is a member of Soul-Patrol. However, she is truly an ambassador for R&B music who travels around the world "preaching it's gospel", to anyone who will listen.
Beverly doesn't just talk the talk", she actually "walks the walk as well." She does this by putting MAJOR SKIN INTO THE GAME. She produces TV shows, promotes concerts, promotes cruises, and more. She helps both individuals and organizations who are attempting to keep this music alive aand she is sucessful against all of the odds. She has facilitated a resurgence of this music in the Washington, DC area that is a true phenomena in and of itself. Take it from someone who knows, doing this kind of stuff is not easy. Between fighting CULTURE BANDITS on one hand and fighting BLACK PEOPLE WHO WISH TO REMAIN IGNORANT OF THEIR OWN HISTORICAL LEGACY, it's damn near impossible. And Beverly manages to do "the impossible" every day and she needs to be commended for having done just that!!!
I have known Beverly for a number of years. She is a great friend of Soul-Patrol and we gave her an award at the 2007 Soul-Patrol Convention for producing the fantastic TV documentry called "Dance Party: The Teenarama Story", about a 1960's television dance show for African-American teenagers broadcast by WOOK in Washington, DC. Beverly invites me down to DC all of the time so that I can report on the many of the great Classic Soul/R&B/Doo Wop concerts down there. (one of which featuring the Jewels is featured later in this newsletter, including a great picture that I was honored to take with them). Hopefully soon I'll be able to review the Clickettes, and Baby Washington in concert as well.
Beverly is also the person who turned me on to this GREAT NEW ALBUM called "The Velons & their Divas" and I strongly urge you to check it out by visiting the Velons website at: http://www.velons.com
In addition to checking out the Velons website, I would like you to check out the album itself which you can hear at the following link, via Soul-Patrol.Net Radio: http://www.soul-patrol.net/velons_divas.ram, this broadcast markes the Soul-Patrol Radio debut of Mr. Earl Gregory, a former member of the Flamingos, who will be your guide thru this great album.
Check all of this out and let us know what cha think…
Thanks in advance…
–Bob Davis
609-351-0154
earthjuice@prodigy.net
Album Review: The Velons & their Divas
(Classic Soul/R&B/Doo Wop)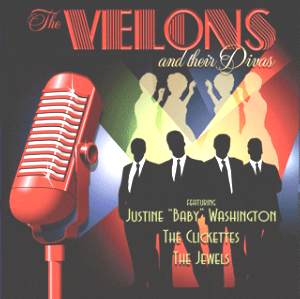 Watching some of the "tabloid" and what some may regard now as "Human Interest" pieces, I end up "having" to keep up with and acknowledge "American Idle". That coupled with some of the various music sources I stumble onto, I hear what is, now taken as normal, a lot of histrionic "singing". A lot of hollering, squeezing as many notes as one can in from two beats to a whole measure. Very athletic for sure. The "notes" and the amount of notes, apparently, have become more important than the words and the story the "singer" is telling. In the end, this "style" has rendered much of the music and the performers neutralized by the "sameness" in delivery. One has to go "off the grid",to get something that offers a total wall of music, where the music, the story and the performers are in concert; complimentary to one another. What a concept! A musical balance!!! OFF THE GRID….HERE'S ONE!!!!
THE VELONS and Their DIVAS is a collection of songs and stories done clean and polished with style and technique. Less is MORE!!! As one can expect from experienced performers, this is a project where there is a soothing balance of solid musical arrangements sitting beneath some "Classy" vocal performances. These are PROS in the true sense of the word, performance wise. The VELONS, the featured artists on this album, The JEWELS and The CLICKETTES demonstrate a dying art in American Pop music…..Group Harmony Singing. Not the presentations that managed to pop up over the last 10 or 20 years, where you have a lead and a background competing with that lead. NOT HERE! The "Lead" is the "LEAD" and the "Background" is the "BACKGROUND"!! WHAT A CONCEPT! You "get" the story/lyrics, and a support to that story/lyric where the background serves that "role" where an orchestra of horns and strings aren't necessary to fill the musical space.
…..and then there is "BABY". I have to admit a bias here. I had the great pleasure of playing behind JUSTINE "BABY" WASHINGTON a while back. She has that style and sound of a "Woman" that gave her distinction in her "hit makin' " days. She's got two songs mixed in this collection of Vocal Group Excellence that adds another dynamic to the overall album.
From the early 50's Classic, "HOW SENTIMENTAL CAN I BE", to the "Special Track", "A CHANCE TO SAY GOODBYE", this is a "baker's dozen" of songs that epitomizes the expression, "Less is more". The VELONS have the "lion's share" of tracks (7). Their performances, as well as that of The JEWELS and The CLICKETTES, are of the classic format used for decades in Rhythm & Blues. This album presents a balance between the music and the artists, telling a story. There are those who would erroneously call this "dated". It's Rhythm & Blues in its purest form out of the tradition of group harmony singing. Their rendition of "The Way You Love Tonight" is fresh and "today" without compromising the romantic nature of the tune as many of us remember it by Sinatra or if you go back that far, Billie Holliday (sort of reminds me of "Lady Love" by Lou Rawls). As much as one may like the boldness that female singers have come to in recent years, "Kiss and Make It Better" by The CLICKETTES take us back to the innocence and romantic pines of vulnerabilities. "Someone to Love" is likewise. The JEWELS tell the story of "simple love and romance". When stars were there to illuminate the sky and make your wishes on.
"It Isn't Fair" by JUSTINE "BABY" WASHINGTON is a classic "Torch Song". A "heart in her sleeve" story told in the manner that Baby Washington has always done. No pretensions. As great story tellers know how to do…..make you hear her heart….but then as I said before. When it comes to "Baby"….I'm bias.
Rhythm & Blues, in its traditional form. Simple stories, solid Group Harmonies. Innocent romance and passion. That's what this album is. If you like your music "shaken"…this may not be for you. But if you like your music "stirred", this is a MUST HAVE. Now if you will excuse me, there is a "Martini" that is in need of my attention. BTW…..I STIR. http://www.velons.com
–Earl Gregory
Look for these songs playing as as "buzz cuts" on Nu Soul @ RadioIO.com



Listen To a Soul-Patrol.Net Radio Exclusive:
The Velons and their Divas (Clickettes, Baby Washington & the Jewels)Earl Gregory gives us an exclusive audio preview of the new album entitled The Velons and their Divas. A great modernday example of true Classic R&B, done by some folks who are TRUE ORIGINATORS!
BIO: The Velons
(The VELONS have been recording for over 40 years)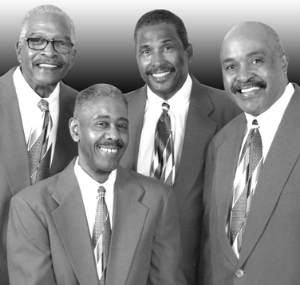 The VELONS, John King, James "Jimmy" Falwell, Gilbert Farrall and Oliver and Gerald Crosby, began singing in 1958 while in high school in Washington, D.C. Later, the Crosby brothers left the group and James "Buddy" Owens, who had performed with another group known as The Versatiles, replaced them.
The VELONS began their professional career in 1968. As a dedication to the soldiers in Viet Nam, The VELONS, consisting of John King, Jimmy Falwell, Gilbert Farrall and Buddy Owens, recorded their first record, "Why Don't You Write?" on the BJM label (6568-A). That same year they recorded, "That's What Love Can Do" (BJM 6569-A). Both records had local success and are now collectors' items on the oldies circuit. In 1969, the group teamed with Jean Quander, another local vocalist, to record an unreleased album. They temporarily disbanded shortly afterwards.
In 1971, Jimmy Falwell, John King and Gilbert Farrall, as JJ & G, recorded, "That's What I Get for Loving You", on TEC Records (T1071-72) that was later released on the Atlantic label. In that same year, Buddy Owens recorded an unreleased single, "I'm Trying to Tell You Something" on the BJM label.
Around 1974, Jean Quander released a single on BJM Records (BJM 577), "If He Walked Into My Life". She was backed by the distinctive sound of The VELONS, then Jimmy Falwell, Buddy Owens and a new member, Robert "Bobby" Horn, who previously sang with The Ambassadors. Soon after, Gilbert Farrall rejoined The VELONS and Carrie Mingo, who had performed with The Four Jewels, was also recruited. The group recorded two albums. Their first album, "Remember When" on the MAXI label (MR-lll), was re-released as "Come Get These Memories" on Solid Smoke (SS-8008). The second album, "Moonlight and Music," was also released on Solid Smoke (SS-598-1). Carrie Mingo left The VELONS in 1987 to pursue a new business venture. Three of The VELONS, Buddy Owens, Gilbert Farrall and Bobby Horn, did background vocals in 1982 for Billy Price and the Keystone Band's album, "They Found Me Guilty" (Green Dolphin Records, GD7852). In 1985, they also backed Billy Hancock on his album, "Wanted: True Rock 'N' Roll" (RIPSAW Records 220).
The VELONS, along with four other local groups, were featured on a Christmas album, "A Capitol Christmas", that was recorded in 1989 on Lawrence E. Berry's BJM label, in association with Washington Hit Makers (WHBJM-002). Thc Christmas album was re-released in 1994 on Collectables Records (CD-COL-5299) as "A Rhythm & Blues Christmas – Volume 2". In 1997, Collectables also released "Come and Get These Memories" (CD-COL-5782) – a great collection of previous recordings by The VELONS.
In February 1999, Jean Quander Cheeks teamed up with the group to release their CD, "It's All Good, It's All Right" (BJM-005). This CD has all original songs written by members of the group and it was arranged and produced by Al Johnson. This music is warm and sensual; it swings, it rocks, it doo-wops, it sends a message that you will not want to forget.
While the actual members of the group have changed through the years, their purpose has not: Four-part harmony at its best; blending the heart and soul of the past with the lyrics and rhythms of the day. Lawrence Berry, who is a well-known D.C. promotor and owner of the BJM label, has been the manager of The VELONS for four decades. In additon, Lawrence's son Tony Berry has been the group's musical director since the late 1980's.
The voices of The VELONS today are Jimmy Falwell, Buddy Owens, Bobby Horn and Robert "Snobby" Brown, Jr. In 2001, The VELONS along with new member Snobby Brown released a 45, "Blue Lover" w/ "Someone" (BJM 0006). These are must have recordings for doo-wop collectors. The group also released a CD "Here's to You" in April 2004, which became an instant favorite of their many fans.
In October 2007, The VELONS released a brand new CD called "The VELONS and their Divas" (BJM-008), and this time they decided to showcase a few of their female friends. The CD includes cuts from the Jewels, the Clickettes, and Baby Washington. On the Baby Washington songs, you will find the familiar sounds of The VELONS in the background. To hear and purchase this new CD, see the Audio page)
Check out more on the Velons at: http://www.velons.com



Listen To a Soul-Patrol.Net Radio Exclusive:
The Velons and their Divas (Clickettes, Baby Washington & the Jewels)Earl Gregory gives us an exclusive audio preview of the new album entitled The Velons and their Divas. A great modernday example of true Classic R&B, done by some folks who are TRUE ORIGINATORS!
Concert Review: Jewels @ Harmony Hall RegionalCenter (Washington DC)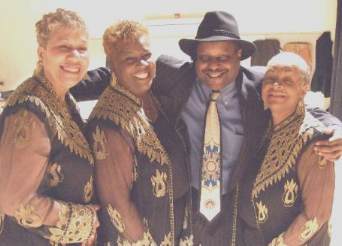 One of the songs that we saw THE FABULOUS JEWELS perform last night in a beautiful facility called the @ Harmony Hall Regional Center, dedicated to the preservation of Black History just outside of Washington DC last night was their big hit song from 1963 called….
:::OPPORTUNITY::::
And they ROCKED THA HOUSE
Damn….it's been a while since I had as much fun at a concert as I did last night. And who would have ever thought it??? One of the problems inherent in the term "Doo Wop" is that it conjures up certain images for people.
– When I was a teenager in the 1970's the image that the term brought to mind were tall skinny black men with shinny suits, thin ties and processes. ("uncle toms")
– Today the term conjures up images of old black men, performing old songs, in front of lilly white audiences. ("uncle toms")
Of course "images" are usually the product of the people who are trying to "sell something" and nowadays we know better than to simply accept "images" that are presented to us at "face value" and to look beyond them for the true substance that is held within the people who we are viewing.
Last night I had the extreme pleasure to sneak outta New Jersey and travel down I-95 to see the JEWELS (Margie Clark, Grace Ruffin and Sandra Bears) in concert. I was anxious to see them perform live ever since I had viewed their performance on a DVD.
Here's a little history: The Jewels were discovered by Bo Diddley who lived in DC in the early 1960s and had a recording studio in his Northeast DC Home. James Brown caught The Jewels show at New York's Apollo Theater in 1964. He was so impressed with their high powered show in 1964, that he sent his representative to their dressing room and asked if they would be interested in touring with the James Brown Revue. Since they were in a contract with their manager Smokey McAllister, they waited until the contract expired….called James Brown and asked if he still wanted them….James told them to meet him in New York. They packed up and left….as young girls around 19 and 20 years old. They were only to do six dates on the national Revue. They stayed with The Revue for 1 year. James Brown calls out the name "JEWELS" on "Don't Be a Drop Out". They recorded two songs on James Brown's King Label.
After a year on buses and in hotels, they wanted to stabilize their lives and they returned to DC, and continued their career. The Jewels also back up Billy Stewart on the song "Reap What You Sow".
ON THE DVD THE JEWELS TEAR IT UP
LAST NIGHT @ HARMONY HALL REGIONAL CENTER
THE JEWELS TORE IT UP
I mean these women put on a SHOW!!!
DC Soul-Patrol Coordinator "Zielove" and I arrived a little late, and the band was already warming up the crowd (which I took note of was nearly 100 percent African-American). To my surprise they weren't warming up the crowd with some old doo wop songs. These guys were delivering a STONE COLD FUNKY AZZ rendition of Herbie Hancock's "Chameleon"…….lol
And then the JEWELS "take it to the stage". Here is the set list…
– Baby Its You (originally a Pookie Hudson & The Spaniels song)
– Someone Special (Written by The Jewels)
– Erasers on Pencils (Recorded by The Jewels in 1964)
– Dedicated to The One I love
– Will You Still Love Me Tomorrow
– Mama He Treats You Daughter Mean
– Help Me Make it Through The Night
– Thankyouforlettinmebemyselfagain
– Darling (acapella)
– Dancing In The Streets
– Something's Got A Hold On Me
– Loaded with Goodies (A Jewels Original 1965)
– Johnny Jealousy (1963)
– Opportunity (1964)
– Bye Bye Baby
– Do Right Woman
– I'll Take You There
– Neither One of Us
(They performed for 90 min!!!)
So to me the term "Doo Wop" is truly misleading. This show REALLY was a: HELLIFIED STONE COLD – ROCK- SOUL- BLUES- FUNK (And yes, doo wop)EXPLOSION
It was "great black music from the ancient to the future"…
ON DISPLAY IN ALL OF IT'S POWER MAJESTY AND GLORY
And that's because the Jewels didn't just sing the songs….THEY PUT ON A SHOW
They danced, They told jokes, They told stories, They came out into the audience with their wireless mikes and got the audience involved. The Jewels were simply magnificent!!!!
–Bob Davis:


Listen To a Soul-Patrol.Net Radio Exclusive:
The Velons and their Divas (Clickettes, Baby Washington & the Jewels)Earl Gregory gives us an exclusive audio preview of the new album entitled The Velons and their Divas. A great modern day example of true Classic R&B, done by some folks who are TRUE ORIGINATORS!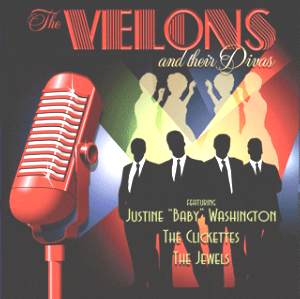 The Velons and their Divas (Clickettes, Baby Washington & the Jewels)
If you have a news item, update, review, commentary, etc that you would like to submit to the Soul-Patrol Newsletter, please send them via email for consideration to:

Hopefully you enjoyed this edition of the Soul-Patrol Newsletter.
We will be back soon with the next edition, with email alerts for local events, Soul-Patrol website updates/chat sessions or breaking news in between, as required.

If you have any comments, questions, etc feel free to drop me an email and let me know what's on your mind.
Bob Davis
earthjuice@prodigy.net
Soul-Patrol Email Blast/Sponsorship Oppurtunities:

If you or your organization is has a need to reach Soul-Patrol Newsletter readers (Soul, Funk, Jazz, Blues, Rock n Roll fans) on a worldwide basis, then you may be interested in talking with us about doing a targeted email blast. They are inexpensive and highly effective for announcing a new CD, concerts, website launches, new products, new or existing businesses, etc.
We also have sponsorship oppurtunities available for Soul-Patrol's Website, Soul-Patrol's Daily Interactive Mailing List and the Soul-Patrol's Newsletter.
Contact us for the current rate schedules via

email.

Bob Davis – Soul-Patrol
798 Woodlane Rd
Suite 10264
Mount Holly, NJ 08060
609-351-0154


Click Here to Subscribe/Unsubscribe For Your Free Bi-Weekly Issue!