SPN: Funk/Rap – Public Enemy Blows 5,000 Minds In Central Park, NYC (Chuck D, Flava Flav, Proffesor Griff, w/Blitz The Ambassador, Cold Crush Brothers and DJ Kool Herc, Classic Hip Hop @ RadioIO.com

SPN: Funk/Rap – Public Enemy Blows 5,000 Minds In Central Park, NYC (Chuck D, Flava Flav, Proffesor Griff, w/Blitz The Ambassador, Cold Crush Brothers and DJ Kool Herc, Classic Hip Hop @ RadioIO.com

GUEST EDITORIAL: Chuck D – Never have so many been pimped by so few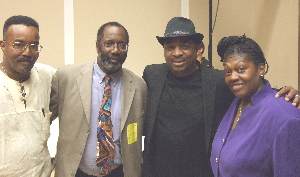 As most of yall know, Soul-Patrol has stood front and center not only against mediocrity in Black music, but also against those who claim that we should be accepting of it. We think that OUR CULTURE is far too important to the future of OUR CHILDREN to be willing to "accept less than the best." Plain & simple, "that ain't how we were raised."
The following essay comes from someone who was raised with me. All of you know that Chuck D is not only a member of Soul-Patrol (He is pictured with Soul-Patrollers Kevin Amos, Tee Watts and He is pictured with Soul-Patrollers Kevin Amos, Tee Watts and Divinah Payne-Shantefeire) and the two of us grew up right around the corner from each other in New York. So the following commentary should come as no surprise to you…
I don't have much to add to this, except to say; read it and pass it along. Especially to someone who is younger than you. And ask them to pass it along to someone even younger…
–Bob Davis
——
[Note: Chuck D wrote this essay as a letter to Chuck "Jigsaw" Creekmur (AllHipHop.com) and Davey D (DaveyD.com). With permission, the message by the Public Enemy leader, has been edited slightly into a scathing editorial about the media, Hip-Hop and the how the culture has been pimped by a mere few.]
Chuck D:
I really don't know what constitutes for "relevant" coverage in HIP-HOP news in America these days, but I really want to give you all a heads up. As you know I've been through three passports, 76 countries on the regular in the name of Hip-Hop since 1987 and in 2010, although I've never stopped traveling the earth this year, I've seen, heard and felt some new things.
As far as RAP and HIP-HOP, it's like USA Olympic basketball, the world has parity now and have surpassed the USA in ALL of the basic fundamentals of HIP-HOP – TURNTABLISM, BREAKING, GRAFFITI, and now EMCEEING with succinct mission , meaning and skill. Skill-wise rappers spitting three languages, have created super rappers to move the crowd with intensity and passion. The "arrogant" American comes in blackface, but if there was a HIP-HOP or Rap Olympics, I really don't think the United States would get Gold, Silver or Brass or even ass for that sake.
The 20th year anniversary of FEAR OF A BLACK PLANET has become into a year and a half celebration of eights legs and five continents. All the while, looking at a HIP-HOP Planet across 25 countries while still somewhat supportive of American rap, the rest of the world has surpassed the U.S. in skill, in fundamentals and commitment to their communities. Public Enemy's mission is to set the path, pave the road for cats to do their thing for a long time as long as they do it right.
Because of the lack of support from local radio, television and community in the United States, the ability for "local" acts to thrive in their own radius has killed the ability to connect and grow into a proper development as a performer, entertainer and artist. Rappers trying to get put on to a national contract hustle from a NEW YORK or LOS ANGELES corporation has caused the art-form to atrophy from the bottom, while never getting signed to a top echelon that really doesn't exist, but to a very few.
HIP-HOP NEWS spreads like any other mainstream NEWS in America. The garbage that's unfit to print has now floated on websites and blogs like sh*t. For example a rapper working in the community gets obscured while if that same rapper robbed a gas station he'd get top coverage and be label a "rapper" while getting his upcoming or current music somewhat put on blast, regardless of its quality which of course is subjective like any other art. RAP sites and blogs are mimicking the New York POST.
This is not mere complaint , this is truth and its coming down on Americans like rain without a raincoat with cats screaming how they ain't wet. This is real. The other night upon finishing groundbreaking concert performances in Johannesburg we followed a special free concert in Soweto. To make a point that our agenda was to "show? and encourage the Hip-Hop community to be comfortable in its mind and skin without chasing valueless Amerikkkan values.
Never have so many been pimped by so few.
It does the people of the planet little good to hear that an an artist is famous and rich, will wear expensive jewelry straight from the mines, show it off, stay it the hotel, ride in limos, do the VIP with chilled champagne in the clubs, ape and monkey the chicks (meaning not even talking) and keep the dudes away with slave paid bodyguards when real people come close. The mimic of the VIACOM-sanctioned video has run tired, because it shows off, does NOT inspire and it says NOTHING. Here in South Africa PUBLIC ENEMY has done crucial groundbreaking performances. Its the same level of smashing the house that we've done this year in Moscow, New York, Paris, London , Chicago and other places this year. This is not news We are not trying to prove any point other than to show that a classic work is timeless and doesn't have a demographic per se. The Rolling Stones and U2 are NOT measured by mere tracks' they are measured by the all-around event they present. The art of the performance has left Hip-Hop whereas somebody has led artists to do more performing off the stage than on it. The agenda here is to create artist exchange.
This serves as a call to the infrastructure-less Hip-Hop game in Amerikkka. We know what your hustle is, but what is your work and job here? Faking it until making it runs its course in a recession, which is a depression for Black folks who increasingly are becoming more skill-less as they become jobless.
Never have so many been pimped by so few.
Since the music has so much power, and image has become everything to the point that it can dictate the direction of a person in their life, it is my mission now to really become a "freedom fighter" and stop this radiation. With Jay-Z and others who, for years would faint their worth, the statement of "with great power comes great responsibility," is more true. Words are powerful and they can both start wars and bring peace. This cannot be taken lightly. Its important for the words to be body with the community. If not one dime of $250 million doesn't benefit the people who contribute to it then why does that warrant coverage above the will and effort of many in the music who have done great things.
Never have so many been pimped by so few.
I turned 50 this year. Everyday I get the question whats up with Hip-Hop today. If nothing was wrong the question wouldn't be the dominating question I get. I do massive interviews worldwide. I'm covered from varied aspects Hip-Hop, Public Enemy, social issues, musicology in general. So, my interactive world dialogue is deeper and more present than 140 characters.
Never have so many been pimped by so few.
I am tired of the silence of people that know better. There is nothing worse than a person that knows better and does worse. Or says nothing.
And makes excuses for bulls**t.
You know damn well HIP-HOP in the USA has fell way the f**k off as the American dollar and much of America itself. Held up and dictated by White business lawyers, accountants in New York, and Los Angeles offices. To dictate to a community and not even live or be with the people is offensive. VIACOMs reach into Africa to turn HIP-HOP in to Amerfrica, which is as exploitative as those slave-makers who carried us across on boats. The decisions made in a boardroom in New York City while these cats scurry to their high rises, and suburban mansions from cultural profiteering must stop. And I'm going to do something about it.
Never have so many been pimped by so few.
My agenda of Hip-Hop around the world is in line with its creators, who followed Black Music. The music had the people's back. It has never been my personal agenda. Americans arrogantly have no back. Hip-Hop has followed this. I am disturbed by the fact that I tell artists that doing work in their community will get them little or no buzz for their effort, but in the same sense if they robbed or shot someone or did a bid they would get national and sometimes international attention.
Never have so many been pimped by so few.
So many of your favorite people suck up to the NBA and NFL, because it has order and when you make the game look bad David Stern or Robert Goddell is kicking their asses out . They are the indisputable HWIC, and negroes are in line and silenced. But here in Hip-Hop the dysfunctionality reward makes the money that puts food on many tables.
Its time, because I hear too many excuses. I wont allow what's in the USA f**k up what I and others worked hard to instill. I drive a '94 Montero, a '97 Acura, and have no expensive jewelry. There is nothing on this planet materially that is better than myself. This is what I instill in many doing Hip-Hop that nothing is greater than what is given. These games of people doing anything to get things has seeped into my way so therefore witness some radical virtual things coming from me in protecting the art-form of Hip-Hop.
Never have so many been pimped by so few.
So, I'm going after the few.
I'm tired of it.
Chuck D from CaPEtown, South Africa.
Public Enemy's 71st Tour
6th Leg of a Fear Of A Black Plan Tour
Chuck D is an emcee, author, producer and civic leader, among other things. He also happens to front a legendary, revolutionary rap group called Public Enemy. Public Enemy is renown for their politically charged lyrics, frenetic production style and penchant for shaking up the power structure.
—————–
Bob Davis
earthjuice@prodigy.net
609-351-0154
——————
Co-Founder www.soul-patrol.com
Blues, Hip Hop and Soul Music Director www.radioio.com
——————-
SPN: Funk/Rap – Public Enemy Blows 5,000 Minds In Central Park, NYC (Chuck D, Flava Flav, Proffesor Griff, w/Blitz The Ambassador, Cold Crush Brothers and DJ Kool Herc, Classic Hip Hop @ RadioIO.com

||

Soul-Patrol.Net Radio

||

Soul-Patrol Calendar

||

About Soul-Patrol




---

Also posted at: http://www.soul-patrol.com/newsletter/2010/news4/publicenemy.html

Welcome To The Soul-Patrol Newsletter

Just Another Summer Afternoon In The Park

This summer I have been fortunate enough to see Living Colour, Bobby Brown and Public Enemy all perform in front of huge, enthusiastic outdoor crowds and to watch each one of them turn it out each time, and leave the crowd literally talking to themselves after the shows.

It also occurs to me that the timeframe of the mainstream commercial peak of each one of these three artists (1988 – 1992?) was possibly the last moment in time, that Black music was "right with itself?" Since then, Black music seems to be squarely on a path of "self destruction."

After seeing each one of these shows, I have walked away thinking that maybe it isn't too late to change that path? Maybe if more artists stop pandering to the "mainstream," and start returning to the grassroots, they will cause a tidal wave of innovation/creativity that will cause Black music to emerge from the toilet where it currently resides, before it gets flushed down that drain?

(or perhaps I am living in a fantasy world or kidding myself & Black music is doomed to completely destroy itself, a la the recent BET KOON SHOW?)

I emcourage you to scroll down, read the reviews, follow the links and learn more about just what THE REAL HIP HOP CULTURE is supposed to be about!!! (as opposed to what KNEE-GRO RADIO & KOON TV are putting out there.) And of course I invite you to listen to me as a chronicle that music & culture on the Classic Hip Hop channel @ RadioIO.com (the funkiest station in the nation!!!

–Bob Davis
609-351-0154
earthjuice@prodigy.net
Co-Founder www.soul-patrol.com
Blues, Hip Hop and Soul Music Director www.radioio.com



Classic Hip Hop @ RadioIO.com. THE FUNKIEST STATION IN THE NATION – HOSTED BY BOB DAVIS.

Public Enemy Blows 5,000 Minds In Central Park, NYC (Chuck D, Flava Flav, Proffesor Griff, w/Blitz The Ambassador, Cold Crush Brothers & DJ Kool Herc

DISCLAIMER: My apologies to our friend Rickey Vincent once again for borrowing his format (the music, the people and the one) once again for this review. For this concert it's the ONLY useful way of describing what happened.

INTRO:

IT WAS SUPER HELLIFIED
IT WAS SUPER FUNKY
IT WAS SUPER EDUCATIONAL
IT WAS SUPER HISTORICAL

Public Enemy clearly demonstrated on multiple levels exactly why they are probably the single most important artist in the history of hip hop. And maybe why they might just be the most important artist in the future of hip hop by having a SUPER NASTY FUNK BAND, playing their classics behind them (our friends from the baNNed 9.)

The presence of the band is no small detail. For example, when Chuck D shouts out; "HEAR THE DRUMMER GET WICKED" (he turns to the drummer, who then proceeds to actually "get wicked.") When he shouts out "BASS…HOW LOW CAN YOU GO" (he turns to the bass player, who then proceeds to actually "go low.") All done in the best tradition of the James Brown Revue (which clearly is what this entire extravaganza is modeled on) Could this be the future of hip hop, something actually presented in the best tradition of Black music? (only time will tell)

Having the Cold Crush Brothers" (arguably the very first rap group perform) along with having DJ Kool Herc (see above) there to spin 60's & 70's Soul/Funk (using 45's no less……LOL) for the crowd prior to the show and between sets, absolutely set the tone for the proceedings. That along with the performance of African rapper/singer/drummer Blitz The Ambassador, who fronted his own STANK NASTY FUNK BAND & opened up his set by telling New York that he was gonna "take them back" and then launched into an AWESOME cover version of Manu Dibango's "Soul Makossa," that was sorta like throwing a lit match on gasoline. Then Bliz stoked the fire even more with by covering both James Brown & Eric B and Rakim, and he had the crowd in the palm of their hands. The rest of his set consisted of Blitz's very fine singing and machine gun style rapping, while fronting his excellent FUNK band. This is an artist to keep an eye out for.

Now it was time for Public Enemy to come out and kick some azz, backed by the baNNed 9 (featuring Brian Hardgroove Bass , Khari Wynn Guitar, Michael Faulkner drums) and DJ Lord on the turntables!!!


Classic Hip Hop @ RadioIO.com. THE FUNKIEST STATION IN THE NATION – HOSTED BY BOB DAVIS.

THE MUSIC:

–Brotha's Gonna Work It Out
–911 Is a Joke
–Welcome to the Terrordome
–Meet The G That Killed Me
–Burn Hollywood Burn
–Bring The Noize
–Don't Believe the Hype
–Terminator X
–Time Bomb
–By The Time I Get To Arizona
–Can't Truss It
–Fight The Power

I know that this set list is wrong, I've left out some songs, it's probably not in the correct order, but it was tough trying to take notes in the rain. It doesn't matter, yall get the idea. Here's the point about this, the set was exactly what you wanted to hear from Public Enemy in 2010. Starting with "Brotha's Gonna Work It Out" and ending with "Fight The Power," those two pieces of advice are still the "strategic and tactical plan," for my generation of Black males, regardless of who is sitting in the White House. Yes indeed Virginia, there is in fact a "method to the madness." The entire show flows in a manner not unlike that of a sermon in a Black church, with both Chuck & Flav in the pulpit doing a triangulated "call & response with each other and the crowd (who incidentally know all of the words.) In between songs (in addition to his complaints about his wireless microphone isn't working properly.

During the 80's/90's Public Enemy defined just what hip hop production (sampling/mixing) was supposed to sound like. Their self contained production team, "THE BOMB SQUAD" seemingly obliterated any need whatsoever for the presence of any live musicians, not only for Public Enemy, but for hip hop at large. After all, how could ANY band possibly hope to duplicate "THE BOMB SQUAD'S WALL OF SOUND?" Well the answer is that no band possibly could, however a great Funk Band in combination with a great DJ (DJ Lord) mixing live onstage, can not only duplicate that "WALL OF SOUND," but also make it sound "ORGANIC" at the same time. The net effect of this is to bring hip hop back full circle, not only to it's roots, but also to it's future.


Classic Hip Hop @ RadioIO.com. THE FUNKIEST STATION IN THE NATION – HOSTED BY BOB DAVIS.

THE PEOPLE:

I asked a police officer there what he thought the size of the crowd was, and he told me "around 5,000." It rained pretty fiercely at times and was overall a pretty nasty day weather-wise.

NOT
ONE
PERSON
LEFT

Now, why do you suppose that was?
Well…..If you read the mainstream press, you know that today we have a music scene where the multi-national corporations (record labels, radio networks & concert promoters) who formerly controlled that scene, have ultimately corrupted their own business. You also know that the prognosis for that business is quite poor and that all of the experts are at a loss to explain just what will happen to that business in the future. The key factor that all of the experts seem to forget that the music itself is a more powerful force than any business strategy that they could possibly devise. If those experts had attended this show, they would have realized just how powerful of a motivating factor the music itself is. When Flava Flav tell the audience, "DON'T BELIVE THE HYPE," they know EXACTLY what he's talking about. The failed leaders of those multi-national corporations (record labels, radio networks & concert promoters), who have destroyed their businesses, would do well to start paying attention!!

This was a crowd that was about 65 percent Black & 35 white. The age range was 35 to 60. This is the tail end of the "baby boomer" generation. They were there and they got to see unfold onstage a representation of the entire history of Black music. Starting off with DJ Kool Herc's spinning of the 1960's/1970's Soul/Funk that was the original source of Hip Hop. Then morphing into the African Funk./Rap/Gospel of Blitz the Ambassador, to get at the root of the whole thing. Followed up by the familiar Public Enemy's songs, led by ministers "Malcolm X" (Chuck D) and "Richard Pryor" (Flava Flav) in the pulpit, w/ Proffesor Griff & the S1W's.

That's why nobody left, despite the weather. This crowd knew what they were getting and more importantly, in 2010, it was EXACTLY WHAT THEY NEEDED.


Classic Hip Hop @ RadioIO.com. THE FUNKIEST STATION IN THE NATION – HOSTED BY BOB DAVIS.

THE ONE:

I was on my feet chanting, singing & dancing the whole show. So was everyone else who was there. This crowd was truly "on the one." (WITH EACH OTHER)

However, just as importantly, it seemed to me that Public Enemy was "one with each other." Chuck explained that Public Enemy was designed to be like 'lemonade." Chuck is the lemon juice, Flav is the sugar and Terminator X (now retired) was the spoon. But that VH-1 just took the sugar (Flav) and gave the nation diabetes!!!

Later in the show, Flav stopped the proceedings to thanks everyone for supporting is "second job" (the TV show) but that he was back home now. He also brought out his children & grandchildren, introduced them to the crowd, stating that there was no way that he could come home to New York & not introduce them. Flava Flav later took a turn on the drums, during "Time Bomb."

Just prior to the song "By the Time I Get to Arizona," Chuck gave the crowd a 30 second dissertation on the new Arizona immigration law, the need for comprehensive immigration reform and explaining just why Black Americans have a stake in this fight. After 'Fight The Power." Chuck explained that it was important for "anyone over the age of 25" to start speaking up about the current state of mainstream radio, the current state of hip hop and more. Their voice is powerful, even if they don't realize it.

NP: "By the time I get to Arizona"
–Public Enemy

–Bob Davis
609-351-0154
earthjuice@prodigy.net
Co-Founder www.soul-patrol.com
Blues, Hip Hop and Soul Music Director www.radioio.com



Classic Hip Hop @ RadioIO.com. THE FUNKIEST STATION IN THE NATION – HOSTED BY BOB DAVIS.

 

If you have a news item, update, review, commentary, etc that you would like to submit to the Soul-Patrol Newsletter, please send them via email for consideration to:


Hopefully you enjoyed this edition of the Soul-Patrol Newsletter.
We will be back soon with the next edition, with email alerts for local events, Soul-Patrol website updates/chat sessions or breaking news in between, as required.


If you have any comments, questions, etc feel free to drop me an email and let me know what's on your mind.
Bob Davis
earthjuice@prodigy.net

Soul-Patrol Email Blast/Sponsorship Oppurtunities:

If you or your organization is has a need to reach Soul-Patrol Newsletter readers (Soul, Funk, Jazz, Blues, Rock n Roll fans) on a worldwide basis, then you may be interested in talking with us about doing a targeted email blast. They are inexpensive and highly effective for announcing a new CD, concerts, website launches, new products, new or existing businesses, etc.
We also have sponsorship oppurtunities available for Soul-Patrol's Website, Soul-Patrol's Daily Interactive Mailing List and the Soul-Patrol's Newsletter.
Contact us for the current rate schedules via

email.

Bob Davis – Soul-Patrol
798 Woodlane Rd
Suite 10264
Mount Holly, NJ 08060
609-351-0154

Click Here to Subscribe/Unsubscribe For Your Free Bi-Weekly Issue!

SOUL-PATROL
SPONSORS

Listen To: Classic RnB, Classic Hip Hop, NuSoul, Blues, RnB Mix and Today's RnB 24/7, programmed and hosted by Bob Davis

NEW RELEASE: SonnyBoy – Barfly Theory…Check out the new video of TIME

NEW RELEASE: Lisa McClowry – Time Signature

NEW RELEASE: Pauli Carman – MERCY (4 the Gulf)

Nu Soul/Classic Soul/Blues Vocalist Pat Cooley – Cougar

THE NEW LIVE ALBUM FROM THE LEGENDARY GROVER WASHINTON JR – GROVER LIVE

Mighty Sam McClain (New Release from The World's Best Living Soul Singer) – Betcha Didn't Know

Nu-Jazz/R&B/Funk Multi Instrumentalist & Vocalist JayeQ – From My Soul

MAYSA – A WOMAN IN LOVE

BILLY PAUL PHILLY SOUL/JAZZ LEGEND

WILL WHEATON – OLD SCHOOL SOUL

DOO WOP & CLASSIC SOUL CRUISE – RICHARD STREET (Formerly of the Temptations), CONTOURS (w/Joe Billingslea), BROOKLYN BRIDGE, CLEVELAND STILL & THE DUBS, BOBBY VALLI (Tribute To the Jersey Boys)


THINGS ARE GETTIN OUTTA HAND – Unique Book/CD of Essays that promote meaningful Dialouge on some of Todays Hottest Issues and Original Neo-Soul Songs With a Message




Mandrill: Live At Montreax DVD




Gerald Alston Sings Sam Cooke (Featuring Gerald Albright)

Bill Curtis & Friends, w/ the Fatback Band 2009




Charles Wright – "My Love Affair With Doo Wop"

Angel's Nu-Soul Stew

Global Noize – Jason Miller/DJ Logic (Feat: Meshell Ndegeocello, Billy Martin, Vernon Reid, John Popper, Cyro Baptista, Bernie Worrell, Karl Denson, Christian Scott & Others)

NEW SINGLE FROM DESI: "Takin It As It Comes"s

The Official Family Stone Website – Produced by Sly Stone

STAX MUSEUM OF AMERICAN SOUL




Jimmy Castor: "The E-Man is Back with a NEW EP"

New Pittsburgh Courier:one of the oldest and most prestigious Black newspapers in the United States

Black Rock Coalition (BRC)

Soul of America – Soulful Travel