SPN: Jazz/Soul/Funk Grover Washington Jr, Grover Live, Exclusive Reviews & Video, CTI Records, Cultural Awakening, Exclusive Video, Jason Miles Andy Snitzer, Eric Darius, Gerald Veasley, Nick Moroch, Buddy Williams and Ralph Macdonald

---
Also posted at: http://www.soul-patrol.com/newsletter/2010/news4/groverwashington.html

Welcome To The Soul-Patrol Newsletter
Grover Washington Jr – A Cultural Awakening
Do those words seem to be something of an overstatement?
Well I am here to let you know that if you were a person who was there while it was happening, then you would not think so.
Just read and listen to what is here as you scroll down and you will begin to undderstand!!!
I would like to thank the family of Grover Washington Jr , along with producer Jason Miles for making it it possible, via their new album called "Grover Live" for making it possible for enabling us all to remember the CULTURAL AWAKENING that Grover Washington Jr facilitated back in the 1970's. By causing us to remember that CULTURAL AWAKENING, provides a platform for it to happen again.
(dat's cuz history ALWAYS repeats itself!!!)
We have for you in this issue of the Soul-Patrol Newsletter a review of the new "Grover Live" album, plus a collection of LIVE VIDEO featuring; Exclusive Video, Jason Miles Andy Snitzer, Eric Darius, Gerald Veasley, Nick Moroch, Buddy Williams and Ralph Macdonald based on the album. I strongly urge you to watch.
And as always, give me your feedback!!!
–Bob Davis
609-351-0154
earthjuice@prodigy.net
Co-Founder www.soul-patrol.com
Blues, Hip Hop and Soul Music Director www.radioio.com



EXCLUSIVE LIVE VIDEO from the Blue Note Tokyo, June 2010 Jason Miles Andy Snitzer, Eric Darius, Gerald Veasley, Nick Moroch, Buddy Williams and Ralph Macdonald, re-create GROVER LIVE on stage: Myself, Andy Snitzer, Eric Darius, Gerald Veasley, Nick Moroch, Buddy Williams and Ralph Macdonald: SassyStew 9:10 Mr Magic-Live in Tokyo 7:33 Inner City Blues 9:10, Just The 2 of Us 6:37
CONCERT REVIEW: "Grover Live" @ 2010 Long Beach Jazz Festival
The Music Comes First
Jason Miles' honors jazz icon Grover Washington, Jr.
By Carol Archer
The stars were aligned for keyboardist/producer Jason Miles (whose credits include Miles Davis, Luther Vandross, Sting and Michael Brecker), who performed a vibrant, molecule-rearranging homage to the influential saxophonist Grover Washington, Jr. during the Long Beach Jazz Festival (8/14/10). Miles' set represented a welcome departure from festivals' usual template — generally a cocktail of established jazz superstars; "smooth" instrumental pop artists; and R&B crossover acts.
Shortly after the iconic late-saxophonist Washington's death, longtime friend and collaborator, Miles, produced the tribute recording To Grover With Love. More recently, he released a CD collection containing a 1997 Washington concert, Grover Live. Near twilight in Long Beach Miles opened his set with a recollection of first hearing the vast archive of Washington's unreleased live material after Washington's widow, Christine, invited him to Philadelphia to delve into the taped treasure trove: "Listening to Grover's incredible music, I was so moved that I cried for six hours," Miles told the crowd.
To elevate songs' original versions — especially such revered, timeless tunes as Washington's — requires fresh musical ideas that honor and preserve their integrity — no small feat. For Miles, the music comes first; he then hand-selects the right players to illuminate the material. Through their authoritative, imaginative chops and far-ranging musical vocabularies, Miles and the band in Long Beach — acclaimed saxophonists Tom Scott (L.A. Express) and Ronnie Laws; Paul Jackson, Jr., guitar; Rufus Philpot (Down To The Bone), bass; Josh Dion, drums; vocalist Chante Moore; and Miles on keyboards — proved more than equal to the challenge. From the downbeat of "Winelight," Miles' prodigious leadership (not to mention a smoking solo by Scott, who blew bad behind the beat, sometimes riding one note like a man possessed), the unit established, and sustained throughout, rousing mile-deep grooves befitting Washington's beloved chestnuts.
Classic compositions "East River Drive" and "Strawberry Moon" featured Jackson's nuanced solos, replete with his signature rapid-fire fretwork. Scott and Laws shared lead solos on "Loran's Dance," which offered dramatic insight into their contrasting styles. Moore sang her heart out on "First Kiss" from her latest CD and segued into "Just The Two Of Us," driven by Laws' sultry horn figures. She also threw down on the set's penultimate tune, Marvin Gaye's "Inner City Blues," which detonated the crowd and propelled it to dancing frenzy — the sound of the world in a very good mood, indeed.
In keeping with the spirit of classic contemporary jazz — epitomized, always, by Washington's performances and recordings — Miles' set's most striking characteristics were its inspired musicianship and confident improvisational approach. This rock-solid foundation provided the band freedom to flex their collective musical muscle and soar. One came away breathless, preoccupied by a single thought: Grover lives.
Copyright Carol Archer 2010
–Bob Davis
609-351-0154
earthjuice@prodigy.net
ALBUM REVIEW: Grover Washington Jr. – "Grover Live"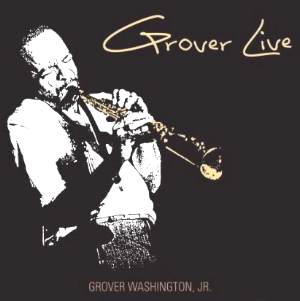 Okay, okay……I know what yall are out there thinking…
why do I need this?
And I know that those of you who might be inclined to ask that question will tend to fall into two categories:
Category 1 – People who are too young to understand the big picture importance of Grover Washington Jr in the larger historical cultural context.
Category 2 – Longtime Grover fans who may feel that you already have everything that you need from him.
So let's say that you are a person who may fall into "category 1″…
Grover Washington Jr is the person who almost singlehandedly invented what we refer to today as "Contemporary Jazz." Trust me, he did exactly that. Oh, you don't wanna trust me?. You are absolutely positive that Kenny G invented "Contemporary Jazz," because the guy on the "smooth jazz" station said so? Take a look instead at this description, taken from Amazon.com:
"America's greatest R&B-funk and soul-jazz saxophonist, Grover Washington, Jr., (December 12, 1943-December 17, 1999) was one of the first musicians to successfully fuse R&B, pop, funk, blues, and jazz. "Grover Live" is a previously unreleased live recording. Captured on June 7, 1997 in Peekskill, NY, this album reveals Washington and his famous backing band blowing the roof off the sold out 1,500-seat Paramount Center for the Performing Arts."
That is perhaps the "rolling stone magazine version," of a phenomenon that is almost impossible to describe using text.
In my view Grover Washington Jr walked that fine line between multiple genres and created music that was timeless. This live album, composed of songs which in some cases were already 25+ years old, was recorded in 1997 and today in 2010 still sound like a revelation, especially when compared to the elevator music that at times passes today for "Contemporary Jazz."
His music exploded upon the scene and was the driving force in catapulting a tiny indie record label called CTI towards mainstream & international success. Grover's music was played everywhere from disco's to barbecue's to TV, radio and more. People across "marketing categories" actually danced to the music of Grover Washington Jr.
I was fortunate enough to have been a wide eyed 18 year old college student in 1975 when the album "Mister Magic" – Grover Washington Jr was first released. I first heard the song "Mister Magic" inside of a slammin NYC disco. I grabbed a young lady and we danced up a storm. While we were dancing, I was captivated by the groove. It was jazz, but it was also super funky. When the song was over, I went over to the DJ and asked him about the song, and he told me who the artist was and showed me the album cover. It had a picture of the artist in a swimming pool. The picture had a high resolution look and feel to it, in fact the album cover felt almost like glass. The next night I went to a house party in Jamaica Queens, and heard the song again. It was played right before the song "Love Is The Message" by MFSB (The Brooklyn National Anthem). The following Monday I brought the album "Mister Magic." It only has 4 songs on it; Earth Tones, Passion Flower, Mister Magic, and Black Frost If you were the type of person who brought the Mister Magic album because of the Mister Magic single, expecting the rest of the album to sound just like it, and be able to just "run it" for non stop disco action, you might be disappointed. However when I first listened to it, I recognized exactly what it was. Each one of the 4 songs are a metaphor for the four seasons of the year (and perhaps the four seasons of life?) Over the years I would listen to it over and over again, absorbing not the dance beats, but came to regard "Mister Magic" as almost an updating of "A Love Supreme," but done in a fun way, almost tricking you into absorbing the deep spirituality, erotocism and sax playing. It's a perfect album for simply listening and exploring not only the music, but the inner recesses of your own mind.
Then of course there is that album cover. Much like John Coltrane's "A Love Supreme," the album cover was a thing of stark beauty. It pictured Grover Washington Jr emerging from what appears to be pool of water. The resolution of the photography is so high, it looks like you can actually see every single individual bead of water on Grover's face. One is immediately drawn to explore the detail. Staring at the album cover closer, causes one to ask more questions than answers. For example it isn't really clear if it's really a swimming pool or some other water bearing vessel. It also appears that Grover himself may be completely naked. Is this photo being used as a metaphor to somehow depict birth? And just who is "Mister Magic" supposed to be? Is it supposed to be "Grover?" or is "Mister Magic" supposed to be me, now that I have been empowered by Grover Washington Jr and his spiritual/soulful/funky/mystical/erotic jazz, that I originally thought was supposed to be disco? Plus it didn't feel like an album cover, it felt like a piece of glass, it was smooth to the touch. Which meant that it could not be used for the second most important activity involved with listening to a great album in the middle of the night back in 1975 🙂 The album cover was so beautiful to look at and to touch that in many dorm rooms across the United States, it was treated by it's owners as a piece of art and you would actually see it hanging up on the wall, not only never having been soiled by marihuana stems, but used instead as a piece of art by people who not only "don't like jazz," but also by "people who don't like art."
In other words, the album "Mister Magic" was a totally empowering experience, contained inside of a cardboard envelope that cost $2.99 for an 18 year old Black man/boy in 1975. It provided a way to encapsulate just about everything that I was interested in (or should have been interested in) at that point in my life. Musically it's influenced in equal parts by Motown, Miles Davis, Duke Ellington, Pink Floyd, James Brown and everything else in between. It also represents a shift in African American consciousness in the middle 1970's as we shifted ever so slightly from "Black Militancy" to "Affirmative Action." The album allows you to embrace both Funk music and the historical legacy of Jazz in such a way that it enables one to embrace the artistic greatness of your own heritage and use it to empower yourself, to move forward in a positive manner. Or if you aren't ready to get quite that deep yet, just use it as party music, or music to seduce your girlfriend by and some free art for your dorm room wall 🙂
So let's say that you are a person who may fall into "category 2″…
You need this album so that you will be well positioned to facilitate the kind of "growth experience" I described above (which probably also happened to you as well) to some well deserving younger person that you are in a position to impact. Or if you aren't interested in "empowering/inspiring" others and you are just a notalgic old fart who wants to re-capture a portion of your own youth, a time when the world was wide open with possibilities and you were ready to embrace all of those possibilities, in a way that would ultimatly change your world view forever. Then you need to own the final live recorded performance of the man who not only changed the worlds of jazz & soul forever, because it willl help you to remember some of the things that you thought that you forgot about yourself. That's because not only will you have the music to remind you of that, but in between some of the songs you also get the voice of Grover Washington Jr himself explaing to you why you need to remember. This release is owned by the family of Grover Washington Jr , so that means the profits won't end up in the hands of any corrupt multinational companies either. Oh and btw, the album art, liner notes and photography are just as classic as it was back in the day
TRACK LISTING FOR GROVER LIVE
1. Winelight
2. Take Another Five
3. Soulful Strut
4. Grover Talks
5. Mysitcal Force
6. Uptown
7. Sassy Stew
8. Grover Talks Again
9. Black Frost
10. Inner City Blues
11. Strawberry Moon
12. Inside Moves
13. Jamaica
14. East River Drive
15. Just The Two Of Us
16. Sausalito
17. Let It Flow (For "Dr. J")
18. Mr. Magic
–Bob Davis
609-351-0154
earthjuice@prodigy.net


EXCLUSIVE LIVE VIDEO from the Blue Note Tokyo, June 2010 Jason Miles Andy Snitzer, Eric Darius, Gerald Veasley, Nick Moroch, Buddy Williams and Ralph Macdonald, re-create GROVER LIVE on stage: Myself, Andy Snitzer, Eric Darius, Gerald Veasley, Nick Moroch, Buddy Williams and Ralph Macdonald: SassyStew 9:10 Mr Magic-Live in Tokyo 7:33 Inner City Blues 9:10, Just The 2 of Us 6:37
PRESS RELEASE: Grover Washington Jr. – "Grover Live"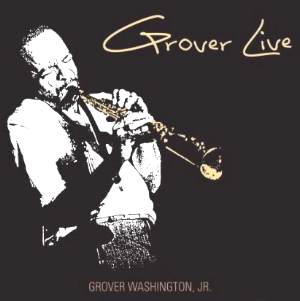 Editor's Note: I really like this album a whole lot. In fact there are alreay tracks from it in heavy rotation on the NU SOUL @ RADIOIO.COM channel(Bob Davis)
Grover Live, a New CD Documenting the Late, Great Saxophonist Grover Washington Jr. in a 1997 Concert With His Touring Band To Be Released on G Man Productions on May 18, 2010. Check it out @ Amazon.com
The godfather of today's urban contemporary jazz scene, Grover Washington Jr., was one of the most popular and influential saxophonists of the '70s and '80s. And while he may have paved the way for such easy-listening artists as Kenny G, Najee, George Howard and Gerald Albright, none of those popular saxophonists play with the chops and sheer intensity that Grover demonstrated on the bandstand from night to night throughout his career, which spanned three decades. And as the newly discovered Grover Live demonstrates, the man was clearly on top of his game well in to the '90s.
Recorded on June 7, 1997 at the Paramount Center for the Arts in Peekskill, New York, Grover Live , produced by Jason Miles (Miles Davis, Luther Vandross, Sting), captures the consummate pro in concert and at the peak of his powers, blowing with unbridled conviction and a sense of risk-taking on a collection of his tunes spanning three decades.
From familiar hits like "Winelight" and "Mr. Magic" to a medley of early numbers like "Inner City Blues," "Black Frost" and "Just the Two of Us" to more recent offerings like "Mystical Force," the hip-hop flavored "Uptown" and a contemporary spin on the old school groover, "Soulful Strut," Grover and his crew – Adam Holzman and Donald Robinson on keyboards and synthesizers, Gerald Veasley on electric bass, Richard Lee on guitar, Pablo Batista on percussion and Steven Wolf on drums – stretch out in dynamic fashion on this exhilarating live CD.
Washington sets the tone for the evening on the engaging opener, "Winelight," which showcases his wonderfully relaxed style and big, beautiful tone on the tenor sax. This tune, and several others on Grover Live , instantly reveals Washington to be, as Gil Evans once said of Miles Davis, "a great singer of songs." And while his mellow approach to melodic material established a school of playing that ultimately led to the smooth jazz movement, Grover can be heard wailing in pure spontaneous and aggressive fashion on a stirring cadenza, full of upper register squealing and virtuosic scalar runs that elicit wild shouts from the Peekskill crowd.
"Take Another Five" from the 1992 release Next Exit is a funkified take on Paul Desmond's "Take Five" the jazz anthem debuted by the Dave Brubeck Quartet on 1959's Time Out and showcases the individual band members stretching out with abandon. Again, Grover's delivery is relaxed and imbued with soul before he unleashes his mighty chops at the 3:15 mark. "Soulful Strut," the title track of Washington's current Columbia CD at the time of this concert, is a contemporary remake of the instrumental hit by Young Holt Unlimited from 1969. The atmospheric "Mystical Force," co-penned by Grover and his musical director Donald Robinson, is a smooth jazz offering with a funky edge while the slamming "Uptown," which has Grover switching nimbly from soprano to tenor sax, features sampled rappers, churning conga from Batista and some warm, Wes Montgomery-inspired octaves work from Lee. "Sassy Stew" is a slow grooving lyrical number from 1984's Inside Moves that gradually builds to a passionate crescendo that Washington wails over with signature abandon.


EXCLUSIVE LIVE VIDEO from the Blue Note Tokyo, June 2010 Jason Miles Andy Snitzer, Eric Darius, Gerald Veasley, Nick Moroch, Buddy Williams and Ralph Macdonald, re-create GROVER LIVE on stage: Myself, Andy Snitzer, Eric Darius, Gerald Veasley, Nick Moroch, Buddy Williams and Ralph Macdonald: SassyStew 9:10 Mr Magic-Live in Tokyo 7:33 Inner City Blues 9:10, Just The 2 of Us 6:37
If you have a news item, update, review, commentary, etc that you would like to submit to the Soul-Patrol Newsletter, please send them via email for consideration to:

Hopefully you enjoyed this edition of the Soul-Patrol Newsletter.
We will be back soon with the next edition, with email alerts for local events, Soul-Patrol website updates/chat sessions or breaking news in between, as required.

If you have any comments, questions, etc feel free to drop me an email and let me know what's on your mind.
Bob Davis
earthjuice@prodigy.net
Soul-Patrol Email Blast/Sponsorship Oppurtunities:

If you or your organization is has a need to reach Soul-Patrol Newsletter readers (Soul, Funk, Jazz, Blues, Rock n Roll fans) on a worldwide basis, then you may be interested in talking with us about doing a targeted email blast. They are inexpensive and highly effective for announcing a new CD, concerts, website launches, new products, new or existing businesses, etc.
We also have sponsorship oppurtunities available for Soul-Patrol's Website, Soul-Patrol's Daily Interactive Mailing List and the Soul-Patrol's Newsletter.
Contact us for the current rate schedules via

email.

Bob Davis – Soul-Patrol
798 Woodlane Rd
Suite 10264
Mount Holly, NJ 08060
609-351-0154

Click Here to Subscribe/Unsubscribe For Your Free Bi-Weekly Issue!