Book Review: Fabulous Vaughan Brothers –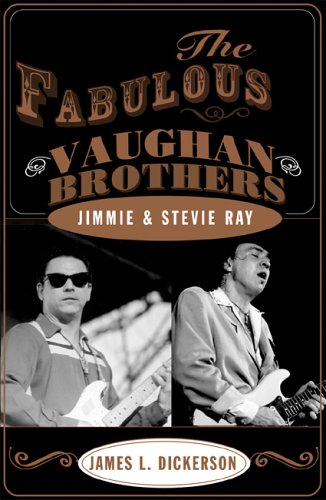 Here is what the original press release for this book said last September:
"The Fabulous Vaughan Brothers follows the two brothers from their modest Dallas roots to their emergence onto the Austin music scene. The brothers' subsequent recording experiences in Memphis–which the author sees as being crucial to their overall development as musicians-are also described, as well as their early bands and, of course, their work together on Family Style."
Well I think that this is an understatement.
The Vaughn Brothers are actually two of the most important figures in the history of Black music over the past 30 years, yet they are almost totally unknown by the Black community at large. In my opinion this is damn near criminal. The book The Fabulous Vaughan Brothers explains exactly why these two unlikely individuals from Dallas Texas are so important, without ever even asking the question. The book is rather simplistic in that it really is a straight up narrative biography, that doesn't go into any deep analysis. It's only 205 pages long, including pictures and discography. That's because none is needed, a simple presentation of the facts is good enough. When understands the facts of the life story of Stevie Ray Vaughn and Jimmie Vaughn, connecting the dots to the truth becomes a very easy thing to do.
In my case, I was fortunate in that I became exposed to the music of Stevie Ray Vaughn and Jimmie Vaughn in 1979. This was before either of them became the big stars that they would later become in the 1980's. I was fortunate enough to be living in Houston Texas at that time and having the "honor" of many times being the only Black person in the audience at their shows. In fact I have seen Stevie Ray Vaughn (11 times) and the Fabulous Thunderbirds (w/Jimmy Vaughn) (7 times) more than I have seen ANY single performer in a lifetime of concert going. I also own most all of the albums listed in the discography of the book. My first encounter with the music of Stevie Ray Vaughn is recanted at the following link…
So for me the book hits home on a personal level because as a fan, I actually attended some of the live performances referenced in the book. My experience in reading this book only served to bring into much sharper focus, the things that I already knew and believed about the Vaughn Brothers. For others who are not already fans of their music and unfamiliar with their history this book will serve as something of a holy grail and will cause them to perhaps re-examine their own perspectives on "Blues and Race".
Here we have two young white guys living in a racist lower class Dallas neighborhood, who run away from home to play the Blues in Austin during the early – mid 1970's. Their basic story is so wild that it has to be true. Stevie Ray and Jimmie spend 10 years in Austin fine-tuning their craft and in the process actually become the real deal . Their dedication to not only playing Blues music, but also living the life of Bluesmen truly made them the ultimate "Blue Eyed Soul Brothas". Unfortunately, this lifestyle caused major problems for both of the Vaughn brothers during their lives
In his book "The White Negro", Norman Mailer talks about white people who "affect" the mannerisms of the "Negro" and do so in the false hope that somehow they will become "hip". In the case of Stevie Ray and Jimmie that is far from the case. What you have here is a case of two white guys that just fell in love with the music before they reached the age of 10 and decided right then and there to dedicate their life to it. They didn't do it because it was a popular thing to do. The fact is that it became a popular thing to do AFTER they did it and with that accomplishment created the "Blues Industry" as we know it today in 2005.
The story of how this all came to be in the late 1960's and how it evolved up until the time of Stevie Ray's tragic death in 1990, is well documented in the book. Jimmie Vaughn the founder of the 1980's hit making group "The Fabulous Thunderbirds" and Stevie Ray Vaughn the blues guitar wizard who was always just under the radar made Blues music "hip" during the 1980's. They created an environment, which enabled other white people to as Norman Mailer would say, "affect the behavior of the Negro" and to be "hip" in doing so during the 1980's.
That however wasn't their intent. They just wanted to play good music and play it on their own terms. That is what they did and they did it well.
As I am typing this review I am listening to my well-worn copy of the Fabulous Thunderbird's first album entitled "The Fabulous Thunderbirds (Girls Go Wild)". It's an excellent album of Texas Blues and Soul, featuring guitar and harp. It came out in 1979 and not many people have ever heard it. According to the book it sold less than 5,000 copies. I guess it would have sold 9,999 had it not been for me. After reading the book I sure feel proud that I own a copy of it.
I enjoyed reading this book; it was a fast read for me. I think that other people will enjoy reading it also, if they are interested in the evolution of Black music during the 1970's and 1980's. What Stevie Ray and Jimmie did was to stay true to Black music, during a time when Black music did not stay true to itself.
And that my friends is one hell of a story and makes this book a must read….
NP: "Soul To Soul"
–Stevie Ray Vaughn & Double Trouble
–Bob Davis