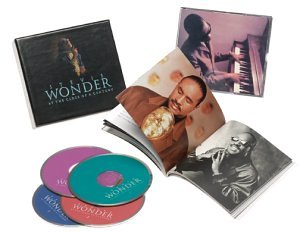 Stevie Wonder At The Close of The CenturyDISC: 1
FINGERTIPS PT'S. 1 & 2
I have been listening to this song over and over again 🙂
Stevie is SOOOO DAMN FUNKY on the harp, it's hard to believe that he is ONLY TWELVE YEARS OLD!!!!!!
Funny how his name is NEVER mentioned when people make lists of GREAT harp players (I wonder why?)
I mean he is BLOWIN, it sounds like the Motown band is having trouble keeping up with him….lol
Then I went out and on the car radio they were playing Chaka Khan's "I Feel For You" and when that sample from "Fingertips" comes on I was screamin in the car GO STEVIE GO!!!
damn……it's not like I have never heard the song before, but it's kinda like re-discovering his magic all over again.
Sound is all cleaned up too, but you can still feel the ENERGY of the live audience sounds even more intense.
anyhow, let be finish listening to this badd boy!
This song has jazz, blues, rock n' roll, soul, gospel and more mixed up in it
Now I dunno what your definition of FUNK music is, but…
"clap your hands just a little bit louder…."
UPTIGHT (EVERYTHING'S ALRIGHT)
Now this is a song that is truly FUNKY, but in a different way than Fingertips. Everyone knows about the song "Heatwave" by Martha and the Vandellas. Seems to me that "Uptight" is sorta based on that, but takes things to the next level. The song starts out with a STRONG drum backbeat and then those STANK horns (Motown Funk bros.?) come in as if to announce something? This is a totally different Stevie than the one we heard on Fingertips, he's a teenager now and he wants some action!
"she's a pearl of a girl, I guess you might say…"
NOTHING'S TOO GOOD FOR MY BABY
Once again, just like in "Uptight", this song has got a STRONG backbeat which at times is reminiscent of the "machine gun" style of drumming that we would later hear from Buddy Miles.
HEY LOVE
What's this, a slow jam that's funky? Well not only is this song funky it also represents another side of the ever evolving, ever changing Stevie Wonder. This song harkens back to the DOO WOP music of the 1950's and is simply a piano and drum. Take a listen, Stevie and whomever is singing back up (with all them damn "oooooooo's") is badd! In this case the FUNK is in their voices!
"just look me over, yeah, you might wanna change your mind…"
SHOO-BE-DOO-BE-DOO-DA-DAY
Starting with that "psychedelic Doors style electric piano", this song represents yet another level in the metamorphosis of the music of Stevie Wonder. I loved this song when it first came out in 1968 and I have a feeling that when Stevie wrote this song that he had Sly Stone all up inside his head!
Is the first time that we hear the electric piano on a Stevie Wonder song? I dunno, but we know that it's not going to be the last…
YOU MET YOUR MATCH
This song shares a lot in common with Shoo-Be-Doo-Be-Doo-Da-Day, especially that funky electric piano, but Stevie takes things even further by mixing in a STANK bass at the beginning and elsewhere in the song
SIGNED, SEALED, DELIVERED I'M YOURS
This song starts out with that electric piano again, but this time accompanied by a FUNKY electric guitar along with Stevie's Gospel shouting. Once again I can detect the influence of Sly Stone in this song that used to PACK dance floors at house parties and school dances that I attended!
WE CAN WORK IT OUT
This song represents the culmination of Stevie's "psychedelic period". It's actually a masterpiece in my opinion. Highly danceable and once again a song that would not be out of place at a Sly Stone concert. Hell, Stevie even breaks out the damn harp in celebration as if to say to us that he's now thru with this phase of his metamorphosis and that we would soon be hearing a different sound from him…
IF YOU REALLY LOVE ME
This song is actually a duet with Syreeta Wright (later to become Mrs. Stevie Wonder) one of my all time favorite Stevie Wonder songs. I dunno if it's actually FUNKY, but in my mind it represents the first time that we hear snippets of that indefinable style that would later make Stevie Wonder (and also Minnie Riperton) famous in the 1970's!
SUPERWOMAN (WHERE WERE YOU WHEN I NEEDED YOU)
That indefinable style I alluded to when I was talking about If You Really Love Me, comes into FULL BLOOM here on this song. Forget about the subject matter (Mary wants to be a Superwoman and wants to boss the BULL around…) That is wild enough all by itself….lol
However it's really the music that has flipped. The psychedelic electric piano has now turned into a jazz electric piano and a new "toy" called a synthesizer has now entered the picture, thus giving Stevie the ability to truly share with the rest of us all of the sounds that he hears inside of his head. This music is a radical change from everything that Stevie had previously done. No more gospel shouting and Blues harp, this music sound "trippy and dreamy". The use of female back up singers who quite literally sound like angels helps to make the voyage complete.
DISC: 2
SUPERSTITION
This song (especially the first 30 seconds or so of it) is quite literally one of the defining moments of FUNK. I could write many paragraphs about this song, but I won't.
You gotta LISTEN to it!
If you don't feel this song right in the "pit" of where you live (there is no hope….lol)
TOO HIGH
Well now….lol
Of course this is a STANK record. The lyrics here are nothing short of true genius. It's a jazz funk classic with a message that's as serious as a heart attack (and maybe stronger)
"I'm TOO HIGH, I'M TOO HIGH (but I ain't left the ground)
LIVING FOR THE CITY
"a boy is born in HARDTIME MISSISSIPI" (what could be funkier than THAT?)
I can remember dancing to this song and singing all of the words as I danced because Stevie had made certain that the words would be BURNED into my psyche and everyone else's.
"to find a job is like a haystack needle, cuz where he lives they DON'T USE COLORED PEOPLE…"
HIGHER GROUND
When RHCP covered this song I wasn't sure for a long time if I liked their version of it or not. I couldn't figure out if they were making fun of it or if they were trying to give props. Is Stevie a "one man band" on this song? I mean are there ANY other musicians playing on this song, besides him? I really can't tell 🙂
I suppose at this point, Stevie has TOTALLY mastered the synthesizer and literally sounds like a "one man FUNK band". (lets see RHCP try to duplicate that?)
Forget about the lyrics/message (which are certainly powerful) here in this song. This song would work for me as an instrumental (think your boy Prince may have listened to this song a time or two?)
DON'T YOU WORRY 'BOUT A THING
A Latin groove, to start, this song is sho nuff FUNKY once again is a jazz funk with a little bit of bossa nova thrown in kinda way
YOU HAVEN'T DONE NOTHIN'
Once again, this song is so damn FUNKY that it would work as an instrumental.
Is this the first song where someone uses actual cameo appearances by other artists?
I don't know if it is or not, but Stevie's use of the Jackson 5 to sing a couple of lines here is a masterstroke!
DISC: 3
SIR DUKE
As you are all aware, this monster hit song is much more than a tribute to Duke Ellington (as the title would indicate), it's really a tribute to the entire history of Black music!
The subject matter of the song makes it Funky, but the STANK horns merely accentuate the point..
"you can feel it all over…"
I WISH
Even white people were able to catch the serious groove on this song, which starts out with one of the NASTIEST bass lines ever. Then it's joined by Stevie's STANK electric piano when he PROUDLY announces…..
"looking back on when I was a NAPPY HEADED little boy…"
and that's just the beginning as Stevie then proceeds to take us thru his own version of Cooly High. (sounds a lot like my verson of Cooly High as well….lol)
HAPPY BIRTHDAY
Based solely on the subject matter alone, it ranks as one of the GREATEST pieces of FUNK ever laid down on wax
DISC: 4
DO I DO
Another dance floor favorite back in the day. It's got a beat that just won't quit. Who else would think of having Dizzy Gilespie make a cameo appearance on their record?
PART-TIME LOVER
Although this song is sooooo smooth that it sometimes begins to enter smooth jazz territory, it was a great dance record that was a big favorite with the then emerging "buppie crowd". I have been critical of this song in the past, because it seems like this song was the beginning of the end for Stevie Wonder and me. However, It's yet another song that I dare you to NOT wanna start tapping your toes to when you hear it!
GO HOME
This song is similar to Part Time Lover in that it takes Stevie even deeper into that kind of almost hypnotic "musak" (see the Frankie Beverley and maze file) that Buppies were into during the early 1980's.
However it's very danceable and if you are on the dance floor when it comes on, you won't leave
SKELETONS
Once again another attempt by Stevie to stay current with then current Black trends. This song has always sounded to me like a cross between a Cameo song, a Dazz Band song and a ZAPP song. As a matter of fact this is the ONLY song that I have reviewed here that Stevie ever uses the word FUNK….lol
That doesn't make it a bad song. It just makes me wonder just what the motivations of Stevie Wonder were at this point in his career?
Anyhow, there you have it, my take on the FUNKY side of Stevie Wonder and a partial album review for an album that is the best album of the year 2000 so far.
It's been stuck inside of my CD player since I got the album several months ago
–Bob Davis