Concert Review – Stone City Band @ Bethesda Blues & Jazz
The power is in the songs themselves. We just didn't know that back then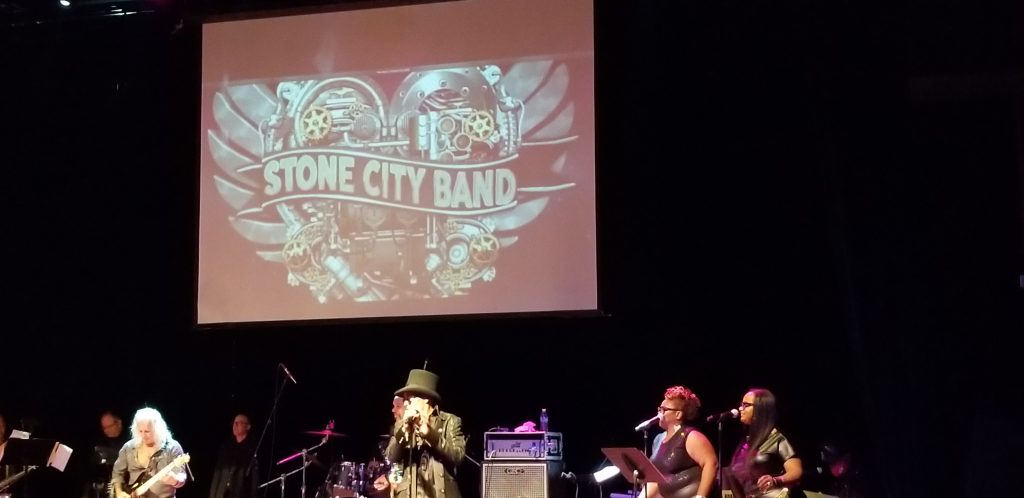 I'm here at Bethesda Blues & Jazz along with about 400 of my closest friends to see the Rick James, Stone City Band
For this review I am going to borrow Rickey Vincent's Framework (The Music, The People and The One)
CLIFF NOTE:
Since it's the Stone City Band, the music sounds THE same as it did back in the 1980's.
Everybody inside of the venue knows that both Rick James and Teena Marie have passed away.
The male and female singers who sing the Rick James and Teena Marie parts have voices that are close enough to the original artists, that if you have ever seen the original artists live (as I have) you won't be disappointed.
The power in this music isn't in the singers anyhow. The power is in the songs themselves. We just didn't know that back then 😊
One mo thang: The "Pre Game" piece (the story of my expectations for the show) is below the review, for your reading pleasure
THE MUSIC
The opening act comic is done, the emcee is back on stage to bring out the Stone City Band. If you are reading this, chances are pretty good that you know every single one of these songs. If you don't I strongly suggest you pick up some Rick James & Teena Marie Greatest Hits music and commit to listening thru several times, so that you can catch the groove, before the show. That will insure that while the show is going on, you will be able to actually absorb the groove and understand the sheer power of these songs.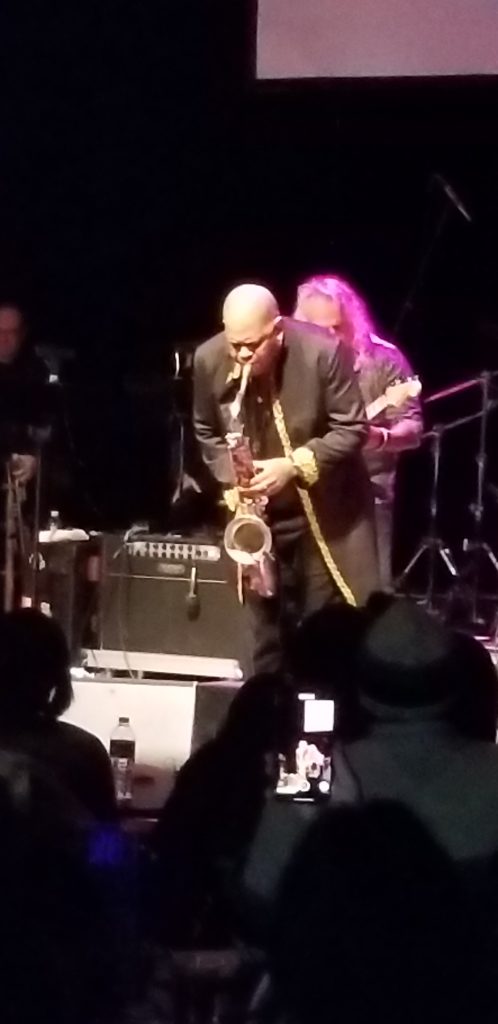 1. Stone City Band Intro
2. Ghetto Life
3. Hard to Get
4.Dance Wit Me
5. Bustin Out (fire up this funk)
Up until this point the band sounded just as I had expected, They were as good, as I had remembered from seeing them in the past, but not spectacular. The singing was fine, sounded like Rick, although I knew that Rick wasn't there. Since "baby earthjuice" was there with "mrs. earthjuice & I was hoping for spectacular, so she could walk away feeling that spectacular way, that can only be supplied by seeing a live off the hook concert.
5. Ebony Eyes
Now here is where the concert really starts in earnest for me.
"Hey there little girl may I just say I love you? I'll bet you didn't know that Ebony Eyes!"
Seeing these words on a piece of paper, don't come anywhere close to conveying the power of this song. How many of you remember when it first came out? How surprised were you that Rick James was doing a duet with Smokey Robinson? How surprised were you that Rick James was able to more than hold his own singing with Smokey Robinson. How many times did you have to listen to the song, before you realized, the "Ebony Eyes," Rick & Smokey were talking about were Black Women. And not just to their current partners. Nope, this song is meant to be a super smokin sexy tribute to all Black Women and "their Ebony Eyes." Well just in case you didn't realize that all of that was going on in this song, the hundreds of Black women inside of "Bethesda Blues & Jazz" this evening realized it. As I looked around the venue, I could see all of the "swooning" to the music, both the vocals and the instruments. It was almost as if these women had been programed many years ago to elicit just such a reaction at this time.
"Love is the brown skin girl in my eyes. Think it's time that I told you, don't you realize. You´re such a queen, woman, you're such a prize."
Now this concert was truly rolling….
6. Square Biz
This is Teena Marie's most famous song. Not her highest charting hit, it rose to #3 on the 1981 R&B charts, but stayed there for 19 weeks. It's a really fun song, yet it carries with it a serious message, that forever would endear Teena Marie to the nationwide community of Black Americans.
"I'm less than 5 foot 1, a hundred pounds of fun. I like sophisticated funk. I live on Dom Perignon, caviar, filet mignon. And you can best believe that's bunk
Here's what I'm talking, baby. Square biz. Square biz
I've been called Casper, Shorty, Lil' Bit. And some they call me Vanilla Child. But you know that don't mean my world to me. Cause baby, names can't cramp my style (I love chick-icken.) And Buff's collard greens. A little hot water corn bread
I love you too, cat daddy. But, don't you let that go to your head. That's what I'm talking, baby
Square biz"
She's telling us:
She's a white girl.
She loves black music.
She's she loves soul food.
She loves black culture.
She loves black men.
She raps and sings
And she makes no apologies to anyone for any of it.
And just in case you missed her central point…
"You know I love spirituals and rock. Sarah Vaughn, Johann Sebastian Bach. Shakespeare, Maya Angelou. And Nikki Giovanni just to name a few."
And with that, plus the fact that most everyone in the audience, knows just enough of the lyrics to sing along and start dancing.
Rick James and Teena Marie made a powerful statement about America being a true multi racial society, without ever really making any speeches about it.
In this song Tenna is really saying; "Damn right I am a white girl, but Black folks, I just might love your culture more than you do. And that's the 100% "Square Biz." Now give me a chance. (and that is exactly what Black America did.)
And while all this is going on the band continues to thump away…
7. I Need Your Lovin
"Love's fever comin' on strong. I don't want the fire without the fla"me, no. Mother nature gave me two hands to hold you. I'm not talkin' pressures or material gains. Love's comin', so glad you're mine. I don't want your rhythm without your rhyme, no. Easy feelin', your love keeps getting better. Say you'll leave me never and together we'll fly."  
As soon as I heard those lyrics, I was compelled to dance!
Again, it's the power contained in the songs themselves.
(Danny w/sax solo) "Blow Danny Blow"
8. Fire & Desire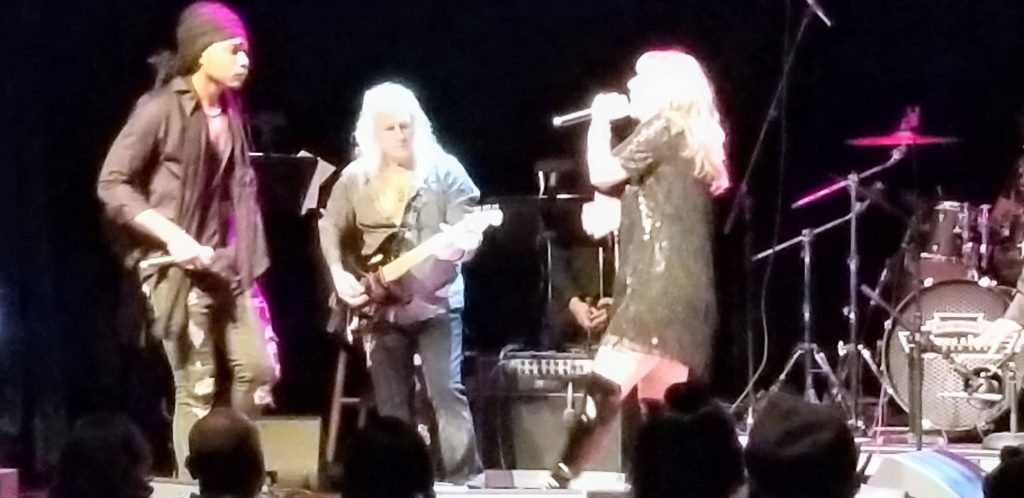 And speaking of a POWERFUL SONG…
This is a serious song, with serious lyrics.
It never charted, I'm not sure if it was ever anything more than an album cut. But was always the highlight of a Rick James and Teena Marie show. It is a truly classic duet of love, lust, betrayal, abuse and more.
"I guess life must be treating you well. Oh, me?. Well, I've just been doin' the same ol' thing I've always been doin', you know. I've got a new lady now. And it's a little different then it was when I was with you.You know, I think back to when we met. The way I used to be and the cold way I used to act. But more than that, I think of how you changed me with your love and sensitivity."
Don't worry, I'm not going to reproduce the lyrics of "Fire & Desire" here in this review. But here is a link to them. You should read them if you don't remember them, just so you will recognize just how powerful they are. Remember what I said earlier, about Rick James & Teena Marie quite literally being the commercial for a "multi racial society?" With this song, you literally have the two of them on stage talking/singing about a male/female relationship (their own?) in the most serious way possible (the good the bad and the ugly.)
To hear this on a recording is one thing, to see it presented in front of you raises the stakes by several levels, exposing a vulnerability, that most of us aren't really prepared to witness. When you attend this concert, you will feel the full force and power of this song!
Needless to say, The crowd at Bethesda Blues & Jazz, went nuts, during the performance of this song, as well they should have.
And finally…..(here comes Danny with another sax solo)
9. You & I
This song was Rick James first hit. It was also his second biggest hit (Give it to me Baby was the biggest.) It reached #1 on the R&B charts in 1978 and stayed there for 22 weeks. I mention all of this to let you know, that this is a song that all Rick James fans know and know by heart!
The crowd is on their feet now
"Some people might say I'm infatuated, I don't care. Cause they really don't know. They'll never see or hear the things I do with you. So far as I'm concerned, they all can go to hell. Woh, woh, woh, woh baby cakes, now swing it sugar." The crowd is on their feet now
This place is really rockin
This song served as our introduction to that certain "attitude" that would define for us the rest of the career of Rick James. This is where it all started…
10. Band Intro – Some kinda stank azz instrumental song – Nate Hughes, Levi Ruffin, Tommy T?, Lanuce Hughes, Trumpet guy, Trombone guy, Danny (sax) Musical Director from Switch
11. Mary Jane
This song is of course the anthem of the "pro marijuana crowd."
It's a very simple song. In fact, it's almost a "nursery rhyme."
"I'm in love with Mary Jane. She's my main thing. She makes me feel alright. She makes my heart sing. And when I'm feeling low. She comes as no surprise. Turns me on with her love. Takes me to paradise, do you love me Mary Jane?"
It rose to #3 on the R&B charts in1978 and stayed there for 17 weeks. I can assure you that in 1978, the legalization of marijuana, was not a popular issue with most Americans. But it was indeed popular with Rick James fans.
This crowd knew every single word….
12. Give it to me Baby
This song was Rick James biggest hit record. Taken as a whole, lyrics, instruments, etc, in some sense this song is about as close as Black music gets to heavy metal.
"When I came home last night. You wouldn't make love to me. You went fast asleep. You wouldn't even talk to me. You say I'm so crazy. Coming home intoxicated. I said I just wanna love ya."
The message is clear, concise and direct. There can't possibly be any confusion 😊
Naturally the crowd is up and dancing right away!
"Give it to me, what cha say, give it to me right away."
13. Super Freak
Not much for me to say about this song.
You know it, you love it.
(even when it's done by MC Hammer)
"She likes the boys in the band. She says that I'm her all time favorite. When I make my move to her room. It's the right time, she's never hard to please, oh no."
THE PEOPLE
The crowd was a casually dressed folks in their 40's, 50's & 60's as you might have expected.  It was approximately 80/20 Black/White and many of the women looked like they would have fit into the crowd at a Rick James Show back in the 80's. The staff at the venue was quite courteous and helpful, whatever you might need, they seemed to be available to assist you.
THE ONE
There was a convenient parking garage right around the corner. I mention this only because during the walk to the garage, as well as the elevator wait & ride to actually get back to my car, I got a chance to talk with some of the folks who had attended the show. First though I wanted feedback from my daughter "baby earthjuice." She told me that she dug the show and actually knew most of the songs, before the show. As a parent that kinda feedback warms my heart. As a Funkateer, it makes me think that there might just be some hope for the future of the music.
There wasn't a single person that I spoke with, who said they were the least bit disappointed in the concert. It seemed that some of my observations were right on the money.
There were easily another 10-15 hit songs they could have played from the Rick James/Teena Marie/Mary Jane Girls catalog. They didn't have to. This crowd wasn't interested in "quantity" (keep in mind most of the people at the show probably own the Rick James/Teena Marie/Mary Jane Girls studio releases.) This crowd was interested in being transported back in time, to relive the memories from their own lives that are associated with the music.
What they didn't bargain for (nor did I) was that once transported back in time, that they would become possessed by the power and spirit of the songs. No way they could have possibly been ready for that. I wasn't either. But I was pleasantly surprised. And as I found out during the walk to the garage, the wait for the elevator and the elevator ride, because we had all just had that common experience together, literally just a few minutes ago, the audience members were clearly "on the one" with each other. And isn't that the whole reason why funk music fans go to concerts in the first place?
Suggestions:
Update the color scheme, it felt like everything was a "washed out grey." Ad some bright colors to the overall color scheme. Even the video at the beginning looked "washed out."
Consider adding some of those missing 10-15 songs from the Rick/Teena/Mary Jane Girls catalog and expanding the show to two sets.
These are things that may help to expand the audience and reach for this excellent show. I am told that this was their only scheduled East Coast date. That seems criminal to me, they should be playing Philly, New Jersey, Baltimore, CT, Providence, Boston, Richmond, etc. And they should be hitting each of those areas' multiple times/year.
Finally, in the spirit of Rick & Teena, there is absolutely no reason why this group shouldn't be paired up with other popular 80's artists who are still doing gigs around the country. For example, these guys sharing a stage with Duran Duran or even Van Halen, in front of an integrated audience isn't far-fetched.
FUNK ON THE BRAIN: THE PRE GAME SHOW
STONE CITY BAND CONCERT AT BETHESDA BLUES & JAZZ IN BETHESDA MD
Ahhhh, the BIG DAY is finally here.
I'll be crossing state lines to check this show out, this weekend in Bethesda MD. Yes these are the same brothas we interviewed on Soul-Patrol a on 1/17. So I will be in the house this Saturday Night with my "funk flag flying high."
So that part yall already know.
Now for the rest of the story (in my best Paul Harvey voice.)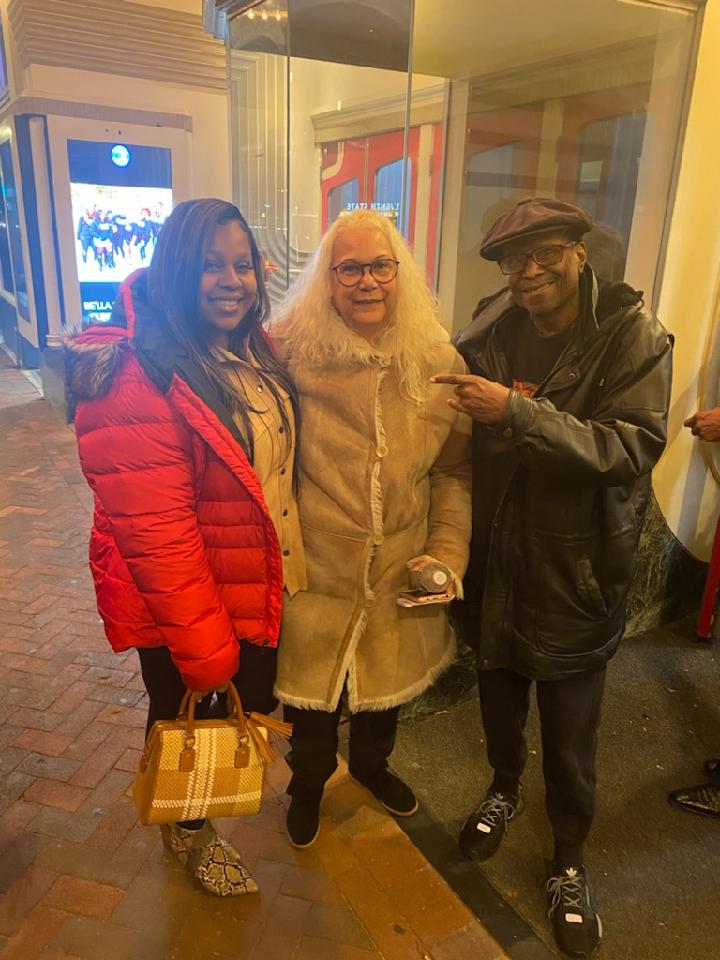 I'm in the midst of dealing with (yet another) "kozmic convergenge," this time around "THA FONK." So here is what the components are at this moment…
The Rick James Stone City Band Live Interview on the Soul-Patrol website
The Rick James Stone City Band Concert at Bethesda Blues & Jazz in Bethesda MD, I will be attending tonight.
I will be accompanied at the concert with my wife ("Mrs. Earthjuice") and my daughter "Baby Earthjuice."
BTW, the last time I saw the Stone City Band perform live was back in the 1990's in Atlantic City, accompanied by "Mrs. Earthjuice." (show was OFF THE CHAIN)
For those of you out there who have been keeping score "Baby Earthjuice," is damn near 30 years old. She is a successful young college educated Black woman, with her own real estate empire, stock portfolio and sports car. (just like the ones you see on TV…..lol.) This however will be her very first FUNK SHOW. So expectations for the Rick James Stone City Band show are from both "Mrs. Earthjuice" and "Baby Earthjuice" are running VERY HIGH.
Earlier this week, "Mrs. Earthjuice" prevailed in court in a long standing civil matter (which I won't go into the detail of here. And of course for those of you reading along, a large part of being a "Funkateer," is being able to and actually saying "F*CK YOU TO THE MAN," which is what she did this past Thursday.
As you also know, I am currently in the midst of reading, Dawn Silva's damn near 600 page epic book called "THE FUNK QUEEN." As it happened, I had a telephone conversation with Dawn yesterday afternoon. I was excited to talk with her because I have read enough of the book to develop a framework for what will ultimately become my review. Yes this book is so EPIC that even the review requires a "framework." Part of that conversation evolved into a whole separate (yet related) conversation about just why White Amerika/US Government/Entertainment Business Moguls HAD TO MAKE SURE THAT THE FUNK CAME TO AN END. And of course, why Black America allowed it to happen.
Given the presence of "Baby Earthjuice," at tonight's show, the Future of the Funk, will be paramount in my mind. Generally speaking she isn't a Funk music fan, although she has certainly been exposed to the music and knows who Rick James & Teena Marie are. So I will be definitely checking her reactions relative to tonight's show, to see if she might just want to get into it a little bit deeper?
Btw, Dawn is looking forward to my review of tonight's Rick James Stone City Band Concert at Bethesda Blues & Jazz in Bethesda MD, especially given that most of their gigs are on the west coast these days.
So now I have to "prepare for the show." Back in the day, preparation for a show like this, usually meant sequestering myself in a "smoke/incense filled room for several hours with some good friends, loud music and a bottle of wine." In 2023 I can assure you that none of that will be happening, except for the loud music. I have to put together a a playlist for the car, for our journey across state lines to the concert venue.
During the journey across state lines (bout 2 hrs) I will be keenly away of the activities of the modern-day descendants of the "slave catchers" (state & local police.) The Delaware/Maryland area is the "home area" of the great Harriet Tubman, so "slave catching" is in the blood of these police departments. Tonight I will be traveling with a heightened sense of this, not only because I will be traveling with my family, but also because the release last night of the video lynching of Tyre Nichols in Memphis.