"The Message is Still the Same": The Soul of D.J. Rogers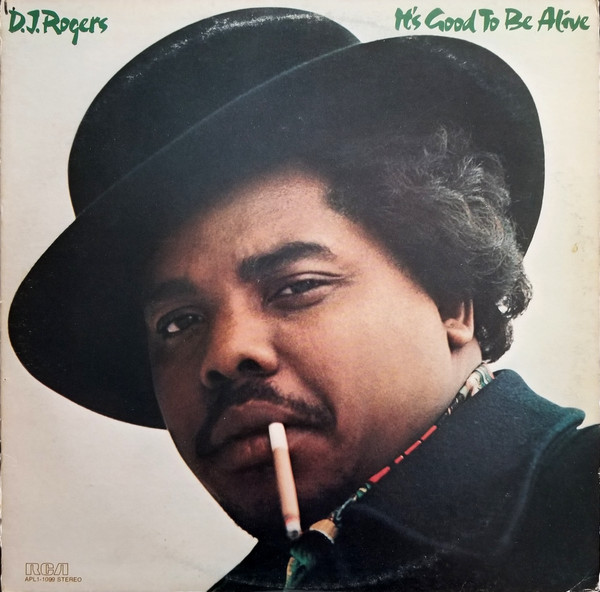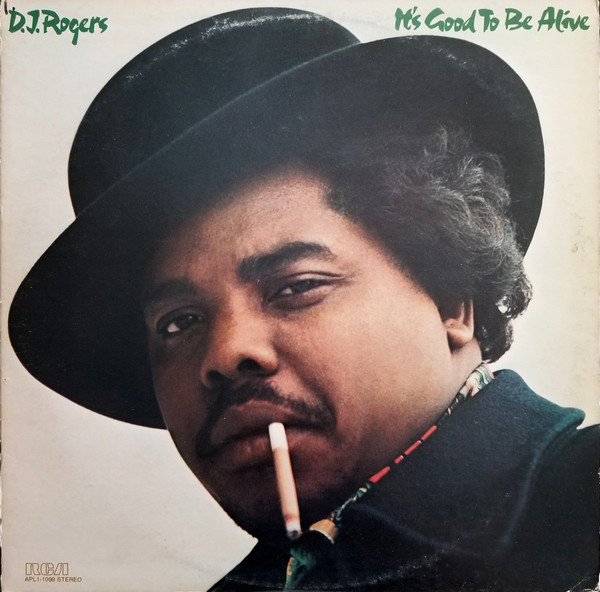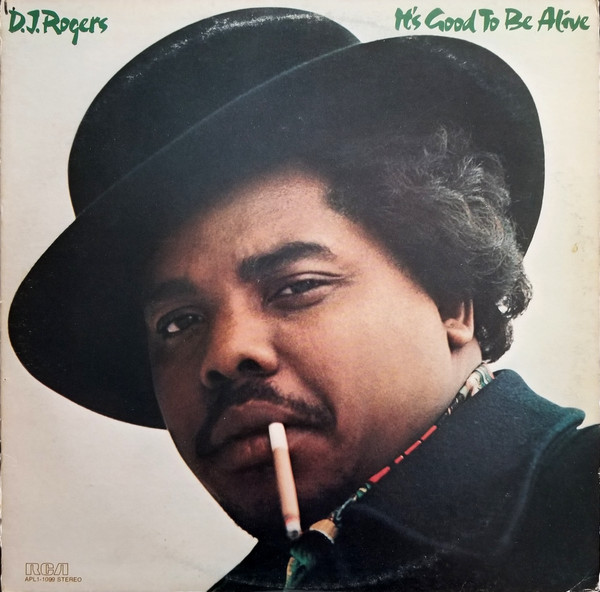 "I've tried to be an artist who, after the party is over…after whatever frustrations people are having, whatever problems they are experiencing, they can put my music on, and maybe see the light of day." — D.J. Rogers
I picked up a tattered copy of D. J. Rogers' It's Good to be Alive, from a street vendor in Harlem, sometime during the Spring on 1991. By then Rogers was an afterthought to some, including the vendor, who sold the album to me for $2.00. For me it was holy grail of sorts, still remembering hearing Rogers' "Say You Love Me" for the first time during one of Vaughn Harper's Quiet Storm sessions on WBLS. D.J. Rogers, a singer-songwriter, who recorded eight albums between 1973 and 1982, died in August of 2020 at the age of 73. Though Rogers might be an obscure footnote from a time when Soul and Gospel music were still intimate interlocutors, Rogers was an original, who made his own path as an artist in an era which might be remembered for witnessing the greatest generation of Soul singers.
DeWayne Julius Rogers, Sr. was born in the Watts section of Los Angeles in 1948, and was raised as the cliché that we've come to expect of Soul singers; he was the son of a minister, and began singing at age three in his "father's house", the House of Refuge, Church of God and Christ. Rogers made his earliest mark directing and arranging for Bro. Henderson's Fabulous Watts Community Choir, writing five of the nine tracks on their 1970 album We Need More Love. On the album one can hear the influence of Reverend James Cleveland, who had revolutionized the sound of Black Gospel choirs in the preceding decade (and who Rogers worked with briefly), but you can also hear early inklings of Rogers' sound on songs like "Help Is On The Way" and "Things Will be Better".
It was Rogers' songwriting that caught the attention of Leon Russell, himself a songwriter of note, having penned the American Standard "A Song for You" and "This Masquerade", which became signature tunes for Donny Hathaway and George Benson respectively. Russell signed Rogers to his fledgling Shelter Records which was based in Tulsa, OK and Los Angeles. Among the acts on Shelter Records was a young Tulsa based trio of brothers known as "Greenwood, Archer, and Pine" named after three streets in the Greenwood section of Tulsa; a few years later the group would simply be known as The Gap Band. Rogers not only worked with the Wilson Brothers at Shelter, he also produced Mary McCreary's album — the future Mary Russel—Butterflies in Heaven .
What Shelter Records afforded Rogers was full control over his music as was the case with his self-titled debut. On tracks like "Where There's a Will" – which re-appears almost forty years later as the sample on The Roots' "Kool On" – and "Watch Out for the Riders", Rogers had seemingly perfected a raw version of West Coast Soul (thus Southern Soul) and the Gospel choir tradition. On "Do You Want to Ride?", an eight-minute sermon inspired by a taxi-ride to glory where Rogers is joined by Maxayn Lewis, the referents are clear; besides the aforementioned Rev. Cleveland, Rogers is in conversation with Billy Preston, Donny Hathaway and notably Rance Allen.
Yet there was something thrillingly unrefined about Rogers, and it's visualized in the cover photos that accompany his first two albums; unwieldy, like the singer had been on a sanctified binge. Yet the thing that so distinguished Rogers from his peers – the freedom and even lack of genre discipline in his music – was part his commercial undoing. Whereas Preston, the so-called fifth Beatle was a certified pop star when Rogers emerged, and Hathaway and Allen had claimed their own lanes with the support of a machine like Atlantic and an iconic Black label in Stax, Rogers struggled to find an audience.
In a 1976 profile of Rogers in the Los Angeles Sentinel, the singer is described as a "veritable cult hero." Published shortly after the release It's Good to Be Alive (1975), Rogers' biggest commercial success and arguably his greatest artistic achievement, the artist already seemed to have come to terms with the limits of his success, admitting "performing is what sort of keeps me going. I have to sing, if it's in the alley to a wino. I have to sing. Even if it's just to myself, because that's how I express how I feel." It's Good to Be Alive was Rogers' first release for RCA, and while there were no hits on the album, three of the album's tracks, "Faithful to the End", "Say You Love Me" and "Bula Jean" – the latter functioning as the show-stopping album closer – are blueprints for the Gospel Soul ballad of the 1970s and 1980s; artists like Cheryl Lynn, Natalie Cole, Luther Vandross, Mikki Howard, Charlie Wilson, Deniece Williams, Maurice White, Yolanda Adams and so many others, drew from Rogers' model, if not his songbook itself.
Rogers recalled in an interview with Los Angeles Sentinel, that the inspiration for "Say You Love Me" was an intimate conversation with his wife Celia Rogers, right before the birth of their son D.J. Rogers, Jr.. In midst of a difficult delivery, Rogers' his wife implored him to say that he loved her; Rogers wrote "Say You Love Me" the same day of his son's birth in tribute to his wife. The song was famously covered by Natalie Cole on her Snowfall on the Sahara (1999) album, where she also covers Russell's "A Song for You", yet the greatest testament to the power of the Rogers composition is Jennifer Holiday's cover which was the title track of her second album release in 1985. Decades later Faith Evans and Common would cover and sample "Faithful to the End" on their songs "Faithful (Interlude)" and "Faithful".
Rogers recorded two more albums for RCA, 1976's On the Road Again, where Charlie Wilson provides backing vocals, and Love, Music and Life in 1977. The former is notable for being a musical document of Rogers' travails of life on the road, with a young son and wife at home. The album exhibits the exhilaration, despair and ephemeral quality of being on the road, particularly on the title track and "Only While It Last." For Love, Music and Life, Rogers moved his operation to Lonnie Simmons' The Total Experience studio (which had transitioned from a club of the same name), and produced an album that is arguably on par with It's Good to Be Alive. Though the album did not produce any signature hits, "Love is On the Way" and "Saved By Love" are among Rogers' most affecting songs. It was through Rogers' relationship with Simmons that the latter was introduced The Gap Band, who Simmons helped reboot their career at Mercury Records where they began their run of hits like "Burn Rubber," "Yearning for Your Love" and "Outstanding".
Disillusioned by the lack of support from RCA and his desire to spend more time with his family, Rogers was prepared to call it quits – not even aged-thirty – but his fan had other thoughts: "people began to call and write me," Rogers told the Los Angeles Sentinel. Rogers found a fellow traveler and supporter in Maurice White, who signed Rogers to his Columbia distributed ARC label, which was also home to Deniece Williams and The Emotions. Rogers recorded three albums for ARC, Love Brought Back (1978), Trust Me (1979), and The Message is Still the Same (1980). While the albums were all fine recordings – D. J. Rogers recordings – and placed him on the charts with a frequency he had not previously experienced, the albums lacked the grit and even earnestness of Rogers' earlier offerings. Not surprisingly one of the standout tracks on Love Brought Me Back was not a Rogers original but a cover of Walter Hawkins' "Changed".
"Changed" pointed a path forward for Rogers, and by 1982 he had come full circle releasing the Gospel album HopeSongs, Vol. 1 on his own label Hope Songs Records. The song "Overcome" from HopeSongs, Vol. 1 seemed fitting closure to Rogers' career as a secular recording artist – he had long described himself as a cowboy for his love of horses – but Rogers never stopped working even as he virtually disappeared from the Black music mainstream. Among the artists signed to Hope Songs Records was a young Keith Pringle, whose album I Feel Like Going On was produced by Rogers. The album's title track was the musical reference for "Eddie King, Jr.'s" performance of the song at the end of Robert Townsend's The Five Heartbeats.
Rogers made a rare comeback in the early 1990s appearing on the Above the Rim soundtrack with the song "Doggie Style" – reclaiming musical terrain, if not thematic terrain, that he had long ceded to the likes of Aaron Hall and Jodeci. Later in the decade, he appeared as a choir member on the UPN sitcom Good News. Even when Rogers was off-the-grid he was sought out by fellow musicians like Patrice Rushen ("Givin' It Up Is Givin' Up") and pianist Webster Lewis ("Heavenly"). Rogers was also featured, with Marvin Sapp, on Hezekiah Walker's "God Favored Me", which introduced him to a new generation of Gospel audiences.
D. J. Rogers will perhaps be remembered as an artist who never received the accolades that he deserved, yet it was his reputation staying true to his artistic self and for never forgetting the Watts streets that he grew up in that resonated among many. As activist Danny Bakewell recalled after a fund-raising event in the early 1980s in which Rogers was one of the artists who shared their time and talents, "we are indebted to all the stars – including D. J. Rogers – who bring order out of chaos in an effort to reinforce the imagery of excellence that Black people enjoy." In that regard, whether singing Gospel or Soul – or that signature Rogers sound – the message was always the same for Dewayne Julius Rogers, Sr..