The Quizzical Case Against Lee "Scratch" Perry: The Most Important Producer You've (Probably) Never Heard Of
One can somewhat understand, under these conditions, how foundational and quixotic mastermind Rainford Hugh Perry, better known as, Lee "Scratch" Perry, doesn't show up on the US radar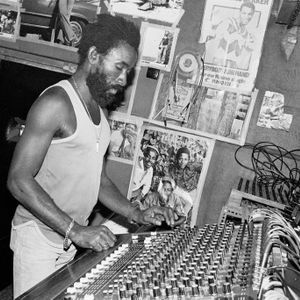 The selective acknowledgement of Black genius by mainstream pop music and its gatekeepers weighs like an anchor on the collective psyche of true scholars and enthusiasts. And it wouldn't be such an encumbrance if pop criteria operated under balanced merit systems. The attitudes and actions of the music industry have mostly confirmed otherwise: the stigmas that marginalize Black creatives who don't tow the line of easy airplay and massive sales—regardless of their triumphs and influence—have been shut out of larger, necessary discourse of how we value Black music.
One can somewhat understand, under these conditions, how foundational and quixotic mastermind Rainford Hugh Perry, better known as, Lee "Scratch" Perry, doesn't show up on the US radar for anyone except hardcore reggae music aficionados and truly discriminating musicologists, connoisseurs, and scholars. His collective work has never truly had proper and educated consideration in mainstream settings. It's been largely (and wrongly) dismissed as a "primitive" form (pretty much like every art form Black people have ever created). Reggae's premiere global ambassador, Robert Nesta Marley, is 40 years departed in 2021. Comparable reggae artists (alive and dead) have, like Perry, been relegated to cult/boutique status. The genre has been diluted in the States through cynical money grabs, dumbed-down crossover missteps, R&B hokum, and rock 'n roll piracy. These days, reggae music has taken two distinct paths, either through the LatinX-driven milieu of "reggaeton," or through the skater rock/jam band community (with a practical monopoly of White rock/pop performers at the vanguard).
But to dismiss the profound impact that Lee "Scratch" Perry has had on popular music requires a cynical constriction of taste, such as to render the perpetuator socially illiterate. Because his influence has permeated virtually every form of popular music in the latter half of the 20th Century on a global scale. The closest comparisons would be scenarios where we'd lose such iconic recording and production pioneers—who honed signature sounds celebrated the world over—as Stax' Jim Stewart, Atlantic's Tom Dowd, Columbia's Tom Wilson, Chess' Charles Stepney, Motown's Mike McLean, Brunswick's Carl Davis, Fame's Rick Hall or independents like Eddie Kramer, Rudy Van Gelder, Bruce Sweiden, or the Muscle Shoals Studios. Then take any one of these trailblazers and have them not only put out classic sides by the defining artists of their day, but create the sonic template to formalize entire genres (ska, reggae, rocksteady), influence entire genres (punk, disco, new wave) and formulate new genres (hip-hop, dub, jungle, EDM, emo, drum 'n bass, trip-hop, etc.). Only then do you get a glimpse into the enormity of the impact Lee "Scratch" Perry had on the world of contemporary music.
What further distances Perry from the formalist schools was his raw, instinctive, "do-it-yourself" scholarship and fearless experimentation that would hewn his futurist sonic palette. His trial-and-error education at two legendary Jamaica record labels—Clement Coxsone Dodd's Studio One, then later, Joe Gibbs' Amalgamated Records—paired him with artists who would lay the foundation for ska and reggae's global popularity (The Wailers, Don Drummond, U-Roy, The Heptones, The Skatalites, Prince Buster, Toots Hibbert, etc.). Perry created reggae's earliest classics, and produced for every significant label on the island (including several labels he'd start himself), setting the bar for the sound of an entire genre. He also scored several major hits featuring himself and his backing band, Upsetters, which included the Wailers' legendary rhythm section, Aston "Family Man" Barrett on bass and Carlton Barrett on drums. (Note: Perry's Upsetters are not to be confused with Little Richard's band, The Upsetters).
Perry's hardscrabble wizardry behind the boards (creating the sonic template for "dub" based styles), and multiple remixes of tracks (which became known as "versions"), completely revolutionized in-studio recording, as well as live DJ culture in dancehalls, clubs or on the streets through mobile "sound system" crews. It's neither coincidence nor any small matter that three West Indian-born DJs—Jamaican Clive Campbell, Barbadian Joseph Saddler and Jamaican/Barbadian Lance Taylor—grew up in sound system culture, which they each brought to The Bronx in the early 70s, forming a new musical/cultural movement that would come to be known as "hip-hop." These DJs, known respectively as DJ Kool Herc, Grandmaster Flash and Afrika Bambaataa, are long acknowledged as the founding fathers of hip-hop culture. In a 2010 profile on Perry, Bambaataa told Rolling Stone, "It was Lee Perry's sound and the Jamaican toasters [rappers] that inspired us to start hip-hop." This connection isn't lost on true students of hip-hop, including The Beastie Boys, who featured Perry on the 1998 cut "Dr. Lee, PhD," off the album Hello, Nasty. And, as Perry "sampled" other artists for many of his hits, he's been sampled nearly 300 times—mostly in hip-hop, but also by artists in a wide range of genres.
Perry also had a profound influence on the punk movement, as reggae music shaped much of the punk rock coming out of the UK. Reggae influenced artists like The Clash, Public Image Ltd. (PIL), The Police, Elvis Costello, The Specials, The English Beat, The Selecter, Madness, and others. Don Letts, one of the original punk tastemakers, DJ, filmmaker, and musician, has been credited with introducing reggae to the burgeoning punk scene in London and putting colleagues like The Clash and PIL on to Perry's work. Letts discussed the link between reggae and punk culture in an interview hosted by Afropunk, "Paul Simonon and Joe Strummer, they both loved reggae very much. So, they get a chance to make a record, they go and check out Lee Perry, because they want some of what Lee Perry's got." Perry collaborated with The Clash, PIL, Big Audio Dynamite, Ari Up (The Slits) and Adrian Sherwood and other punk, two-tone, dub and electronic musicians in the UK.
In many ways, Perry was Jamaican music's patron saint of the DIY ethos, parting company from the country's top labels (typically in acrimonious fashion) in 1968 to form Upsetter, one of several indie labels he founded and dissolved. He continued to put out releases as a featured artist with the Upsetter band. In 1973, he built Black Ark, a four-track studio packed with wall-to-wall sound effects, to keep creative control over his output while still refining and experimenting with his sound. In Black Ark, Perry churned out classics for Bob Marley & The Wailers, U-Roy, Augustus Pablo, Big Youth, I-Roy, Third World's Bunny Rugs, King Tubby, Gregory Isaacs, Mikey Dread, Junior Byles, The Heptones, The Congos, Max Romeo and more. In 1978, Black Ark studio burned to the ground under dubious, and still unclear, circumstances. Frustrated by the notorious corruption at many Jamaican labels, Perry left to start fresh in Switzerland.
With or without Black Ark, Perry was arguably one of the most prolific producers in all of music, although putting an exact figure on his total output is challenging. Perry was often accused of cutting side deals with labels, doing multiple re-releases and remixes under different titles. Based on Perry's "Eternal Thunder" website, his catalog boasts no fewer than 1,000 singles and 100 albums verified releases in Jamaica alone (not counting US and UK releases) and over 100 compilations and releases on other featured artists. Since leaving Jamaica in 1978, Perry appeared on over 100 more collaborations, compilations and feature projects (he returned to the island in January of 2021, tired of Switzerland's cold weather).
Of course, some argue Perry's oft-mercurial mannerisms, temperament, and professional conflicts have contributed, in some measure, to his star not being as bright as others. He was an admitted eccentric, notorious for burning many bridges, and his musical bailiwick is criminally underrepresented in Black popular music. But, if being difficult was a disqualifier for every genius in the music business, there'd probably be no geniuses in the music business. There is no refuting his influence on an enormous scale, certainly more so than the legions of lesser producers with smaller output yet much broader bandwidth.
In the end, idiosyncrasies notwithstanding, Lee "Scratch" Perry's immense and impactful body of work demands a much larger conversation than it's been afforded to date. One can only hope that when it does happen, we will all have the antennae to be more receptive to his frequency. But like other iconoclast innovators—Sly, Betty, Coltrane, Sun Ra, Hendrix, Miles, Nina—it will probably take a couple of decades for us to get there.