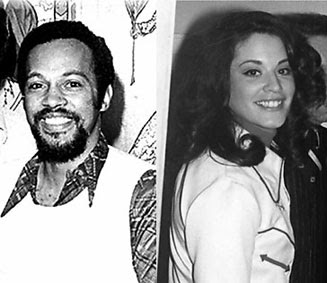 Songwriting credits in today's music industry read like names of prestigious law firms. It's not uncommon to list five or six names as co-writers. Factor in samples/ interpolations and the number grows—a far cry from the days when writing and production teams were crews who worked in of twos (and threes). Ask your typical music aficionado these days to run down their short list of great songwriting tandems and they just might stop at LA and Babyface or Jam and Lewis and overlook the prolific genius predating contemporary R&B.
Producer/arranger Thom Bell and lyricist Linda Creed helped brand the Sound of Philadelphia as the preeminent music during the first half of the 1970s. They worked with many artists but were best known weaving a string of Top Ten million-sellers into the tapestry of Stylistics three gold albums—The Stylistics (1971) Round Two (1972) and Rock and Roll Baby (1973).
Anchored by lead tenor Russell Thompkin's creamy falsetto, Bell and Creed's songs were played on R&B, pop and Easy Listening radio formats and covered by everyone from Marvin Gaye and Diana Ross to Englebert Humperdink to Johnny Mathis.

R&B had come off Otis Redding's soulful bluster four years earlier and was deep in the midst of James Brown's chest-beating machismo. Thompkins' vocals would come off as virile to some. Music critic Robert Christgau branded the Stylistics as authentic modern-day castrati raising the bar for "absurd high seriousness of the love-man mode into an asexual spirituality that the Delfonics only hinted at and the country-rock harmonizers only fake and exploit"
Philly soulmates the O'Jays and Harold Melvin and the Blue Notes delivered potent send-ups I Miss You and Sunshine on the Live in London and Golden Gate Groove: Live in San Francisco albums featuring spoken rap interludes with sly carnal references. O'Jay Eddie Levert's playful suggestion to "charge" his lover into sexual submission and Melvin's offer to sneak back into his lost lover's life disguised as the milkman leaving "four quarts instead of two" were worlds away from Bell and Creed's depictions of "candy land and fairy tales" sung by the Stylistics on Betcha By Golly Wow So were Blue Note lead singer Theodore Pendergrass' forceful reprimands ("Sit down!") on Be For Real.
When it was time for Thompkins to deal with his lady—he was more genteel, thanks to Bell and Creed. You'll Never Get to Heaven If You Break My Heart finds Thompkins gently admonishing his lady for being "mean and cruel" and reminding her to "follow the Golden Rule." Instead of Levert's sexy remedy for his moody woman ("I know what your problem is baby/"go on upstairs/and put some of that black sexy lace"), Thompkins serenade celebrates ratherthan seduce: "You're asright as rain/softer than a flower/ sweet as marmalade"
Visionary icons-in the-making Maurice White and George Clinton weren't fans of stand-up vocal groups like the Stylistics or Philly Soul orchestration either. When devising his concept for Earth Wind and Fire, White chose not to model his band after what he called "middle of the road doo-wop groups" of the period he branded as "the era of the military lineups."
As a former doo wop singer-turned-P-Funk front man, Clinton dismissed symphonic soul in favor of his brand new funk: "You know, violins, big productions, disco, the Teddy Pendergrasses, it all sounds like white pop music of the 50s. A lot of it is cool, but it's still just a rehash of what white America did…."
Criticisms aside, Black listeners born in the 1950s and 1960s who came of age during the 1970s were feeling the male and female vocalists and standup groups of the era. Young brothers from Hip hop's first generation were especially intoxicated by this potent elixir of flamboyant cool, sexiness and refinement. In a 1988 interview for Spin Magazine urban taste maker Fab Five Freddy waxes poetic on a golden era:
"There was a time when a b-boy may want to get together with his girl and go to a club where you can chill, sip a little Dom Perignon, a little caviar, munch a little fried chicken or whatever may be and cool out with his girl. And he would take off those sneakers and put on a pair of Clarks or British Walkers. When I was a kid, we had the Stylistics and Blue Magic and if you went to see those people, that was how you dressed. You didn't put on sneakers to hear the Stylistics. You put on something kind of fly..
In his 2001 memoir Life and Def, rap mogul Russell Simmons offers up his own assessment of the era:
" People don't understand this but the falsetto, crying singers were the most ghetto singers back then. For all their talk of love, there was something pimp-like, manipulative and fly about that sound. Like one of my favorite records, the Delfonics' Hey Love where the lead singer is begging for that ass in a roof-scratching falsetto…."
Harlem hustler-turned-crooner Oran Juice Jones' 1986 single TheRain—a conceptual nod to great Temptations/Dramatics/Barry White-Love Unlimited singles I Wish It Would Rain, The Rain and Walking in The Rain With One I Love and vocal throwback to Dramatics and Blue Magic high tenors Ron Banks and Ted Wizard Mills—zoomed up the charts thanks to Juice's infamous monologue that checked his cheating lover ("Don't touch that coat!!") and recalled the velvety plushness of Isaac Hayes, Chi-Lites and Harold Melvin/BlueNotes records.
An old You Tube clip of Jones' Soul Train appearance finds him singing the praises of classic soul to Don Cornelius: "The average person who's into Hip Hop—during the day they may listen to LL or Run or Kurt……but when they go home they can't keep banging it….you gotta chill sometimes, cool out…listen to the Moments, the Delfonics, Blue Magic…."
Across dimly lit basements, cellars and rec-rooms, sexy slow drags radiated from the slow-burn of Bell's pristine productions. Creed's lyrical affirmations of love transported couples to a romantic oasis that was a world away from the one outside of Young Black America's window.
"I find that going into the studio with a lot of electronics, you waste more time. I've gone into the studio with cats who said, "Play so and so. That's enough." "But I didn't play nothing." "Well, we can sample the rest." "Look man, turn the machine off. By the time you get finished sampling this thing, I could have played the thing 50 times already." I come from another school where you put the music down and you play it. You either play it right or you get out. That's the reason I practiced for years and years, to learn my craft. That's nerve-wracking to me…..
New Jack Swing King Teddy Riley said it best: there are beat-makers and then there are producers. Thom Bell was a producer. Rarely mentioned with the likes of Stevie Wonder, Marvin Gaye, Maurice White and Barry White, he might trump them all in terms of self-contained ability. Sounds sacrilegious? Let's put things in perspective. The genius of these 70s giants is undisputed—but the truth is—fingerprints of collaboration are all over their signature work. You can't mention Wonder's musical maturation without acknowledging the role synth pioneers/engineers Robert Margouleff and Malcolm Cecil played in shaping Wonder's sprawling ideas into a cohesive package of five straight groundbreaking albums.
Gaye's prescription for his chronic writer's block was his pairing with Ed Townsend and Leon Ware—key collaborators helping him deliver love-and-war magnum opuses Let's GetIt On,I Want You and Here My Dear. Until White enlisted mentor Charles Stepney—a producing/arranging/composing prodigy who rivaled Bell's talents, Earth Wind and Fire was just another fledgling rock/funk act instead of the sophisticated R&B super group they would become under his tutelage.
Conductor/arranger Gene Page's string arrangements gave Barry White's love themes their plush symphonic vibe. Bell did it all himself. Write. Produce. Play. Arrange. Sing. A master of efficiency, he recorded multiple albums worth of material for his artists at one time while mapping out a creative direction for the next ones coming up.

He wrote out music charts out for session musicians and recorded vocal parts on individual portable tape recorders for singers to learn their notes. These days we salivate over never-heard musical outtakes, lost tapes, black albums and hidden gems laying around in vaults. That didn't apply to Thom Bell. Quality over quantity was the rule. It was the reason he was ranked top arranger and producer in industry trade magazines for consecutive years and win the very first Grammy Award for Producer of the Year in 1975.
Bell's rumbling piano chords kicked off the OJays' menacing BackStabbers (1972). Harold Melvin and the Bluenotes' I Miss You (1972) featured his plush melancholy backdrops framing Baby Lloyd Parks' Philly falsetto and Pendergrass' roaring baritone to perfection. Besides handling arrangements for partners Gamble and Huff, Bell scored a music hat trick reaching success with three different groups: The Delfonics, The Stylistics and The Spinners.
Born into a musical family, Bell cut his teeth on classical music. As a child, his ability to hear music in his head and vocally imitate the sounds was met with skepticism by teachers who misdiagnosed it as a mental disorder. Instead of falling for the Herodian attempt designed crush Bell's prodigious genius, his West Indian mother (a concert pianist herself) set them straight—"If he says hears music, that's what he hears!" Moving from piano, drums, guitar, horns, harmonica and accordion his rapid musical progression was elevated by his exposure to exotic instruments by international exchange students visiting his home. Long before the Beatles and Maurice White picked up Indian sitars and African kalimbas, Bell had access to them as a child growing up in West Philadelphia in the late 1940s and early 50s.
When a fledgling group was brought to him, William Hart's falsetto/tenor vocals and lyrics and Bell's string-laden classical production were the foundations for proto-Philly Soul classics La-La-La Means I Love You (1968) Ready or Not Here I Come(Can't Hide Love) (1969) and Didn't I Blow Your Mind (This Time) (1970).
At twenty, he moved to New York City in hopes of finding a career conducting orchestras, but even his musical sophistication was no match for the racial politics of the day. Returning to Philly, he established himself on the local music scene while teaching himself to arrange music by checking out music theory books in the library.Bell's encyclopedic music knowledge served him well. Before larger recording budgets afforded him the ability to hire classically trained musicians, he played every instrument himself. Ideas may have taken shape in Bell's blue songwriting room (with matching piano) but first he had to hear an artist in his head:"Let me get down to the specifics of what makes you who you are without the song. I can tell if you have a naturally great voice or whether it's something the engineer has done, the producer has done, or it's the kind of mic that you're using. When I work with you, I got to be able to hear you in my mind. I'm singing to myself and I can swear I sound just like you. And if I can sound like you, then I can write for you." At a Bell session, the musicians and the artists were required to stick to the script. When Spinners flashy front man Phillipe Wynne went into his bag of vocal tricks to launch the trademark ad-libs endearing him to audiences, Bell let him take flight. As soon as Wynne came down to earth, then Bell turned on the tape, coaxing him to play it straight on emotional numbers like Sadie (1975).Bell's work ethic was relentless. In his 2015 book Growing Up in The Sound in ThePhiladelphia, songwriter Bruce Hawes recalls his initial meeting with Bell who quickly paired him with Creed—tearfully pushed to her creative brink finish a lyric after being charged with writing no less than six songs in one day for a Johnny Mathis project.Compared to producers who remained in the protective pocket and worked primarily with hot artists, Bell thrived on the challenge of orchestrating career makeovers for languishing acts like the Spinners: ( "Don't bring 'em to me unless they've got bombs. That's my job, to keep you from getting bombs".). Ever confident in his abilities, Bell promised each member a Cadillac—10K in early 70s dollars—-if he didn't give the five-man group a hit the first time out. He would give them five. Bell explained the music to the artist, teaching them the song's elements by singing it to them. Vocals were put to tape and they learned the song before Bell rehearsed them on piano. Singers never heard the actual music until it was time to record—creating an anticipation that inspired the stellar vocal performances that we hear on those records today.
Years before legendary record man Clive Davis made his bones transforming Black female singers into crossover superstars, he wasn't so forward thinking in terms of recognizing the scope of Bell's mastery when he approached Davis wanting to produce pop star Mathis ("Thank you very much. You're a nice producer, but for black music"). Undaunted, Bell reflected on Davis' underestimation of his gifts:
"He made that mistake that a lot of people make. Don't get the hue of the skin mixed up with the kind of music I make…I gotta tell you, Bacharach and David are two of the greatest writers. They did classical things, and that's what I always wanted to do. People told me, 'Black people don't dig that kind of music.' I'd say, 'What do you mean? I'm black and I dig it. There's got to be more of me out there than just me.' When it comes to music, the hue of skin has nothing to do with likes or dislikes. Music is not something you wear. Music is something you feel."

Aware of vocal limitations of other group members, Bell employed background singers to strengthen their vocal parts in the studio. A picture on the back of the Stylistics' Round 2 album shows Bell working with the group in Sigma Sound Studios. In reality, Creed, Bell and PIR members usually sang on the records. Bell never made it public ("the public doesn't need to know stuff like that") and preserved the group's reputation as silky soul front runners. He also paid musicians salaries above union scale and gifted them gold records on hits they played on.
In the hip 1970s, Linda Creed could have been mistaken for Bell's romantic interest instead of his prolific songwriting partner. She sometimes was mistaken for a Black woman (just as Blue Magic songwriter Bobby Eli was) assumed based on her musical affiliations. Creed was the daughter of a French Jewish insurance salesman who emigrated to Philadelphia. Raised in Philly's Mt. Airy section, Creed was raised on Connie Francis' confectionery pop but soon gravitated to R&B when she discovered Smokey Robinson and The Miracles as a teenager:
A 1973 Jet magazine issue features a rare photo of Thom Bell and Linda Creed together.
"Up until the age of fourteen, I only knew about WBIG, here in Philadelphia which played Lipstick On Your Collar and stuff like that. I listened to it but it didn't kill me. Then one day I was watching the Ed Sullivan Show—and I saw a guy named Smokey Robinson and the Miracles who I'd never heard of and he was singing you You Really Got A Hold On Me and I was prostrated to the floor. That's music !….
There was something about it that just captured me! (But) Smokey's lyrics were spellbinding. I loved them. He said things simply, but it carried over into your emotions. I think if anybody I've taken my style of songwriting from; my style is possibly derived from Smokey…."
R&B newcomer Creed made up for lost time and delved into Black music head first. Like white Middle-American teens tapping into Black music's life force via remote radio stations back in the fifties, she tuned in to Philly's Black radio stations WDAS and WHAT—weak signal and all. Unlike the kids who had to sneak and listen to ebony-hued urban sounds away from disapproving parents, Creed's cultural pursuit was conducted out in the open. She purchased seminal Black rock and roll records to study and attended jazz festivals. High school at all-black Germantown High was just around the corner and she wanted to be ready. Just as partner Bell faced ridicule for his prodigious gifts as a child, the self-proclaimed "weird child" faced encountered similar reactions from her white friends because of her musical obsession:" Everybody laughed at me. My friends didn't quite understand. I mean they would like a song, but I got into the bassline…From the moment I got into music, and particularly R&B, people laughed. I became very black oriented because to know something you must experience everything and only through feeling that experience can you know what you're talking about. I was scorned all the way…." Harboring ambitions of being a singer, Creed held down a gig as a secretary for a New York music publishing firm while writing poetry on the side. She recorded a few sides produced by Bell that went nowhere. Through an encounter with funk giant Sly Stone, she picked up songwriting tips that would shape writing style. With ruined vocal chords and no prospects, Creed moved back to Philadelphia and reunited with Bell eventually forming a partnership. Success came quick. In '69 Creed wrote her first song. By '71 she wrote her Top 40 first hit. A year later, she had her first million seller.
Unlike great writing teams like Motown's Holland-Dozier-Holland who worked out songs together, Creed and Bell's unorthodox system transformed Stylistics albums into literal greatest hits packages. In past interviews, Bell and Creed described their unique work style:
"She couldn't stand sitting around waiting for me to come up with melodies and things. So, she'd go home, and I'd call when it was ready. I would call her the next day and make a tape of it, give it to her and whatever I wrote–if I wrote the first verse, or sometimes I didn't write anything but the hook of the song, like "Betcha By Golly Wow" or "People Make the World Go 'Round" or something like that. Then I'd give it to her and the next day, she'd have it."
Bell and Creed' collaborative approach but worked to perfection. "I'd be working on one note for an hour or two hours. She'd say, 'Bell, you take so long!' It wasn't too long to me….We made a vow I won't call you until I want you to write lyrics, you won't call me unless you want me to write a melody. When I was finished with those melodies, I'd call Creed. Bang! The next day, the lyrics were done….During an interview with Bruce Pollock for his book 1975 In Their Own Words, Creed provided her own take: "Originally, we'd sit down together, and Tommy would play a melody and I'd write a line at a time or wherever I could fit it in and then I'd go back and polish it up. As we became more professional and as I began to get a method to my madness, I would just get a tape of the melody from Tommy and then I would go home and take a week or whatever to work on it… So I generally sit with the song about two or three days, playing it over and over, listening to it while making the bed or cleaning up or whatever…..To me if you're going to state something, state it so it's understandable….I write pretty basic lyrics, really basic emotions that would be pretty easy for anyone to identify with, but at the same there's a certain depth to hem…
Sometimes they clashed over ideas. Bell admitted Creed initially rejected his concept for Betcha By Golly Wow. Creed acknowledged she wasn't "knocked out" by GhettoChild: ("It took me forever to do because I didn't like the melody"). When Bell came up with lyrical ideas for The Fat Man, a tune dedicated to his overweight son that eventually became The RubberbandMan—Creed thought it was "ignorant" and "anybody could write it." Bell stood firm: "Too bad. That's the way I like it." Creative differences aside, the songs were destined to become hits. Big ones.
Songs like People Make the World Around (1972) showcased Creed's flair for light social commentary but as usual, love was the primary topic in a Creed lyric. The titles said it all. Stop, Look, Listen (To Your Heart). I'm Stone in Love with You—all inspired by her relationship with husband Stephen Epstein. Her first million-seller You AreEverything (1972) was written during her engagement to Epstein:"I don't know, I think it was automatic….In the first year of our marriage, I watched this girl write four or five songs about us. And me, being a promotion man going around the country promoting songs about my life and watching them become No. 1 records, my hair used to stand up on my arm. It gave me chills….. For example, in 'Stoned in Love with You,' she wrote, 'Overnight sensation, drive a big, expensive car.' Well, my first week in the record business, the flamboyant promotion man that I was, I bought a long, all-white Cadillac with a sun roof. When our neighbors had a fight, Linda wrote 'Break- up to Make-up.' She said, 'They're just breaking up to make up, that's all they do.' Name any song and I can tell you what was going on in our life at the time….."Creed's couplets in I Don't Want to Lose You (1975) tugged at the heart strings:"Who do you think you are/ who do you want to be/you're the only one that really knowMaybe you'll be surprised/ after your search is through/when you find you've just been chasing you."Believe me I understand/ the vision of your mind/but I'm so afraid that the girl you'll find may not need a man like me."1975's Living Just a Little, Laughing Just a Little continues Blue Magic's melancholy carnival theme heard on '74's Sideshow and Three Ring Circus. Backed up by Bell's typical epic pageantry: sweeping piano chords and French horns sounding uncannily like The Murder of DonFanucci Theme from The Godfather II—Creed puts her spin on Smokey's tearful clown concept:"Laugh as the funny man cries/though his makeup is smearedLaugh at his comical tears/as he thinks of the yearsLaugh everyone at the fool /with his heart in his handStill he can't quite understand/ that he's less than a manLost somewhere deep in his shell/there's an ember of prideWatch how he tries hard to hide/that he is dying inside" Creed's writing could be animated and jovial. Rock and Roll Baby (1974) spins a tale of little Joey—the young "tootsie roll soul" born in a theater in Bluefield, West Virginia who wore little white orthopedic shoes and never sang out of tune.
Creed's lyrics to her much maligned The Rubber Band Man (1976) jumped right off the page straight into a half a million ears on its way to another gold record. On the Spinners 1974 hit I'm Coming Home and Ronnie Dyson's 1973 breakout One Man Band (Plays Alone), Creed explores failure, disappointment and personal setbacks—similar concepts featured in Motown-Philly predecessors Where Are All My Friends (1974), I Could Never Love Another (After Loving You) (1967) and Back Stabbers (1972). Instead of Gamble and Huff's brooding production and dark story lines, Bell and Creed crafted bouncing melodies and animated lyrics with a whimsical twist. Where lead singers Teddy Pendergrass and David Ruffin were cast as tortured souls betrayed by fairweather friends and and tormented by lost love, I'm Coming Home and One ManBand find Phillipe' Wynne and Ronnie Dyson reflecting on their trials and tribulations with sage-like introspection and optimism—thinly veiled conceptual metaphors for Creed's own resolution in the face of her own personal experiences. Her failed singing career was the inspiration for Home:"I'm really not ashamed/to have the leave the city/and I don't want nobody to show me pity
Cause I had more than I can stand/and back home I can be a better man
I can rearrange my life/might even find me a pretty wife" One Man Band's lyrics were especially personal: "Each man is the master of his own destiny/and I can surely best determine what is right for me/If I had the chance to change my life/I wouldn't dare /doin'okay/livin' this way"
Bell and Creed's prolific composing and songwriting, signature kept the Stylistics ahead of the pack of stand-up vocal groups: "Because guys were starting to catch up to my sound, I said, "that's okay, that's all right." I started digging deeper into my own background and deeper into the symphonic orchestra…" Just four years into their fertile partnership, Creed was diagnosed with breast cancer. She was just 26 years old. Bell was by her side when doctors told her she would never have children. In Creed fashion, she put her pen to paper, crafting an ode to her mentor and friend. It became the Stylistics biggest hit: "My love, I'll never find the words my love, to tell you how I feel my love. Mere words, could not explain, precious love, You held my life within your hands, created everything I am, Taught me how to live again. Only you, Cared when I needed a friend believed in me through thick and thin, This song is for you, filled with gratitude and love God bless you, you make me feel brand new, For God blessed me with you, you make me feel brand new, I sing this song 'cause you, make me feel brand new. Described by Creed as "different from what people think of in R&B" You Make Me feel Brand New –marked the end of Bell and Creed's association with the Stylistics.
Bell turned his full attention to the Spinners and drafted a new team of writers to help execute the creative vision he had for the group. Creed pitched in, writing lyrics to some of their most memorable songs. Five consecutive gold albums (three went to #1) and a string of hit singles later, the Spinners went from journeyman act to pick of the litter of 70s vocal groups.
At the peak of Creed's creative powers, Stephen Epstein lobbied for his wife to become an equal partner in Gamble-Huff Music. Instead she received a contract revision granting her a larger writer percentage. Parting ways with her Philly Soul colleagues, she headed for California to pursue writing and producing opportunities. In '77 she scored a major hit, co-writing The Greatest Love of All, the moving theme song for Muhammad Ali biopic The Greatest. She would later take a five-year hiatus from the industry and move back East to the Philly suburbs to raise her family.

Creed could afford to take time off. She'd earned nearly half a million dollars in song royalties by '75. She had a beautiful home in the Philly suburbs with enough land to fulfill her dream of raising horses. Instead of a life of opulence, things were low-key at 1425 Schirra Drive. Weekends were fish tank cleanings and ping-pong games at Bell's home. Creed considered herself a "middle-class Jewish woman" who happily wrote songs in between changing diapers and cooking. She was also the ultimate anti-star who went out of her way not flaunt her songwriting prowess:"The neighbors knew she was in the record business, but they had no idea what she did. She was content to be the cook in the kitchen rather than the whipped cream on the cake. She'd be in the dentist's chair and her songs would be playing on Muzak and she wouldn't tell anyone it was hers. "Every time I tried to tell people, she'd step on my foot,"—- husband Stephen Epstein (1986)Through all her successes, Creed's health issues always loomed in the background. Three years after her breast cancer diagnosis, she underwent a radical mastectomy. As always, she pressed on, pen game strong. When Creed breezed into her doctor's office in diamonds and a fur coat and all, he marveled at her strength during the rigorous chemo sessions that would make her sick on the way home ("Pull over. I gotta throw up").Never one to allow others to see her in pain, sometimes even Creed's steely veneer could be penetrated. During a writing session at her home, Bruce Hawes learned of his old friend's health condition from her husband. Usually his visits to the Creed-Epstein home were an upbeat affair. This time he felt a different vibe—especially when he privately observed Creed having a solemn tearful moment: "Because of what her husband said to me earlier, I knew she would never see the horses playing in the meadow she was looking out at. I could see she knew it too. I noticed her sitting and gazing out the dining room window. And as she was looking beyond the ranch style fence at the meadow, I also noticed she was writing on the legal pad with tears in her eyes…" Creed never stopped working and compiled a stockpile of recorded demos with various collaborators.

When she reemerged, a '85 Billboard Magazine trumpeted her arrival ("Songwriter/Producer Returns to Active Service"). In a younger market dominated by MTV, rap and rock acts, Creed was not intimidated by the music industry's climate change. She was right in synch with mature R&B and contemporary pop ballads targeting a more adult crowd. She boldly stated her intent to reclaim her spot in the music business: "I called companies that I'd done business with over the years and told them I was very confident of what I could give to the industry. Everyone can't jump on Prince's thing. Its like a pendulum swing. After bam-bam, the love songs will always be there". Creed wrote for various artists in the Eighties but her songs were especially a boon for old Philly Soul comrade Teddy Pendergrass. Creed's HoldMe —became a Pendergrass ballad that introduced the world to Whitney Houston. As Pendergrass—the first Black artist with five consecutive platinum albums until a car accident left him a quadriplegic— looked to revive his career, Creed became Pendergrass' songwriting mentor. It would help him generate publishing revenue to offset his loss of lucrative touring income. Pendergrass went on to enjoy a solid career as a gold-selling artist. Touched by Creed's support for him as her own condition worsened, he paid tribute to her in his 1998 memoir TrulyBlessed: "She was a woman with courageous spirit and at a time she was faced so many problems of her own she gave so much to me. I realized how much money I was losing by not writing my own songs, but I wasn't certain I had what it took to write songs good enough that I'd want to record them. Linda gets total credit for pushing me to try. Even when she was clearly losing her battle, she found a way to a way to cheer me through mine."
Creed remained close to her Philly comrades, booking time at Sigma Sound Studios for her writing and producing projects. Old partner Bell— by this time living in Washington State enjoying semi-retirement, reunited with Creed for a series of one-off projects including a final collaboration with singer Phyllis Hyman.
Phyllis Hyman tearfully discusses recording one of Creed's final compositions.
By early '86 Creed—racked by bone and liver cancer became bedridden. As usual, her mental resolve and strength were ever-present as the end was near:"I came home one day, and she was lying on the bed and she said, 'I've got to tell you something right now. I'm very content. I've lived a full life with you in 15 years. I don't care if I die. I'm happy, I'm at peace. The only thing I'm going to miss is hanging around with you. But I know you'll be fine.' —-Stephen Epstein (1986) Linda Creed was falling into a coma as Whitney Houston's version of The Greatest Love of All headed up back up the charts for the second time, nearly a decade after its release. On April 10, 1986 Creed passed away as Love closed in on the top spot, losing her battle with cancer at the young age of 37. Flowers and fruit baskets poured into the Epstein home from all over the world.On the eve of a concert sponsored by the Philadelphia chapter of the Black Music Association, featuring artists who made Creed's songs hits – Whitney Houston, the Stylistics, the Spinners, Phyllis Hyman, Michael Masser and the MFSB Orchestra paid musical tribute to the late songwriter—Creed's husband eulogized his wife, reflecting on her humility and talent during an interview with the Philadelphia Inquirer:"Paul McCartney was dying to meet Creed and she couldn't believe it. . . . She'd say 'Get outta here, you don't want to meet me.' She didn't realize who she was. . . .She wrote all these songs changing diapers. "Thommy would give her the melody and I'd come home, and she would be sitting at the dinner table with our daughter in a little rocker, with a bottle in one hand and a pencil in the other….Linda Creed didn't deserve to die like that, because that girl never hurt or harmed a hair on an ant. This is the hardest thing in my life or my children's life that we'll ever have to deal with. But my kids are two proud little girls who rose to the occasion. When Mom passed away, for them, the relief of not seeing Mommy hurt anymore . . . all the ambulances, stretchers, doctors, surgery. Now, as much as they miss her, they don't have to see her in pain."Together, Linda Creed and Thom Bell were awarded 23 gold and platinum records. Many of the their hundred-plus compositions demonstrate a durable staying power via films, remakes, reinterpretations and samples in every music genre. Bell proudly remembered the chemistry they shared in creating modern-day standards:"Gamble and Huff are great writers of the soul. Creed and I are great writers of the heart." There's a vast difference. It ain't but about six inches apart, but it's miles apart when it comes to feeling." When we would write, we would be in the spheres of the air. We would be way out there. Creed lived lyrics, just like I live melodies. I had a motto: when you hear one of my melodies, I don't want it to bounce off your ear, I want it to caress your ear.When the likes of Johnny Carson or Mike Douglas came calling for the duo to appear on their talk shows—the equivalent of becoming a trending topic on social media—Bell and Creed didn't budge. They preferred regular lives away from the business. Even as the cash rolled in, Bell still took public transportation and Creed preferred a simple life of anonymity away from the music business:"Tommy and I have turned down several TV shows because he takes the bus to work every morning and says how can I take the bus to work if people know who I am? They'll never leave me alone. How can I go into Pantry Pride and go shopping? I will not perform. I will never perform. I am very happy at home. I'd like to be a mother someday. I want equal balance between my business and home life". Bell and Creed let the music speak for them and the music world listened. Johnny Mathis ventured out to Creed's home to have her customize lyrics to accommodate his lisp. R&B/disco songs shot the Bee Gees into orbit, but the wind beneath their wings were Philly-style ballads like Too MuchHeaven ("we were very influenced by Linda Creed songs like Betcha By Golly Wow and the hit by the Stylistics—You Make Me Feel Brand New") and Love So Right ("we twere rying to be the Delfonics"). Heatwave's slow jams like Always and Forever ("melt all my heart away/with a smile")recreated the Bell-Creed formula. During the 80's their music has been immortalized in TV commercials advertising 70s soul album compilations.
During the 90s and 2000s,You AreEverything turned up in hit R&B songs by Mary J. Blige and Letoya Luckett. Prince covered Betcha By Golly Wow. Hip-hop/R&B's swagger was retired in favor of next-level millennial emo-soul singers John Legend, Daley, The Weekend and Daley—with a hint of Creed's sentimental romantic vibe and delivered in Thompkins' stylistic falsetto. When Bad Boy Records singer/producer Mario Winans sings "Somebody said they saw you/ the person you were kissing wasn't me" on 2004's I Don't Wanna Know, its a deja vu homage to Thompkins' painful revelation of mistaken identity on Bell and Creed's You Are Everything back in '71: "As she turned the corner/ I called out her name/I felt so ashamed/ That it wasn't you". In 2017, Bell was presented with the Grammy Awards highest honor—the Trustees Award acknowledging his contributions to American music while Thompkins—in full vocal form—performed classic material written by Bell and Creed.Today's music industry is congested with commuters on the road to riches navigating the fast lane in search of fortune and fame. As they travel at the speed of light, Thom Bell and Linda Creed's creative feats seem lost in history's rearview mirror. Thanks to their timeless body of work, their legacy—in the words of one of their greatest songs—keeps growing strong.