TINA: THE TINA TURNER MUSICAL
The show is a great theatrical experience but, more importantly. it is as true as any 2:45 hour show could be to the narrative of Tina's life….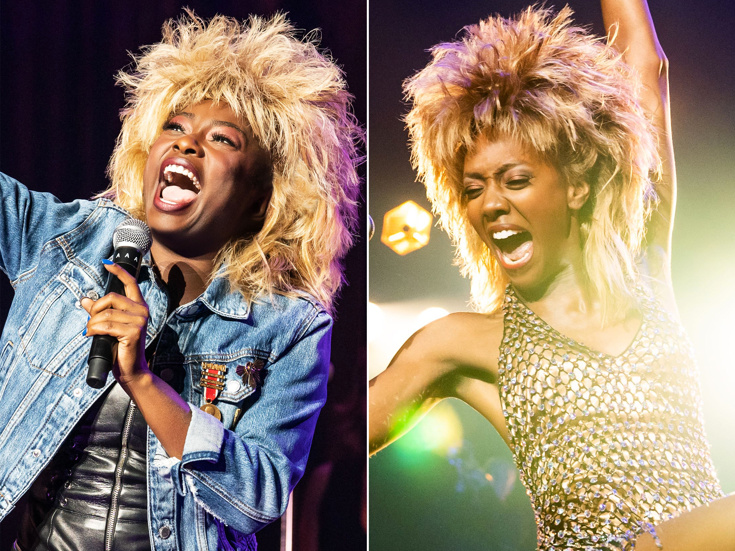 When I first heard about the TINA: THE TINA TURNER MUSICAL, I felt no urge to see it. As a major Tina Turner fan since I was 12 years old, I had lived with her music since 1961 and was lucky to see the Ike and Tina Turner Revue in the late 60's and solo Tina in the early 90's. Having experienced the real thing, I was skeptical that an actress could match Tina's power and impact. Angela Bassett had done a good job of representation in the biopic of Tina years back but still fell short of the real Tina. And I had no appetite to see a glitzed-up snazzy Broadway production that would be a fairy-tale version of Tina's extraordinary life. But when Bob Davis offered me tickets in Philly, the price was right, and my wife and I went.
Simply put, none of my fears were justified. The show is a great theatrical experience but, more importantly. it is as true as any two-hour and 45-minute show could be to the narrative of Tina's life. They didn't gloss anything over. And Zurin Villanueva as Tina (or, more to the point, as Anna Mae Bullock) was a revelation, a powerhouse singer who can deliver Tina's roar and edge but who also has significant acting chops; her version of "A Fool In Love" establishes her bona-fides early on as she matches Tina's energy—no easy feat! I think it helped that Villanueva (alternates with Naomi Rodgers in the role) isn't stunningly beautiful, as Tina was not a glamour-puss. Her beauty was more earthy.
The entire hour first act focused on Tina's pre-1980 life. The show opened with an iconic image of "comeback" Tina complete with blonde wig accompanied by a Buddhist chant…that morphed into a childhood church worship sequence, thus anchoring the roots of Tina's spiritual dimension, with Alvah Johnson, who looked about 10 years old or less, stunning everyone with her powerful singing and vibrant acting as the child version of Anna Mae Bullock wowing the church congregation. There followed set-pieces that detail Anna's dysfunctional family, with an abusive father and mother who split up, leaving Anna and her sister to be brought up by their loving grandmother (played by Ann Nesby), culminating in her decision to go with her sister to live in St. Louis behind a beautifully sung "Don't Turn Around."
Her fateful encounter at age 17 in 1958 with Ike Turner, then leading a popular band in in a St. Louis nightclub, distorts some details. The transition music as she and her sister go out on the town is "Shake A Tail Feather," a tune that is stylistically out of period as it came out in 1963 (a number of songs are misplaced period-wise but they do fit the theatrical moment so no big deal). And Ike is portrayed as playing guitar and singing as bandleader; as far as I know Ike rarely if ever fronted his band singing; he always had singers.
If there is one major flaw with the show it is the portrayal of Ike. For starters, not only is the singing histrionic but Garrett Turner doesn't sing well and not remotely in Ike's style. More problematic is his affect as Ike. Ike was a heavy dude, a forceful personality that came from inner strength as well as triumphs over major adversity as a young Black man leading a band in the apartheid South and insecurity. But Garrett Turner delivers lines in a way that often comes off as somewhere between the Kingfish from Amos 'n' Andy and Martin Lawrence from the t.v. show Martin. No gravitas. And the show perhaps overdoes his violent side toward not only Tina but others. On the "plus" side, there are stark scenes of the racism Ike and the band experienced and also references to Ike's bitterness at the success of White rock artists playing Black music while he and other Black innovators struggled (the show makes a major gaffe by having Ike say Paul McCartney was playing his guitar riffs though lol).
As the show tracks Ike & Tina's rise, it often inserts songs such as "Let's Stay Together" and "I Wanna Take You Higher" out of time but they work in the context of the narrative. The show does not shy away from Tina's failings, her own extra-marital affairs, her physical attacks on Ike (though these are couched purely as "fighting back", which insiders have disputed) and her sometimes fraught relationship with her children.
Tina's break with Ike is dramatic, beginning with a heavy physical fight (that did in fact occur) and Tina escaping on foot to a hotel. Villanueva does not overplay this; it is moving and poignant. She struggles to survive by being essentially a "cover" artist in Vegas since Ike won't give legal permission to her to sing Ike & Tina tunes he wrote and Villanueva manages to turn "Disco Inferno" into a powerful, almost gospel workout. The story of Tina's battle to establish herself as a rock/pop artist is accurately portrayed, including her conflicted feelings about recording to synthetic backing tracks. At her lowest moments, she recites her Buddhist chants and channels the spirts of her grandmother and 6 year-old self. When she emerges in her triumphant new rock 'n' roll goddess image (though I have to say that her wig—and all the wigs—are unnecessarily ridiculous) Villanueva's spirit explodes. The developing romance between Tina and her German manager is nicely done, not over-played but not shunted to the side as his genuine love for her has been, as she has said, the validating love she never had, even as some questioned her alliance with a White man and her decision to perform rock music. Such songs as "Can't Stand The Rain," "What's Love Got To Do With It" and "We Don't Need Another Hero" have as close an impact to Tina's version as one could hope for. The music is mainly supplied by an excellent set of musicians in both small and large configurations; some parts may have been pre-recorded but not obviously so. The climax of the show is a triumphant version of "Simply The Best" delivered with Tina at the top of some stairs in an explosion of flashing lights and the audience was on its feet.
The entire cast and full band came out to do an encore with Villanueva inviting the audience to clap, sing and dance with them as they performed "Nutbush City Limits" and "Proud Mary." The audience, which was about 25% African American and dominantly middle-aged and older, was on its feet and it became a celebration. In short, Tina: The Tina Turner Musical is broadly true to Tina's life story and the singing and dancing are undeniable. Fans who mainly knew Tina in her post 1983 pop-rock phase will likely learn a whole other side of her. People who were fans of Ike & Tina Turner from 1960 until they split may gain insight into Tina's motivations in going in a new direction, even if they didn't pay that much attention to that phase of her music. But everyone will walk out of the theater on a high.
Note: This show was seen on the Kimmel Cultural Campus' Academy of Music, in Philadelphia, and that for additional tour locations and dates, to visit tinaonbroadway.com