Wayne Shorter Remembrance
Anyway, we got a table down front right in front of Wayne's saxophone. They were smashing!! Loud and shit. Played cuts from his Atlantis album, which had not been released yet…..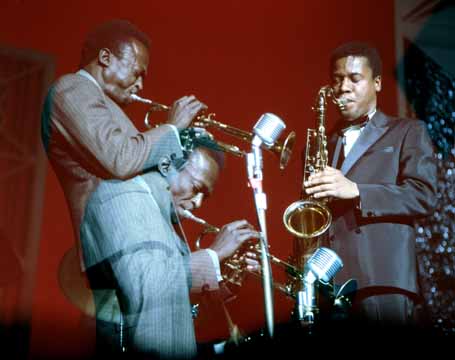 By DeAngelo Starnes
Today at 4am, Wayne Shorter peacefully continued on his immense journey into the unknown. He was surrounded by loving family. In his words, "It's time to go get a new body and come back to continue the mission." Nam Myoho Renge Kyo.
👣👣
Wayne Shorter Memories Pt. 1: First time I saw Wayne perform live was in 1979 in Boulder with Weather Report. I was in the 9th grade. Think this was my first jazz show. Went with my pops, uncle, and another friend who was like an uncle.
Jaco, Peter Erskine, Bobby Thomas, and Zawinul. Great show. Being a saxophone player, of course I dimed in on Wayne for much of the show. But Jaco was a ball of energy sliding across the stage and shit. Odd thing I recall about Wayne was how stationary he was amongst Jaco's frenetic feet stomping and sliding across the stage and Zawinul's bank of keyboards. And that he seemed to be constantly adjusting his ligature or reed.
I was a huge Weather Report freak back then (and for many years). I listened to that Mr. Gone album daily for a minute (along with some Stevie, Grover, and the Average White Band)
Wayne Shorter Memories #2: I saw this band (sans Will Calhoun on drums but more than ably filled by Rodney Holmes along with the great Alphonso Johnson manning the bass chair). And can you believe mfs were walking out?! Walking out on a genius. (I saw walking out, too, Chris Downing). Mfs didn't treat the opening act Roy Hargrove like that.
In any case, Wayne and them kicked ass!!! I love this album. Some great compositions and playing. That "At The Fair" coda is very visual.
Wayne Shorter Memories, Pt. 3: The first time I saw Wayne after he left Weather Report was at Blues Alley. Tom Canning on 'boards, Gary Willis on bass, and Tom Breichten on drums. Got there early and was hanging with a guy I met at Miles Davis show, Mike Whitford (we been friends since that '85 Miles Davis concert. We were the first two people to show up but that's another story).
Anyway, we got a table down front right in front of Wayne's saxophone. They were smashing!! Loud and shit. Played cuts from his Atlantis album, which had not been released yet.
Since the table we sat at was for four people, we needed two more folks or have to give up the table. Luckily, two classmates from Howard showed up. I know they were happy I waved them over as we were down front.
Anyway, I had to hit the head. Right before leaving, I snidely remarked, "Maybe I'll meet Wayne." If you know Blues Alley, the bathroom was up some stairs and not far from the dressing room.
I get to the stairs and right as I'm about to ascend, there he was at the top of the stairs. Smoking a cigarette. Something about my expression when I saw him must've intrigued him because his eyes slightly narrowed – as if he sensed my awe. Nervous than mug, I climb the steps. At the top: "Hello Mr. Shorter. I'm so happy to meet you. I mean like Wow. Wayne Shorter. Shaking my hand. Damn!" Which seemed to amuse him. He just slightly nodded and smiled – almost chuckling.
I didn't even want to wash my hands afterwards. But I had just pissed. So …
Wayne Shorter Memories Part 4: I was back home after my freshman year at Howard. And of course, checked which shows to check out either at Red Rocks, Boulder, or one of the best venues I ever visited, Rainbow Music Hall.
One reason is that it was a cozy spot. Not quite as small as a jazz club, but a medium sized spot. Although it was general admission, it was all seating as opposed to many spots now where the seating is on the sides or on the balcony. So you had to get there early to get a seat near the stage and in the middle.
Weather Report at the Rainbow Music Hall. Hell yeah. Took off from my summer job so that we could get in line early. Me, my brother Elnathan, Scottie Gilmore, and Dale Bosco Martin. Waiting in line with a bunch of fusion-heads. One brother had a shirt that read "Billy Cobham – World's Greatest Drummer". Another cat was with his girl drinking Boone's family talking about "Jan Hammer" and this other hippie type cat who exclaimed that "Wayne Shorter was his favorite musician anywhere." That was the first time I heard that one. I loved Wayne too. But I was still a Grover Washington head at that period in my life.
Because it was a summer day, dudes had their shirts off tanning – or us getting a sun-black. Although the wait was hours until the doors opened, we had a good ass time drinking brews and smoking weed – out in the open. The dude talking about Jan Hammer had some hash that had me cross-eyed.
Oh I was hoping to see Jaco up close, which was the thrill I was waiting on. Finally, a bus pulls up and dudes start getting off. First dude off was this cat who couldn't have been much older than us. He's eyeing the line with amusement. Turned out he was Victor Bailey. A brother and latino brother departed next (Omar Hakim and Jose Rossy as we later found out). No Peter Erskine. And where the fk is Jaco? Are these cats roadies? Finally, Wayne and Zawinul get off. We all stand up and start cheering. Zawinul nods his head at us while Wayne raises his soprano sax case at us.
Finally, showtime. No opening act. The kid is on bass, other brother on drum kit that included a trash can top as a "cymbal", and the latino cat on percussion. Zawinul kicks it off singing into this vocoder. The opening song starts of slow and builds with Wayne's horn leading the crescendo. That song turned out to be "Procession".
Them mfs commenced to playing a 3 hour show where not a single idea was repeated. Vamps but no cliches. We lost our mfking minds!!
What you hear below is pretty much how they opened. Vibe, mood, dynamics, and all.