WILL IT GO 'ROUND IN CIRCLES? – THE CONFLICTED LEGACY OF BILLY PRESTON
For all of Preston's profound and abundant gifts, he was simultaneously beset in equal measure with profound tragedy, personal anguish and a penchant toward self-ruin. Updated w/additional background from Joyce Moore + YouTube clips for additional musical context.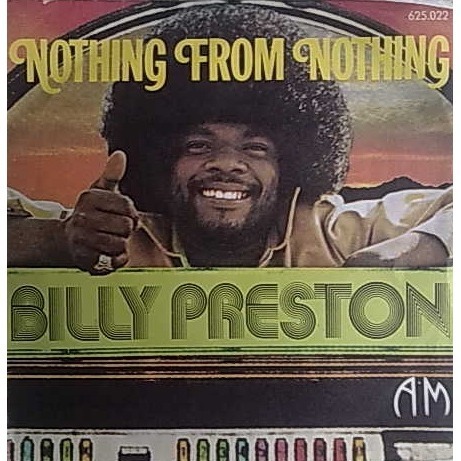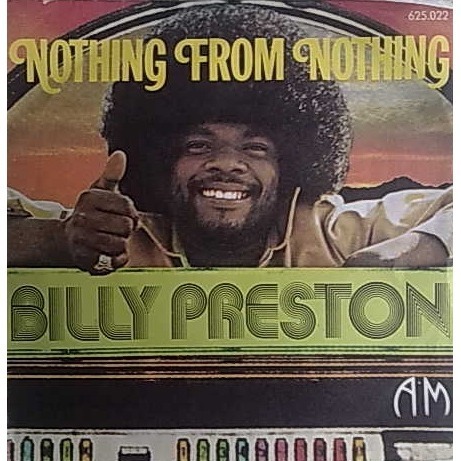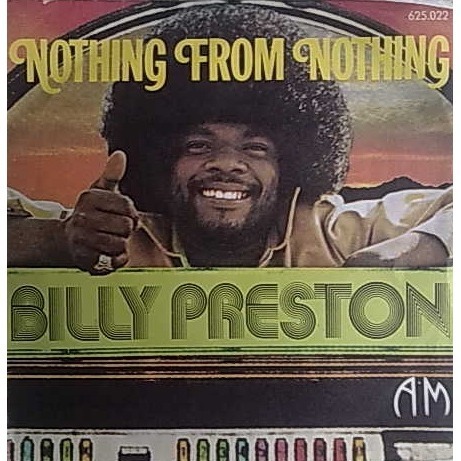 Editor's Note: Since the original publication of the excellent thought piece by our friend Darrell McNeill, Billy Preston has been (finally) inducted into the Rock n Roll Hall of Fame. Also contains some additional background on Billy's life contributed by our friend Joyce Moore. And finally, I added a few YouTube clips to the page featuring Billy Preston, for some added musical context. (Bob Davis)
Billy Preston is not in the Rock and Roll Hall of Fame.
This is a rudimentary statement of fact—do with it what you will.
Strictly on the merits—nine-time nominated/two-time Grammy winning singer, songwriter, musician and side man for the most celebrated icons in all genres of American popular music—there is no question he should be in. Based on the incessant, catastrophic ephemera dogging his personal life even after death in 2006—and the arbitrary, political, "glamor, fame and money"-driven stewardship of that peculiar institution—he probably will never be.
Much has been made this past year of the 50th anniversary of the dissolution of The Beatles—as there is no aspect of Beatles minutiae that can be over-celebrated enough for fanatics, wonks and press minions, including the band's rancorous split. Even Peter Jackson has been pressed into service for Meta Beatles Inc. The acclaimed director of 'Lord of The Rings' fame, taking nearly 60 hours of unreleased film shot for the infamously sullen documentary 'Let It Be,' reverse-engineered it into a more upbeat, user-friendly swan song, retitled 'Get Back.' The new doc gives greater weight to the fleeting life-affirming moments as the band grappled to find inspiration, fully aware this would be its last album and final days together.
Unbeknownst to the multitudes except the most astute Beatles fans and music aficionados, the keystone holding the band together long enough to survive those grueling sessions lay in the easy-going, cooler-than-the-other-side-of-a-pimp's-pillow grin of a young, slender Black man who glides through scenes like a will o' the wisp. The only time he assumes anything like gravity is when he's seated behind the Fender Rhodes, supercharging the room with his effortless, graceful and visceral soul. The gazes of simultaneous relief, creative bliss, goofy joy, and unbridled awe are indelible on the faces of rock and roll's greatest band.
They seem to say, "We may actually get through this Hell after all. Billy Preston has arrived."
It's still baffling why so many are still baffled William Everett Preston holds the righteous distinction of being one of maybe four people nicknamed "The Fifth Beatle." Preston played on their last two albums ('Abbey Road,' and the final, 'Let It Be,' although 'Abbey' was released last). They'd been friends since 1962 when he was the touring organ player for Little Richard's band and The Beatles were the opening act during their Hamburg, Germany residence grind. Seven years later, he proved to be glue keeping everything together after the band members declared they'd go their separate ways. After George Harrison quit for the third (or fourth) time and caught up with Preston at a Ray Charles concert (again, Preston touring as a side man and Charles' protégé), Harrison invited him to join the sessions to defuse the stagnation and strain. He also joined the group in the legendary rooftop concert atop Abbey Road Studios.
At one point during these sessions, John Lennon, the band's founder, actually asked Preston to join the band. And the only reason this virtually impossible whimsy—a real life Black Beatle—never came to fruition is because Paul McCartney, who was adamant on leaving the band based on the escalating discord and struggles just to function, put the kibosh on resurrecting it. In the years since The Beatles dissolved, he was a fixture in its legend, performing on solo projects for Harrison, Lennon and Ringo Starr, performing in Harrison's benefit "Concert for Bangladesh," appearing in the godawful film "Sgt. Pepper's Lonely Hearts Club Band," and was a regular in all-star Beatles tributes, including the memorial "Concert For George," in 1992.
For this alone, never mind all the other landmark achievements in his career, Preston's legend should be indisputably cemented in the pantheon of popular music. Yet, Billy Preston is not in the Rock and Roll Hall of Fame.
This is a rudimentary statement of fact—do with it what you will.
A self-taught child prodigy from age three born in Houston, raised as a gifted organist in the Los Angeles church system, grows into a venerated side man to rock music's biggest stars and an award-winning artist in his own right. It's a fool's errand to attempt to capsulize the enormity of William Everett Preston's career, a resumé so swollen with VIPs, by all rights it should collapse under its own weight: Mahalia Jackson, Nat King Cole, Little Richard, Sam Cooke, Herb Alpert, The Everly Brothers, Reverend James Cleveland, Ray Charles, Count Basie, Miles Davis, The Beatles, The Rolling Stones, George Harrison, John Lennon, Sly Stone, Bobby Womack, King Curtis, Aretha Franklin, Barbra Streisand, Ringo Starr, Eric Clapton, Stephen Stills, Quincy Jones, The Brothers Johnson, Donny Hathaway, Stevie Wonder, Jeff Beck, Joe Cocker, Tower of Power, Syreeta Wright, Donnie McClurkin, Luther Vandross, Whitney Houston, Elton John, Patti Labelle, Johnny Cash, The Funk Brothers, Steve Winwood, Red Hot Chili Peppers, Neil Diamond, J.J. Cale, Toto, Donnie, The Band and Meshell Ndegeocello are just some of the luminaries Preston has played/written/sang with and/or for.
Strictly on the merits, Preston should be in the Rock and Roll Hall of Fame with the highest pedigree short of its foundational charter inductees. That should have been the plan, anyway. But humans plan and God laughs. Largely because humanity is incapable, directly or indirectly, individually and collectively, and for the best and worst of all possible intentions, of avoiding sabotaging its own plans…
For all of Preston's profound and abundant gifts, he was simultaneously beset in equal measure with profound tragedy, personal anguish and a penchant toward self-ruin. Piecing together the disparate threads of a tragic life, one finds a stellar professional career besieged with lifelong struggles between religious beliefs and sexuality, a traumatic end to a storybook love affair which spiraled into alcohol, drugs and repeated conflicts with the law, an aggressive indisposition to steward financial matters, and health problems—accelerated by addictions—which led to the kidney disease that ultimately claimed this once brilliant figure.
Further complicating the incongruity of Preston's outsized accomplishments compared to his muted public fame, is the curse of being a musician's musician, but not a bona fide star—an impeccable body of work, but not enough pop currency to stoke widespread adulation among the masses.
Thus, Billy Preston is not in the Rock and Roll Hall of Fame…
It has become such a hackneyed rock and roll cliché: the tragic genius, blessed and cursed with equal measures of divine attributes and hellish self-destruction, wrestling with crushing self-doubt in a milieu that gorges self-doubt by castigating excellence and championing mediocrity. Preston's irrepressible acclaim and success could only be countermanded by his own inner torments with equivalent persistence, with a little help by outside forces beyond his control.
Preston's tragedies were deeply intertwined with his talents. According to Preston's manager, Joyce Moore in an interview with BBC News, he'd confided to her that at age nine, he went out on the road with his mother, Robbie Lee Williams, with a touring company of Amos 'N Andy. He was sexually abused by the touring pianist. His mother—disbelieving him—failed to protect him and the torture continued the whole summer of the run. Preston was also later abused by a local pastor. By Moore's account, the denial of his mother was more devastating to him than the violation itself or the fear of repercussions in the Black church, destroying his self-worth and haunting him the entirety of his career—he wrote the hit song "You Are So Beautiful," as an homage to his mother.
As Preston's star rose into his early 20s, he seemed to find happiness and stability. He was in high demand among the biggest stars in music and was hitting his stride as a feature performer. He'd even gotten engaged to actress/model Kathy Silva in the early 1970s. But, sadly, this relationship would be the lynchpin to his downward spiral: at the time Preston was working with longtime friend, Sly Stone (Sly did arrangements for Preston's 1966 Capitol Records' debut 'Wildest Organ in Town!'). The two were collaborating on several projects, including Stone's dark masterpiece, There's A Riot Goin' On. During this period, however, the one-time apex pop genius had morphed into a paranoid, erratic, hedonistic, drug-addled, irrational ne'er-do-well. One fateful day, Preston returned to his home to discover Stone in bed with Silva (the two later infamously married on stage at Madison Square Garden). The affair triggered Preston to stop having relationships with women and begin abusing cocaine and having sex with male partners exclusively.
Complicating matters even further, Preston resisted taking any responsibility for his fiscal well-being, according to many close to him. He was routinely swindled out of millions by managers, agents, and accountants throughout his career. He worked consistently, but saw little reward from the success he'd achieved. A lull in hits in the mid-to-late 70s spurred him to leave A&M Records after seven years to sign with Motown, which yielded the 1979 duet with Syreeta, "With You I'm Born Again." But he wouldn't have any other hits at the House That Berry Built and his solo career stalled in the 80s, largely as a result of alcohol and cocaine (later crack) abuse. He focused on session work and touring as a side man, but, by the 90s, he was having regular conflicts with colleagues, sleepwalking though gigs and running afoul of the law.
According to reports from the Los Angeles Times and Associated Press, Preston was convicted on DUI charges in August 1991. But while on probation, he was arrested for sexually assaulting a 16-year-old male, a Mexican day laborer. The teen alleged Preston took him to the singer's Malibu home, was given cocaine to smoke, was shown pornographic materials, then fought off an attempted sexual assault before he escaped. During the investigation, it was discovered Preston attempted assault with a daily weapon the previous day against another laborer he picked up, and he was additionally charged. After submitting to a drug test, Preston tested positive for cocaine. He entered no contest pleas to the cocaine and assault charges while the sex charges were dismissed. He was sentenced to nine months in a drug rehab center and three months of house arrest.
The Times further reported that in 1992, Preston was sentenced to 30 days in jail for another DUI conviction which violated his 1991 probation. At some point later, he was placed on three years' probation after testing positive for cocaine, but in 1997 was sentenced to three years in prison for cocaine possession. While in jail in 1998, he was indicted for a $1-million insurance fraud scam for setting fire to his Los Angeles home. He pled guilty and testified against his co-conspirators. His plea called for five years' probation, one year in jail and $60,000 in restitution—his probation and jail time ran concurrent with his 1997 possession conviction.
By the start of the 2000s, Preston tried to get his feet back under him, but once more his circumstances, his better judgment and, finally, his body began to betray him. He pressed forward and continued working, but drugs were still ever-present. He suffered kidney disease brought on by hypertension and received a kidney transplant in 2002. But even after this precarious surgery, Preston continued to abuse narcotics. In the span of a year (2005), he lost the three most important people in his life: his mother, his good friend George Harrison and his mentor Ray Charles. Seeking escape from Los Angeles, he moved to Scottsdale, AZ to live with his manager Joyce Moore (manager and wife of R&B legend Sam Moore). According to Moore, Preston was poised for a significant comeback in 2006, but he nearly died from an adverse reaction to dialysis after binging on crack all night after a press party.
Determined to get clean, Preston checked into a Malibu rehab clinic, but suffered pericarditis, leading to respiratory failure that left him in a coma in November 2005. Still comatose, he was returned to Scottsdale and, according to multiple sources, was shuttled around different Arizona hospitals—never regaining full consciousness. He died on June 6, 2006.
Even the matter of Preston's death and estate—almost fittingly—wasn't resolved until nearly a decade after his passing. According to reports from The Houston Press and OC Weekly, he declared bankruptcy twice in 1997 (the year of his insurance fraud conviction). His manager, Moore, spent a decade fighting the case, mostly pro se, contending the firm that filed on his behalf had no authority to do so and that the filing was unwarranted because the income Preston's company, Preston Music Group Incorporated, was sufficient to cover the singer's debts. A $2-million settlement was finally reached in January of 2016.
The bankruptcy matter was complicated by legal battles between Preston's family and Moore. According to several news reports, on one side, the family—led by sisters Rodena and Lettie Preston—accused Moore of isolating the singer from his family and seizing control of his life, career and assets. They accused Moore of abandoning Preston and leaving him at the mercy of the hospital system, allowing his bills to rack up, and that he was unrecognizable in what few visits the family could manage. In an item by the St. Louis American Rodena was awarded temporary conservatorship on March 8, 2006 and granted access to the singer and his medical records. The family spent ten years, unsuccessfully, to revoke Preston's Trust.
On the other side, Moore contended Preston broke from his family and didn't want them involved in his affairs. Although he had no property, he moved to Scottsdale, AZ and was no longer living in California. He disinherited them from his will in 2004 and his 1999 probate avoidance trust. A report by music columnist Roger Friedman shows a probate court filing from Rodena Preston declaring conservatorship on June 3, 2006 over his estate—Preston didn't die until three days later (June 6) and a death certificate is required for any probate filing. Lettie was never named as a beneficiary in Preston's trust and was never entitled to any portion of the estate. In the end, the judge presiding the case determined the bankruptcy Trustee would uphold Preston's Trust and the family would not be entitled to any money or property.
Nearly to his death, the only people who knew of Preston's homosexuality were his closest friends and colleagues, only coming out, according to Moore, in a group therapy session towards the end of his life. Despite his 1991 sexual assault arrest, it was a guarded secret, threatened only on rare occasions. In a 1962 book, a German bodyguard for musicians touring Hamburg, asserted Little Richard had proclaimed the organist was his tour boy toy, an accusation Preston vehemently denied. It was alleged in some local L.A. celebrity circles that he cruised day laborers or Soul Train dancers. A band member spoke in an Unsung interview about a regular boyfriend Preston had on the road with him.
Moore reportedly told the singer after coming out in therapy that he was now free from the weight that kept bringing him into the depths of destruction. Ironically, that would be their last conversation before Preston's poor health took him down the final corridor…
Perhaps key to the conundrum of Billy Preston is he was a prisoner of his time. Had he been born, say, 25-30 years later—when the Black church became more enlightened and accepting of its LGBTQ flock, and with greater support systems in general for the LGBTQ community and a much less hostile environment overall, perhaps there would have been coping mechanisms available to him. He might have emerged a more gratified person. As it was, the rigidity and intolerance of the Bible and the church being the constants in his life, he was burdened with shame and no outlets but self-abuse.
Then again, had Preston been born in a later time, it would have been impossible for him to accomplish all he achieved.
To put it all in context, his career spanned almost the entire history of rock and roll music through the beginning of the 21st Century, and he was one of only a few figures who remained musically relevant the entire time. He accompanied Mahalia Jackson at an L.A. church at age ten. At eleven, he performed a duet of "Blueberry Hill," with Nat King Cole on his short-lived variety show and in the film bio of W.C. Handy, with Nat in the starring role and Preston playing Handy as a boy. Before he turned 30, he played with damn near every zenith artist in damn near every popular genre of music, including being the only premiere musician to play with both the top rock bands out of the British invasion in their prime—the Beatles and The Rolling Stones. He recorded Harrison's "My Sweet Lord", before Harrison made it a big hit. Preston and Janis Ian were the first-ever musical performers on the first-ever episode of Saturday Night Live. Dick Clark used Preston's "Space Race" as a mid-show instrumental break for "American Bandstand," from the mid-70s to until the end of the program's run. Miles Davis—one of the last century's unparalleled music visionaries—composed the piece, "Billy Preston," for the 'Get Up With It' album, in honor of the in-demand musician.
As it stands, Billy Preston's portfolio may never get the posthumous reexamination it richly deserves. According to a 2019 item in the New York Times, he was one of over 700 artists on Universal Music Group (including Chess, Decca, MCA, Geffen, Interscope, Impulse! and other subsidiary labels) whose master tapes were destroyed in the infamous 2008 fire in the backlot of Universal Studios, Hollywood. UMG disputed the Times' claim, though, its own position is unclear: Vault manager Randy Aronson estimated over half a million tracks were damaged or destroyed, while UMG archivist Patrick Kraus asserted only 424 assets by 19 artists were damaged or destroyed. A 2019 class action lawsuit was dismissed April 2020 and there is still no independently confirmed survey of the total number of music assets that were damaged or destroyed.
But then, considering all of the cruel twists of happenstance in Billy Preston's career, this final incident seems par for the course. So, unless some other such quirk of fate intervenes, he will in all likelihood, ever remain a footnote in rock and roll history, perhaps one of the most indelible, most frequently cited, most accomplished footnotes ever, but just a footnote, nonetheless.
William Everett Preston is not in the Rock and Roll Hall of Fame.
Strictly on the merits, there is no question he should be in. Based on the catastrophic ephemera dogging his life, he probably will never be.
This is a rudimentary statement of fact—do with it what you will.
For what it's worth, here's this writer's take:
Yes, Billy Preston's misfortunes were almost entirely self-inflicted. He needed to take ownership of his behaviors and did so much too late. But, all things considered, the only person Billy Preston ever truly hurt was himself. There are celebrated Rock and Roll Hall of Famers of decidedly more malevolent character.
The triggers that set Preston down his tragic course have accounts still in arrears: the mother in denial who failed to protect her son; the fiancé and colleague who betrayed their friend's trust; the church that condemned the love Preston sought validation in; the enablers and exploiters who preyed upon Preston's good will. Again, too late for any reparation on this front and those who've wronged Preston and survived, lack the integrity to make amends, even posthumously.
But one thing that can most definitely happen is all of the artists and estates of artists who have been inducted into the Rock and Roll Hall of Fame—many of whom have expanded their legends on the strength of Preston's invaluable contributions—can certainly flex their collective muscle with the Hall's board of directors and ensure his enshrinement within their ranks.
Failing that, without William Everett Preston, the Rock and Roll Hall of Fame really isn't worth the brick and mortar used to build it. The Hall of Famers who pimped Preston's work, but still won't elevate his legend, were never worthy of his talents nor the space they occupy in that building. In fact, the only thing "rock and roll" about that peculiar institution—like the Cleveland-based White disc jock who cribbed the style of Black DJs and slapped a label on a style of music born at least five years earlier—would be the perpetual exploitation of Black talent for White advantage and promotion.
This is this writer's considered opinion—do with it what you will.